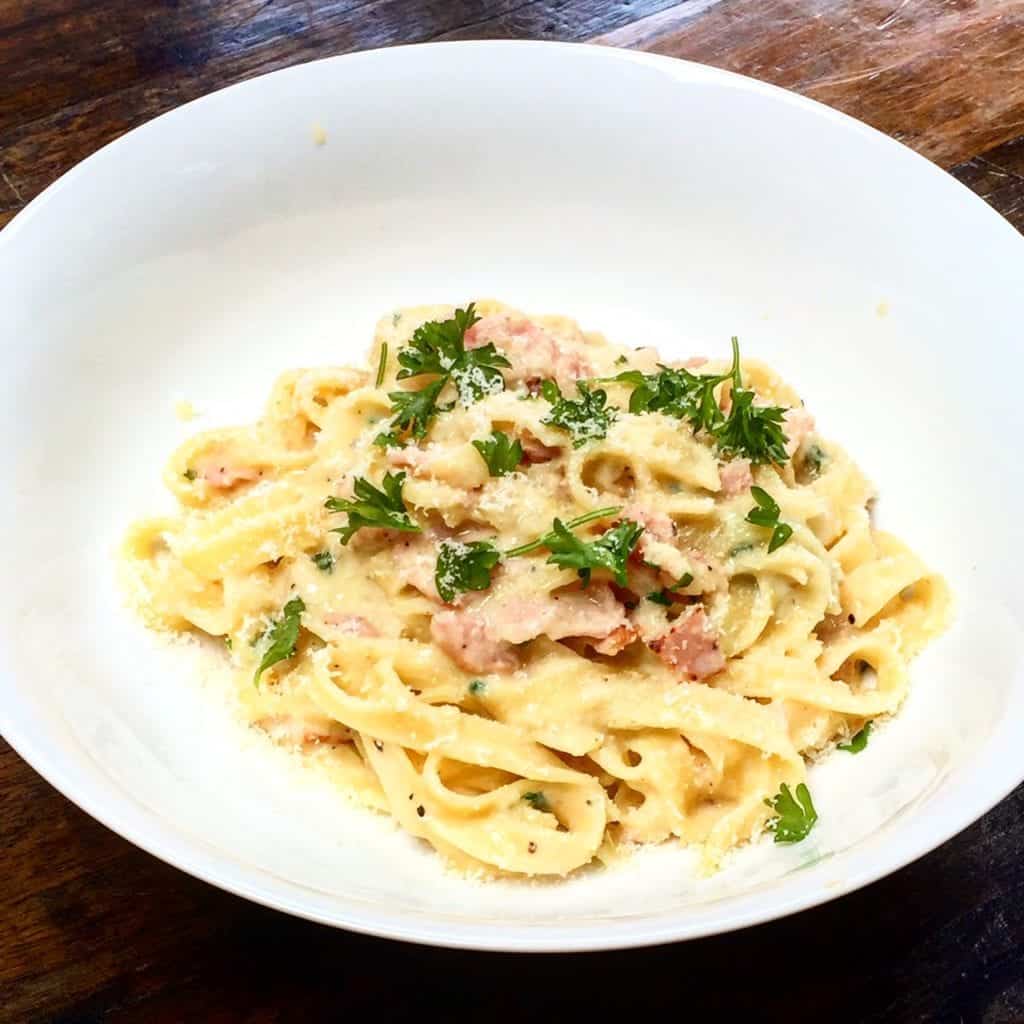 Syn Free Slimming World Spaghetti Carbonara
One of the great joys of Slimming World is being able to eat pasta without even a shred of guilt. I can't even tell you the number of fad diets I've been on where I've needed to cut carbs to see any form of success, but I can tell you that that is simply not sustainable! Slimming World Spaghetti Carbonara is, simply put, my favourite meal!
Pasta on its own really isn't a lot to shout about, so the magic is all in the sauce. Carbonara is an age old favourite, but it's traditionally full of cream and cheese so it's hardly a Slimming World friendly option…until now!
This recipe uses no cream, but personally I prefer it. I'm not just saying that because it's my recipe either…honestly this recipe has the silky smooth sauce that you'd expect of a carbonara, with the bacon and cheese, but without the heaviness of the cream. It just goes to show that you don't need the heavy, fat filled ingredients to make a dish with a deep, rich flavour.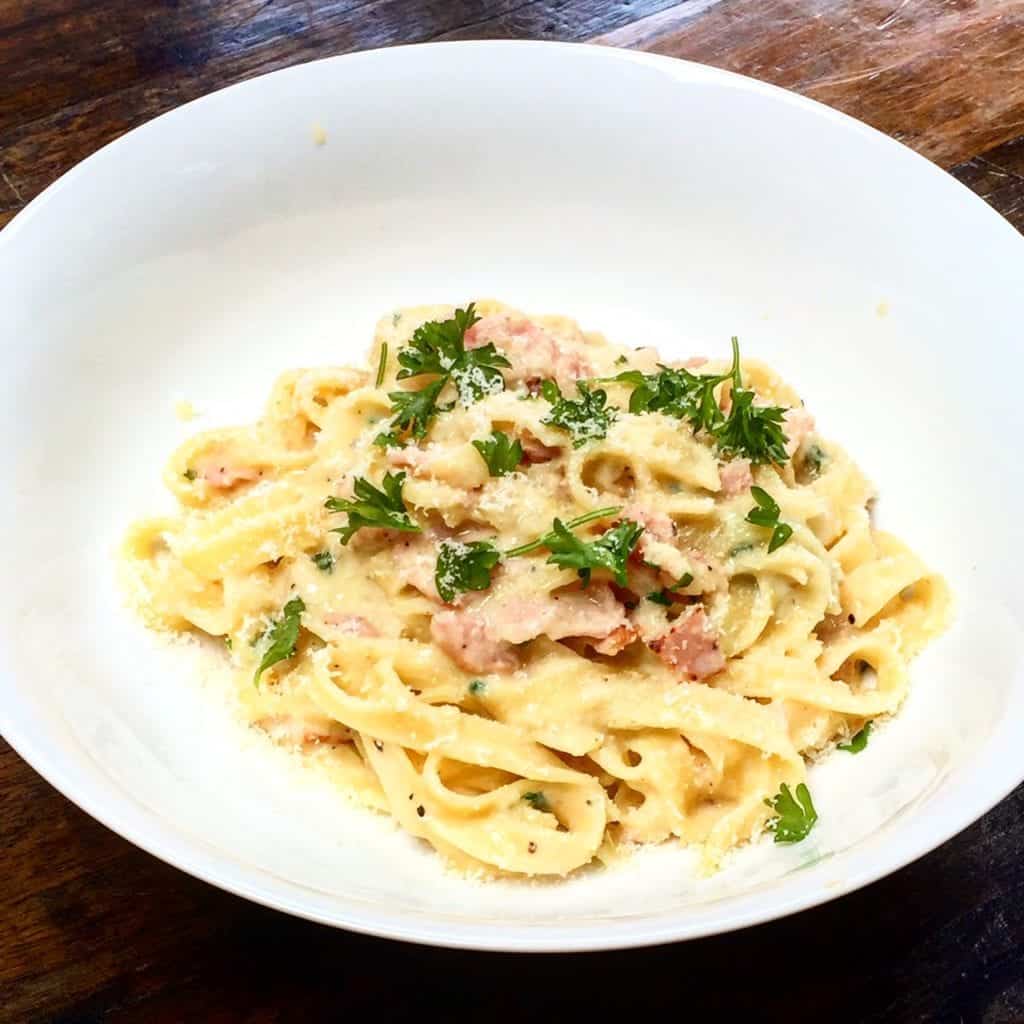 It's a win win really, especially as it's ready in under 20 minutes! It uses half of your HexA per person, although if you'd like to up the paramesan quota to be your full HexA portion then crack on! Serve your pasta in a big, deep pasta bowl and make sure to top with plenty of extra parsley and you're guaranteed a sumptuously decadent tasting syn free dinner!
Watch my Slimming World Spaghetti Carbonara being made here!
Syn Free Spaghetti Carbonara
Creamy (without the cream), silky, flavoursome spaghetti carbonara with no guilt whatsoever!
5Prep Time
15Cook Time
20Total Time
Ingredients
8 Rashers of Bacon (lean)
1 Onion
1 Clove Garlic
Handful Chopped Parsley (plus extra for garnish)
4 Eggs
4tbsp Fat Free Fromage Frais
30g of Parmesan
Tagliatelle/Spaghetti (enough for two/three people depending on your serving size)
Fry Light
Salt & Pepper (to taste)
Instructions
Cook pasta as per pack instructions.
Meanwhile, finely chop the onion and garlic and add to a pan over a medium heat with Fry Light.
Chop the bacon and add in with the onions. Fry until it begins to go crispy.
Meanwhile, mix the eggs, fromage frais, parsley, 20g of parmesan, and salt & pepper together in a separate bowl.
When the pasta is cooked, turn all of the hobs off.
Drain the water out of the pasta and tip it into the pan with the bacon and onion (keeping it on the hob over the residual heat), mix it thoroughly.
Still over the remaining heat, tip in the egg mixture and toss it with the pasta and bacon. The heat will thicken the sauce, and cook the egg, without turning into scrambled egg!
When your sauce has thickened, remove from the heat and serve with a garnish of parsley and the rest of your parmesan.
Notes
Syn free on Slimming World using the parmesan as half of your HexA allowance (when serving two with the above recipe). If serving more then divide the HexA accordingly. Double the cheese to enjoy as your full HexA allowance.
7.8.1.2
45
https://basementbakehouse.com/2016/05/syn-free-spaghetti-carbonara/
DON'T FORGET TO PIN THIS SYN FREE SPAGHETTI CARBONARA RECIPE FOR LATER!