Healthy Homemade Pot Noodles
Healthy lunch time recipes can often be hard to come by, especially interesting ones that also taste good. I often find people ask me for easy, cheap and yummy recipes that they can take to work, so I thought I'd come up with the perfect dish for exactly that. This Healthy Homemade Pot Noodles recipe is the answer to all of your lunch time prayers! See the recipe video & written recipe by scrolling to the end of this post.
Meal Prepping Your Homemade Noodles
When creating this recipe I wanted to come up with something which would not only taste fantastic, but I also wanted to make something that could be meal prepped and kept in the fridge. You can keep this in the fridge for up to three days, which makes homemade pot noodles ideal for meal prep. Simply whip up a few on a Sunday night and take them into work until Wednesday to enjoy with a simple boil of the kettle.
For this recipe in particular I have used cooked egg noodles, if you prefer you can use uncooked rice noodles instead. The rice noddles would cook with the addition of boiling water, and give you an even lighter meal for lunch time enjoyment.
Homemade Pot Noodles & Slimming World
This homemade pot noodles the perfect Slimming World lunch. I've packed the recipe full of speed food, with peppers, carrots, pak choi, onions, spinach AND sugar snaps, and the egg noodles are syn free too. They're also filling enough to keep you going throughout the rest of the afternoon without needing to snack too much, and they're enjoyable enough to keep you engaged with the plan.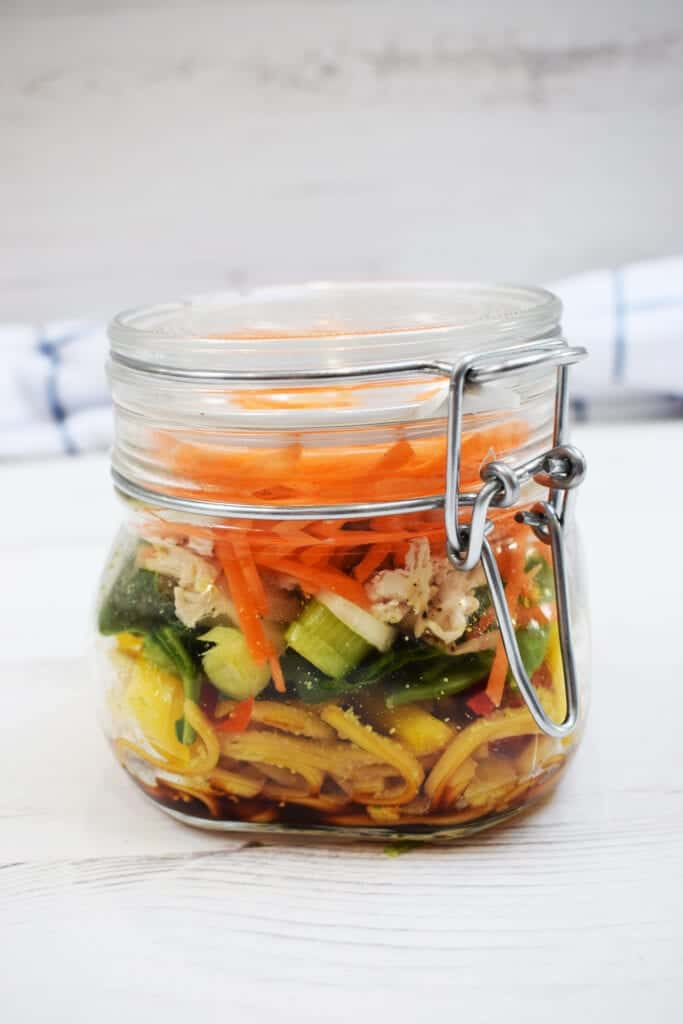 Homemade pot noodles are also a very cost effective lunch. You can get two pots from one chicken breast and two to three pots from one noodle nest, and the veg is all very cheap to buy. If your'e on the hunt for syn free and purse friendly lunches then this is another great option for you!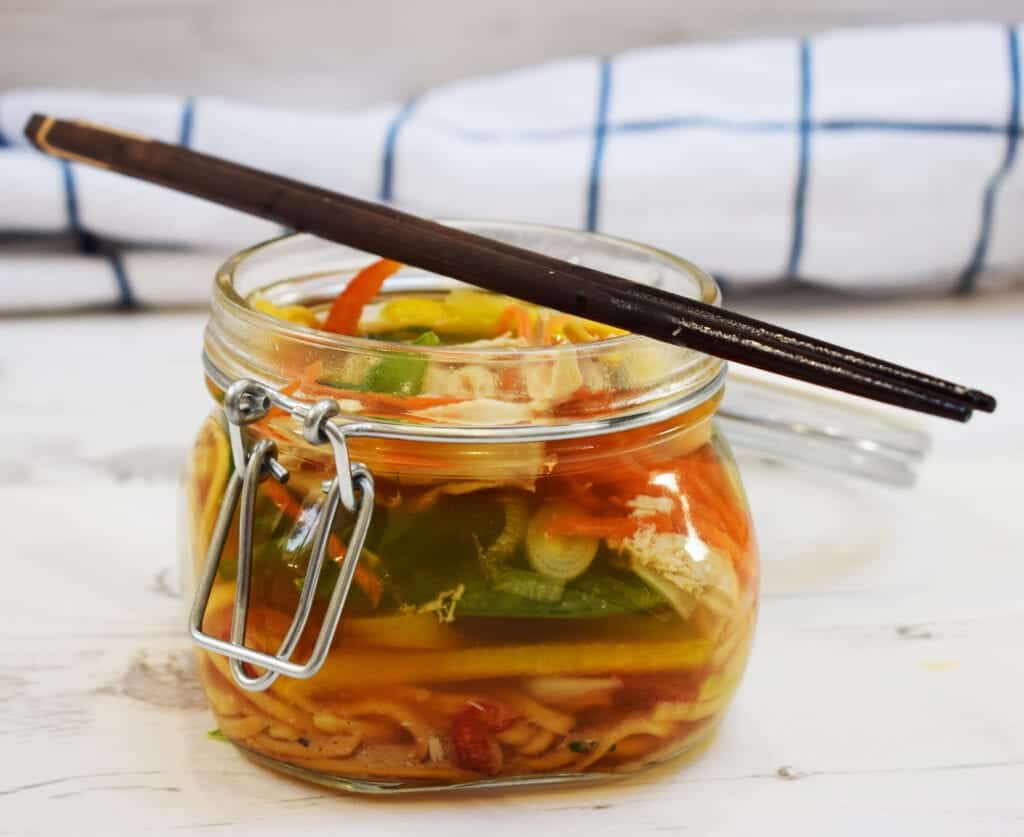 Scroll down to find the video and recipe for how to make these Healthy Homemade Pot Noodles, but before you do check out these new shop bought healthy instant noodles that I was lucky enough to try recently…
Mr Lee's Noodles Review
I've been a sucker for a healthy pot noodle ever since joining Slimming World, especially as for the last year I've been without a microwave! The ability to simply boil a kettle and have a good meal in front of me is always appreciated, but before starting the plan I had always assumed that pot noodles had to be unhealthy. There is a whole range of deliciously healthy ones out there, if you don't have time to make this recipe that is, including my absolute favourite Mr Lee's Noodles.
Mr Lee's Noodles are a new range of healthy instant noodles, which are all totally gluten free made with rice noodles. Their rice noodles genuinely come from Vietnam, where the best rice noodles are (apparently) made! What this means is that you're not at risk of eating some chemical filled, factory made noodles, these have genuinely come from a paddy filed in Asia, there's something really lovely about that if you ask me!
They have six flavours of noodles, I've tried them all and they're delicious, filling and absolutely packed full of flavour. At the moment they're not very widely stocked but you can buy them on their website and on Amazon, and they'll soon have kiosks up and down the country serving their noodles which I personally can't wait for! I really recommend getting your hands on some of these if you can, they're seriously as good as any restaurant noodle dish I've had for lunch!
Healthy Homemade Pot Noodles Recipe & Video
See how to make my Healthy Homemade Pot Noodles here and find the recipe below!
Cliona Keane
Yields 1
Healthy Homemade Pot Noodle
A healthy homemade pot noodle recipe, syn free on Slimming World.
10 minPrep Time
5 minCook Time
15 minTotal Time
Ingredients
1/2 Dried Egg Noodle Nest (cooked)
1/2 Chicken Breast (cooked & shredded)
2x Pak Choi Leaves
Handful Grated Carrot
1/2 Red Chilli
2cm x 2cm Fresh Ginger (grated)
1tsp Powdered Stock Cube or Stock Powder (chicken or vegetable)
2tsp Soy Sauce
1/4 Onion (diced)
1x Spring Onion (chopped up)
Handful Chopped Spinach
4x Sugar Snap Peas
1/4 Yellow Pepper (sliced thin)
1/4 Red Pepper (sliced thin)
1/2 Litre Boiling Water

You will also need...
Instructions
Add the cooked noodles to the bottom of your jar and add the chilli and ginger on top.
Sprinkle in the stock and add the soy sauce and stir until the noodles are coated.
Add the peppers on top of the noodles and then add the pak choi, sugar snap peas and spinach.
Add the onion and then the shredded chicken.
Top with the grated carrot and close the lid.
Refridgerate until you want to eat the noodles (up to three days).
Before eating, boil roughly half a litre of boiling water (you won't need it all) and pour it into the jar until it reaches the carrots.
Close the lid again and let sit for three minutes.
Stir and let sit for another two minutes.
Enjoy with a dash of soy sauce if desired!
Notes
Syn Free on Slimming World. Can be kept in the fridge for up to three days. Please do not screenshot this recipe, share the link instead to prevent other websites stealing recipes!
7.8.1.2
136
https://basementbakehouse.com/2017/02/healthy-homemade-pot-noodles-slimming-world/
DON'T FORGET TO PIN THIS HEALTHY HOMEMADE POT NOODLE RECIPE FOR LATER!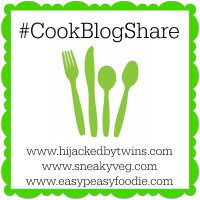 *I was sent Mr Lee's Noodles to try for this review however all views and opinions are my own and I would never review anything I didn't fully recommend.