Festive Party Food From Iceland Foods
Party season is in full swing right now and whether you're hosting an intimate dinner party or a festive bonanza for the whole office, you will always need to lay on a spread. One of the age-old conundrums when hosting a party, is how much time do you spend in the kitchen whilst your guests mill around? Well, with party food from Iceland, specifically from their amazing Luxury Range, the question simply doesn't arise!

Cook From Scratch vs Cook From Frozen
Anyone who knows me knows that I'm very big on cooking everything from scratch, but when I'm hosting my friends I don't really want to be stuck in the kitchen whilst everyone has fun! Not only do you end up getting wildly behind on the drinks count, but you even run the risk of being rude. With the amazing advances in frozen food, cooking from frozen for a party isn't only a time saver, but will also help you impress your guests!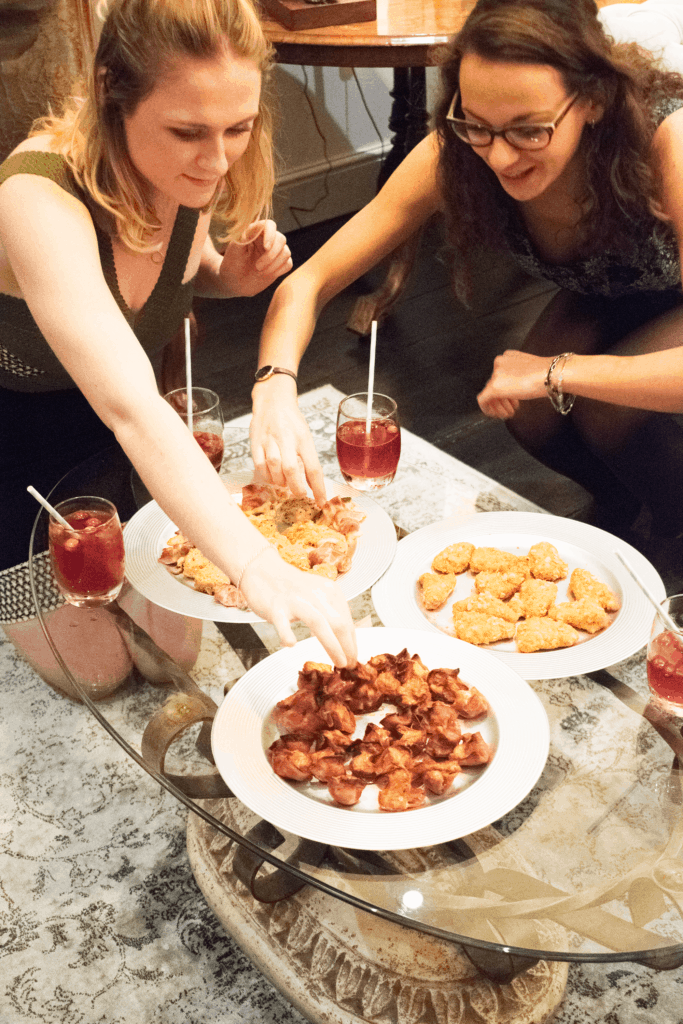 Gone are the days when Iceland was known for Kerry Katona and Peter Andre and gone are the days when you only popped in for your frozen fish fingers and deep dish pizza. Iceland now stocks the most amazing range of frozen and fresh food, to help you host the perfect party. Their luxury range is winning all sorts of awards, further helping to dispell the silly stereotypes surrounding frozen party food from Iceland! For a long time, I've been planning to host a party exclusively using products from Iceland Foods, so I was super excited when they got in touch and asked me to do just that! Iceland asked me to head into store, check out their Luxury Range of party food, and host my friends for a party. What a dream!
Hosting A Dinner Party With Party Food From Iceland
For my dinner party, I toyed with the idea of hiding the fact that the food was from Iceland. However, I eventually decided against it as I really wanted to get my friends' opinions on the food and discuss their feelings on frozen food in general. None of them is what you would have thought of as Iceland's target market a few years ago, and I knew they'd all be honest with their feelings! I therefore opened the discussion over our initial nibbles which included Chicken & Chorizo Cups, Nachos Chicken Bites, Bacon Wrapped Jalapeno Peppers, a selection of Breaded Cheese, Sushi and Salmon Terrine – all of which were bought frozen from the Luxury range of party food from Iceland!
Everyone was suitably surprised and impressed that the food had been cooked from frozen and that it was from Iceland. There was definitely a lot of misconceptions being discussed surrounding what frozen food is like and specifically the quality of the food from Iceland! I'm really pleased that even after the initial nibbles, everyone's minds were beginning to change and those misconceptions were being quietly ushered out of the window!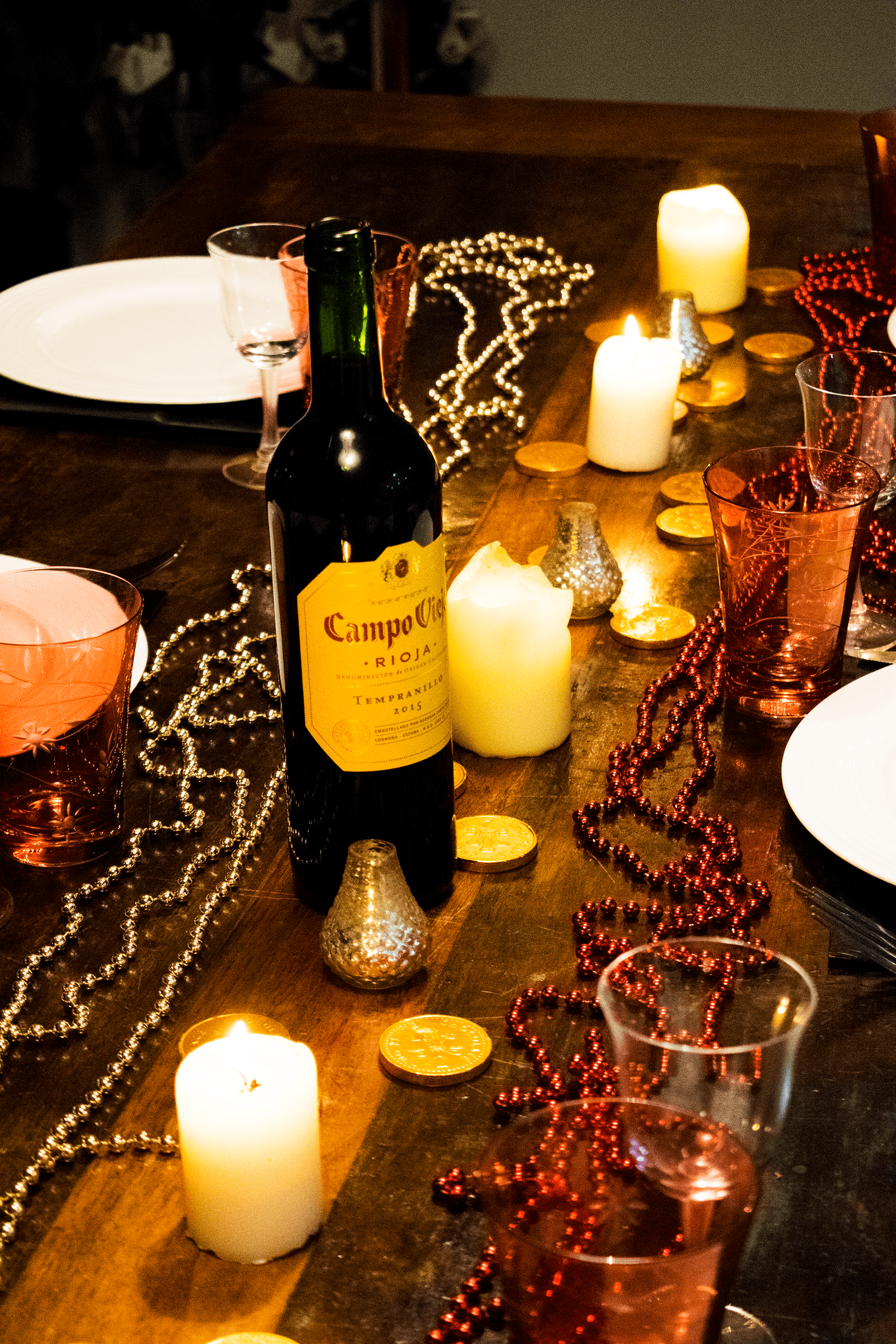 After our delicious range of nibbles, it was time to sit down for the main event which included the most tender, melt in the mouth Luxury Peppered Pinacha Beef Rump which was ready in the oven in just 20 minutes and totally stole the show for everyone! Not only did this gorgeous piece of beef cut like butter, but it had so much flavour, not just from the tasty peppered crust and melted butter, but from the actual rump itself. This particular product perfectly sums up how wrong people can be about frozen food, particularly frozen party food from Iceland.
The only difference between most of the food that you buy in other mainstream supermarkets, and the frozen food you buy at Iceland, is that the food from other supermarkets has been defrosted before it goes on the shelf! Personally, I'd much rather have a piece of meat that hasn't gone through multiple rounds of freezing and defrosting… not only does it lock in flavour but it keeps that piece of meat fresher for longer!
The beef may have stolen the show, but it didn't eclipse the beautiful Luxury Porchetta which took crackling to a whole other level! It's a gorgeous wrapped piece of pork, with herbs in the middle and a layer of fat around it which runs into a gorgeous piece of crackling, to rival any pub roast! When served up with lots of roast potatoes, plenty of veg and a thick gravy, these meats from the Iceland Luxury Range were a fitting follow up to the gorgeous party food nibbles we had enjoyed earlier in the evening!
No dinner party would be complete without dessert, especially when the wine has been flowing! From the range of luxury party food from Iceland, I picked two desserts, one chocolate and one berry based! Having seen their gorgeous Raspberry & Pistachio Pavlova at the Christmas in July event I visited for Iceland, and also on their TV adverts, I knew I had to add it to the list! Having eaten about half of it I can now confirm that not only is it one of the NICEST things I've ever eaten from Iceland, but it's genuinely one of the most delicious puddings I've had in a long time! There's lemon, there's raspberry, there's pistachio, there's the sweet and slightly chewy meringue and then the light cream. You'd never know that it had come from frozen and everyone was so surprised that something that had been frozen earlier that day was so light and fluffy! If you get one thing for party season from Iceland let it be this, because you seriously won't regret it!
To add a bit of chocolate heaven to the dinner party we also enjoyed some tasty chocolate roulade, another gorgeous option from the Iceland Luxury Range. It was also light, tasty and full of flavour, yet another example of frozen food done right!
The Verdict on Frozen Party Food From Iceland Foods
Having cooked for my friends using this fantastic range of luxury frozen party food from Iceland, I can now wholeheartedly say that it's totally worth doing! Not only is the food tasty, easy to prepare and suitably fancy looking, but your friends will enjoy it too! It's a great conversation starter, and it's so much fun to change people's minds. By the end of this dinner party everyone was saying how surprised and impressed they were with Iceland, and that just goes to show the power of tasting something for yourself! People might eat with their eyes, and they definitely make decisions based on preconceived ideas, but if you give them the chance to taste something then they're usually very prepared to change their minds!
When it comes to my recommendations, I've already said that my favourite dish of the night was the pavlova, but I can also very much recommend the sushi! I was seriously skeptical that frozen sushi could even come close, particularly as supermarket sushi is by and large pretty rubbish. But the frozen sushi from Iceland is immense! It's proper sushi salmon, it's not rubbery and the rice is actually proper sushi rice. You just remove it from the packaging and let it defrost…it seriously couldn't be any more simple!
Thanks to using this frozen party food from Iceland, I was able to sit and chat with my friends without stressing about too many elements on the stove or in the oven. As much as I pride myself on my cooking and my homemade food, this was the perfect easy solution for a festive party! Whether you're sitting around the table or enjoying seconds of pudding in your PJs before bed, the food you serve up has to be delicious and this party food from Iceland fits the bill!