Easy Peasy Syn Free Fish and Chips
Fish and Chips is a British staple and it's the perfect comfort food year-round. There's something about the soft flakey fish, crumbly batter and yummy sides that speaks to us as people, and it has long been a communal food enjoyed by families and friends together, both as a casual food and a treat meal! However, Fish and Chips is not the lowest in fat, or carbs when it comes to healthy eating, and although you can remove them batter to enjoy the steamed fish below without worrying too much, that's no fun! That's where this recipe for Easy Peasy Syn Free Fish and Chips comes in! It's a healthy alternative to chip shop fish!
Syn Free Fish and Chips (also gluten-free!)
Yes, you read that right! This fish and chips recipe is totally syn free, made with a Smash coating in much the same way I make my Slimming World KFC Double Down Burger or Slimming World KFC Double Down Burger! This means that in texture it is somewhere between a batter and breadcrumbs, not so smooth as batter but more flakey than breaded fish! Not only is this syn free fish and chips perfect for Slimming World, it's also ideal if you're looking for a gluten-free fish and chips recipe! Smash is gluten-free, and whilst initially coating your fish with dried potato flakes might sound a bit awful (trust me I was a sceptic) it' actually tastes fantastic. Please note that this recipe does NOT need to be counted as a tweak as you are eating the Smash as part of the main meal, if you were to eat this as a snack outside of a meal you would need to syn the Smash (syn to the same value as panko breadcrumbs, as these are closest in texture and consistency). To read more about what a 'Tweak' is on Slimming World and my views on them, click here.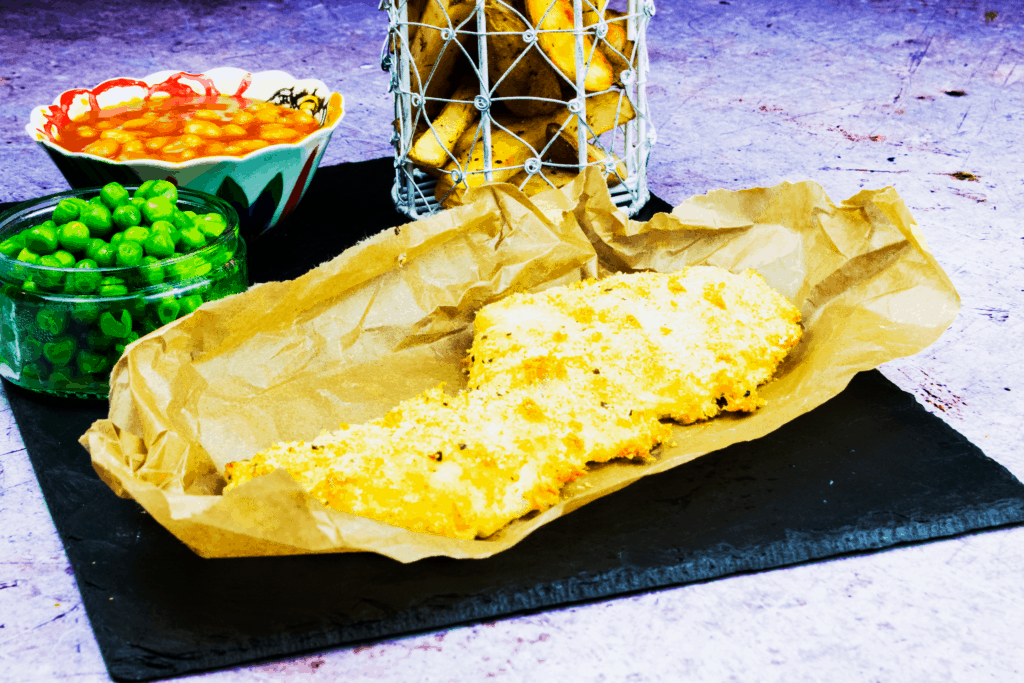 Fakeaway Time with Syn Free Fish and Chips
If you haven't heard the term 'fakeaway' before, it's pretty self-explanatory. Essentially it's a healthier, homemade version of a takeaway food, just like this syn free fish and chips recipe! I've got tonnes of Fakeaway recipes because I'm a big fan of healthy food that doesn't taste or look as healthy as it is! One of the toughest things in any household where unhealthy eating habits have become ingrained is that encouraging the whole family to switch to healthier food can be a struggle. Fakeaways are the perfect way to get around that initial reluctance because you're giving them food they recognise and proving that healthy eating doesn't just mean steamed chicken and veggies! Not only that but cooking 'Fakeaways' like this healthy syn free fish and chips at home is so much cheaper than forking out for weekly takeaways!
How To Make Syn Free Fish and Chips
I do hope you enjoy this recipe for Syn Free Fish and Chips! It was such as success in my house that my partner, who has always refused to eat anything that lived in water, yummed it up without a second thought. If that's not high praise I don't know what is!
Cliona Keane
Yields 2
Easy Peasy Syn Free Fish and Chips
A healthy, syn free Fish and Chips recipe perfect for cutting carbs and gluten!
10 minPrep Time
20 minCook Time
30 minTotal Time
Ingredients
2x Skinless, Boneless Cod Fillets
4tbsp Smash
1/2tsp Salt
1/4tsp Pepper
1/4tsp Cayenne Pepper
1/4tsp Paprika
1/2tsp Powdered Vegetable/Chicken Stock
2x Eggs
Low Calorie Cooking Spray
Instructions
Preheat your oven to 180 degrees.
Spray a baking tray with low calorie cooking spray.
Mix all of the dry ingredients together in a wide bowl.
In a separate bowl, whisk the eggs until they're smooth.
Take one of the cod fillets and dip it into the eggs, making sure to coat it on both sides.
Dip this cod fillet into the smash, again making sure to coat it all over, and then dip it back into the egg and into the smash once again.
Repeat with the second fish, topping up on the dry ingredients if needed.
Place each piece of cod on your baking tray and spray with some low calorie cooking spray.
Bake for 20 minutes, or until the bottom of the fish is no longer stuck to the baking tray and has a light brown colour to it.
Serve with chunky chips and veggies!
Notes
Syn values correct at time of writing. Please DO NOT SCREEN SHOT THIS RECIPE. Share links instead.
7.8.1.2
180
https://basementbakehouse.com/2018/01/easy-peasy-syn-free-fish-and-chips/