10 Best Slimming World Potato Recipes
If you're looking for delicious Slimming World potato recipes then you have come to the right place. I've rounded up my most popular syn free and low syn recipes that use potatoes below. Trust me, you'll be getting out the spuds in no time!
I adore potatoes and they are always on my shopping list. They are so versatile, take on flavour so well and go very well with cheese which, frankly, is how I eat them most of the time.
You really can't beat a crispy potato with melted cheese…keep reading for my favourite cheesy potato recipes, along with all of my top Slimming World potato recipes.
Top Tips for Cooking with Potatoes on Slimming World
If you are following the Slimming World lifestyle plan, there are lots of different foods that you can pick from to make up your meals. Potatoes are a great choice for a filling, nutritious ingredient on Slimming World.
It's important to note that potatoes aren't a speed food, however, that doesn't stop them being just as brilliant to cook with. Here are my top tips for cooking with potatoes on Slimming World…
Keep the skins on
Sometimes a potato recipe needs a peeled spud, but often you can leave the skin on a potato when you cook it. For mash, roasties or wedges the skin can add a brilliant layer of texture and flavour, plus they're super nutritious and full of fibre AND you're saving food waste which is incredibly important.
Parboiling is your friend
If you're making roast potatoes then parboiling can make them that bit more fluffy and delicious, without having to resort to unhealthy amounts of oil. When you parboil, cook the potatoes in boiling water until you can just stick a knife through them, but not until they are really soft.
Knock them about a bit
If you're making wedges or roast potatoes and you have parboiled them, then my top tip is to shake them about together once you've drained the water. This will make the surface of your potatoes a bit broken and gives you an even more fluffy finish even without lots of oil.
Seasoning is key
Potatoes do run the risk of ending up bland and flavourless if you don't season them appropriately. Don't be afraid of adding herbs, spices or stocks when cooking with them. They take on flavour really well and you won't regret that extra layer of yumminess.
Use low calorie cooking spray
I have long been complimented on my roast potatoes, wedges and chips, and I can put my hand on my heart and say it's because I cook them using low-calorie cooking spray. In a stroke of good news for Slimming World, these sprays seem to coat potatoes particularly well and give a really even finish.
Best Slimming World Potato Recipes
If you, like me, love a potato then these Slimming World friendly recipes will be exactly what you're looking for. There is a mixture of recipes where the potato is the star of the show and a few where it brings the whole dish together.
What you can be certain of though, for all of these tasty potato recipes, is that they are all either totally syn free or super low syn which makes them perfect if you're deciding how to add potatoes into your Slimming World meal plan.
These roast potatoes are the fluffiest, softest and most delicious Slimming World roasties that you'll ever eat. Keep my tips in mind and get these made alongside this delicious Slimming World roast chicken too.
Potatoes really are the star of this delicious potato curry recipe. It's a Slimming World potato recipe with tonnes of deep, rich and warming flavour and goes brilliantly with grilled meat, fish or other veggies.
If you're making this as part of a Fakeaway curry night at home, make sure you check out my delicious Low Syn Chicken Curry too!
Get this Syn Free Potato Curry recipe here.
This is one of my most popular recipes because it is proper Slimming World friendly comfort food. Rich, delicious and healthy bolognese sauce, topped with crispy roasted potatoes and melted cheese. What's not to love?
As far as Slimming World potato recipes go this combines all of my favourite things whilst being totally syn free, using one of your Healthy Extra A choices.
Get the recipe for this Syn Free Roast Potato & Bolognese Bake here.
Love this? You'll also enjoy my Syn Free Bolognese Pasta Bake!
This is another recipe that combines my favourite elements of potatoes with cheese. These delicious roasted hasselback potatoes are a great Slimming World side dish, served with just about anything.
They're full of flavour and sprinkled with tasty parmesan, but as long as you're counting the cheese along with your Healthy Extra A choices then these remain totally syn free on Slimming Worl.
Get the recipe for these Syn Free Hasselback Potatoes here.
Love a hasselback recipe? Check out my Syn Free Hasselback Chicken too!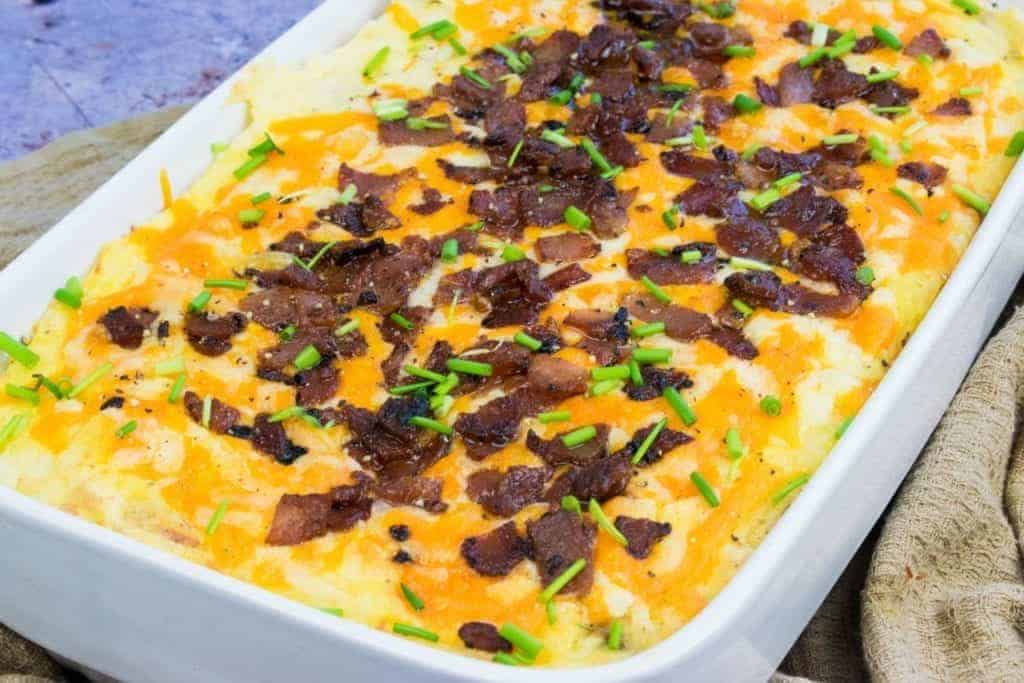 I told you I loved cheese and potatoes didn't I? Well this is probably the ultimate cheesy potato dish! However, it is still totally syn free using your Healthy Extra A choice.
This Syn Free Loaded Mashed Potato recipe is even better though because it adds bacon into the mix, which is another one of the greatest ingredients known to man. If you're a fan of cheese, bacon, potatoes and happiness, then this is the Slimming World potato recipe for you.
Get the recipe for Syn Free Loaded Mashed Potato here.
For a cheesy potato dish with added speed foods, look no further than this Loaded Leek & Potato Bake. It's packed with flavour and totally delicious. It's ideal for the winter when leeks are in season and available everywhere, and goes great with fish, chicken or your vegetarian equivalents.
Get the recipe for this Loaded Leek & Potato Bake here.
Sticking with Slimming World potato recipes that are topped with cheese and bacon, these Loaded Hasselback Potatoes are the answer to your prayers. Do they look healthy? Absolutely not. Are they totally syn free using one of your Healthy Extra A choices? They certainly are!
These are such a simple, easy and interesting way to cook with potatoes on Slimming World. Plus, anyone you're cooking for would never guess that this was diet food would they?
Get the recipe for these Syn Free Cheese & Bacon Hasselback Potatoes here.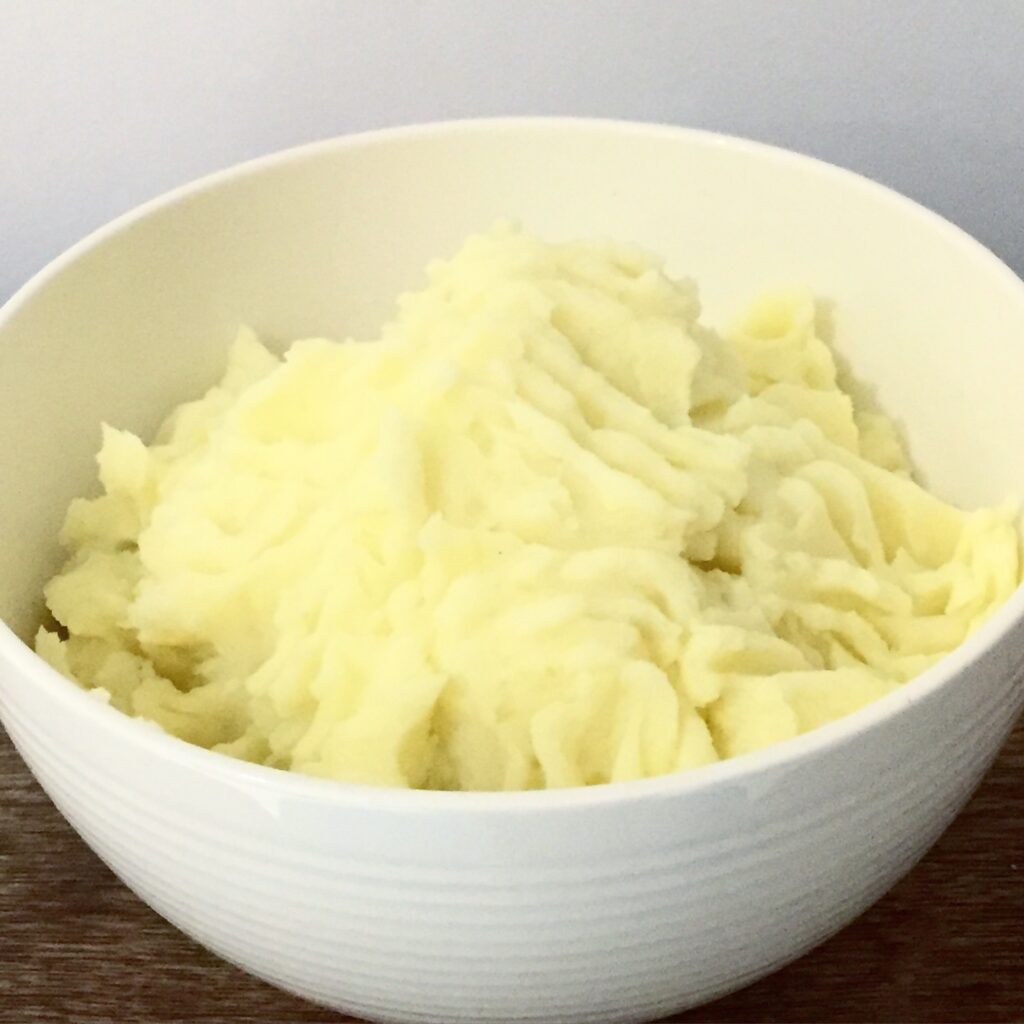 Sometimes you just need a simple, easy and syn free side dish for your dinner and mash might sound like the answer! However, traditionally mashed potato is full of butter and milk, which makes it totally not Slimming World friendly.
Don't worry though, this Syn Free Mashed Potato is here to save the day. There is a simple, and slightly surprising, secret ingredient for the most creamy, smooth and delicious mashed potato you'll ever eat whilst keeping it totally syn free.
Get the recipe for this Syn Free Mashed Potato here.
Another naughty looking recipe loaded with cheese and bacon, these crispy potato skins are in fact totally syn free. Honestly, go see for yourself! Simply count your Healthy Extra A and cook with the ingredients I've suggested and you can serve these without stressing.
If you'd prefer a vegetarian alternative though, try topping these with cheese and crispy fried mushrooms or pan-fried onions instead.
Get the recipe for these Syn Free Loaded Potato Skins.
Perfect for a picnic, this Low Syn Potato Salad recipe is a Slimming World potato recipe that delights. With fresh, zingy onions, parsley and mayo, it's a great way to serve up a low syn side dish.
This is also great for meal prep, as you can make a batch at the start of the week and take it for work lunches, helping you to stay on plan and keeping you satisfied all day.
Get the recipe for this Low Syn Potato Salad here.
So, there you have it! My Top Ten Slimming World Potato Recipes! Don't forget to pin these for later and make sure you let me know what you make in the comments.
Loved these Slimming World potato recipes? Check out The Slimming Foodie and Slimming Eats for loads more healthy, Slimming World friendly recipes.