Super Simple Healthy Carrot Cake
If you're a fan of baking but still want to slim down, no matter what lifestyle plan you're following, it's important to find recipes which fit within that whilst still giving you the same satisfaction of baking something delicious! This Healthy Carrot Cake is the perfect healthy bake…and it's gluten free too! 
How Is This Healthy Carrot Cake Gluten Free?
This healthy carrot cake is absolutely gluten free because it's made with oats! You obviously have to ensure that you're using oats which are marked as gluten free, some are made in factories so can be cross contaminated, but as long as you do that you're set! Personally I'm not gluten intolerant but I love to make recipes which can be enjoyed by everyone and this is one of those bakes. You can find more of my gluten free recipes here.
How Many Syns in this Healthy Carrot Cake?
The beautiful thing about this cake is that you can have two slices (the cake is 10 slices in total) as your Healthy Extra B! If you ask me, having two thick slices of cake beats two small slices of wholemeal bread any day. Using two slices as your Healthy Extra B this cake is five servings.
Using your Healthy Extra B, the ENTIRE cake is JUST 9.5 SYNS including the icing! That's UNDER ONE SYN PER SLICE!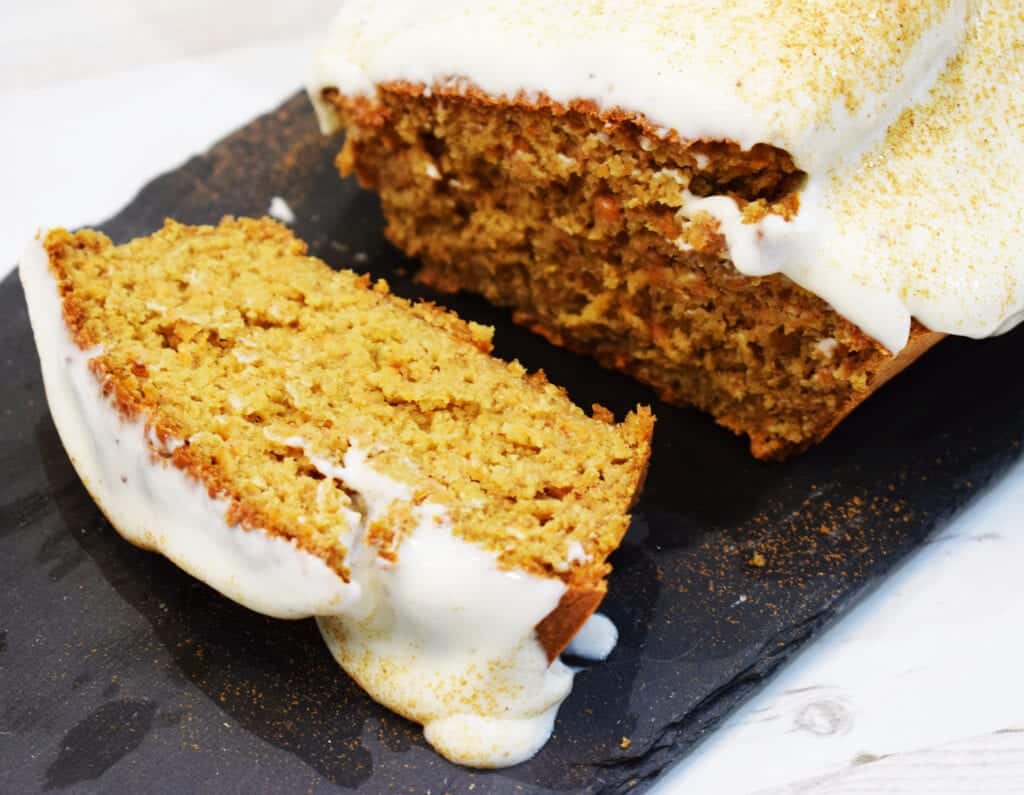 How great is that though, you can have two big slices of this cake for your Healthy Extra B and one syn all in! If you decide not to use your Healthy Extra B you'll have to count an extra six syns for the oats in the recipe per serving, but 7 syns for two slices of cake is still pretty great!
The icing on this cake is a cream cheese icing, made using a mix of Philadelphia Light and vanilla yogurt which works really well! What's even better, if you needed another reason to make this cake, is it has carrot in which is speed food! Whilst I don't think you could exactly say you're eating this cake as the speed on your plate, it dramatically reduces the calories in the cake and ups the health and nutrient factors too.
Why Is The Sweetener Synned In This Recipe?
Under Slimming World's recent changes granulated sweetener has to be synned if there is a tablespoon or more per serving in the recipe. It is synned at 0.5 syns per tablespoon, but if it's in the recipe at less than a tablespoon per portion you aren't required to syn it. This recipe contains five tablespoons of sweetener and has five servings so the sweetener is synned at half a syn per tablespoon, a total of 2.5 syns in total…still so much better than sugar!
Making this Super Simple Healthy Carrot Cake
Find the recipe video below!
Cliona Keane
Yields 5
Super Simple Healthy Carrot Cake
A delicious and healthy carrot cake made using oats, low syn on Slimming World.
10 minPrep Time
40 minCook Time
50 minTotal Time
5 based on 1 review(s)
Ingredients
2x Carrots (peeled and grated)
200g Oats (ensure they are gluten free if needed)
1tsp Baking Soda
2tsp Baking Powder
2tsp Cinnamon
2tsp Vanilla Extract
5tbsp Granulated Sweetener (I use Sukrin:1)
1x Vanilla Muller Light
4x Eggs

For The Icing

75g Philadelphia Light
1/2 Pot Vanilla Muller Light

You Will Also Need
Instructions
Preheat your oven to 180 degrees.
Add the oats, sweetener baking soda and baking powder in to your food processor and pulse until the oats turn into a course flour.
Add the cinnamon, vanilla extract and pulse until blended.
Add the eggs and yogurt and blend until smooth.
Add the grated carrot and pulse until the grated carrots are combined.
Line your loaf tin with baking paper or grease it depending on the kind of loaf tin you have.
Tip in the cake mixture and bake for 35-40 minutes or until the cake is cooked through.
Allow to cool for ten minutes and tip onto a cooling rack to cool completely. Use this time to make the icing.
When the cake has cooled tip the icing over the top and allow it to drip down the sides.

To Make The Icing

Mix the cream cheese and yogurt together until smooth.
Taste it to make sure it's sweet enough for your tastes and add more yogurt if necessary.
Notes
2 syn per serving (two slices) using your Healthy Extra B. Add six syns per serving (two slices) if not using your Healthy Extra B.
7.8.1.2
144
https://basementbakehouse.com/2017/03/super-simple-healthy-carrot-cake/
DON'T FORGET TO PIN THIS HEALTHY CARROT CAKE RECIPE FOR LATER!