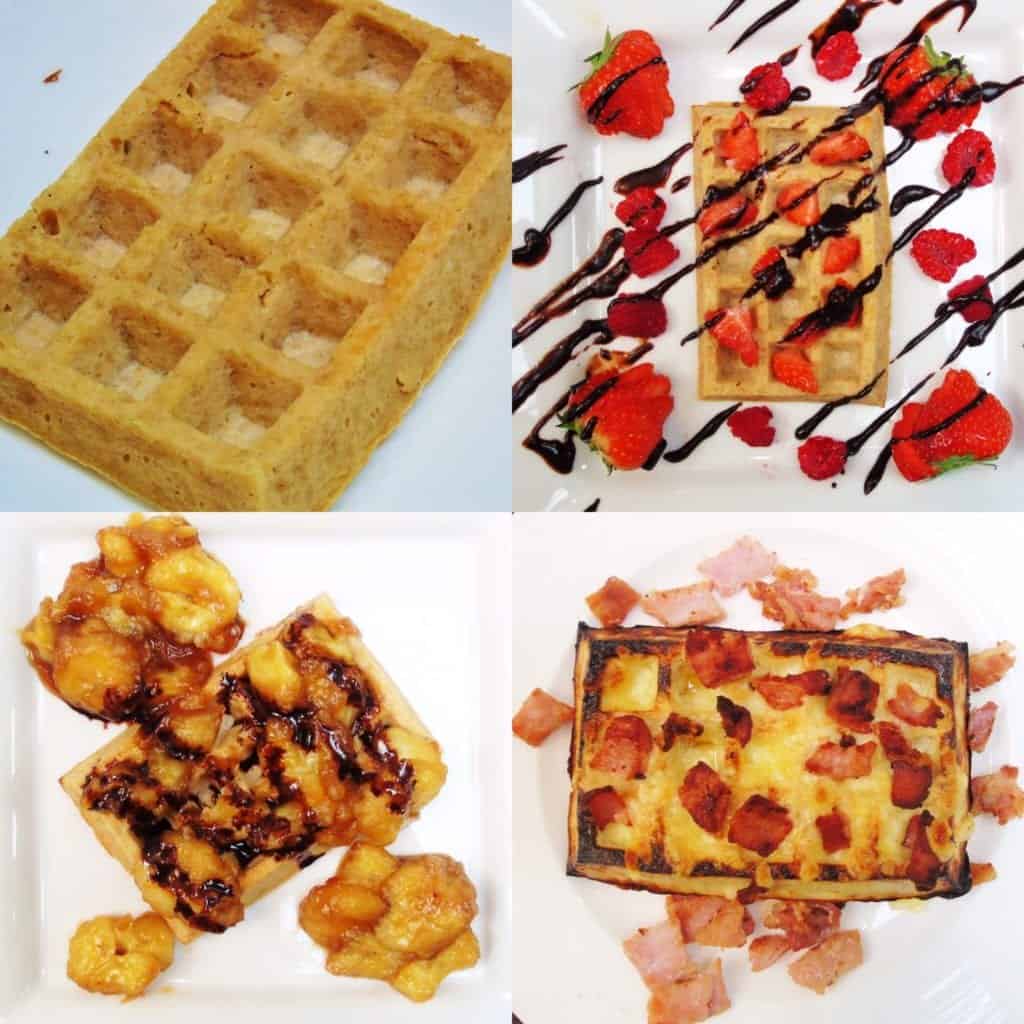 Syn Free HexB Waffles Three Ways
Ever found yourself really fancying waffles but resigning yourself to the knowledge that they're just not Slimming World friendly? Well think again! You can easily make a mouthwatering waffle using totally syn free ingredients and your Healthy Extra B! It's a wonder that anyone ever calls Slimming World a diet really! With this in mind, I wanted to have a little play about with the humble syn free waffle, to find my favourite toppings (both syn free and synned)!
As you can see, the syn free waffle looks divine on its own! Made in a silicone waffle mould, you get a whopping three proper sized waffles from one batch of mixture (one portion of your Healthy Extra B) which is more than enough to keep you going trust me! I picked up the waffle mould that I used from Amazon for just over £2, and they've got a whole host of different shapes and sizes that you can see here.
Knowing that I was going to end up with three delicious waffles, it was time to come up with three delicious ways to eat them! I decided to create one savoury flavour and two sweet and I can honestly say that I loved both kinds equally! Here are the toppings I came up with for my waffles, feel free to share some that you love in the comments!
Each of the recipes that I've included below is to make three of that specific kind of waffle!
If you decide to do both sweet and savoury waffles, just make sure to split your mixture first as the sweet waffles have sweetener added into the mix whereas the savoury ones don't! However you decide to enjoy your waffles, the basic recipe stays the same so you can really experiment with different toppings!
1. SYN FREE SLIMMING WORLD CHEESE & BACON WAFFLES
As you can see, this was amazing! With melted cheese and crispy bacon both baked inside and all over the top you are honestly in comfort food heaven! Adding the cheese means you use your Healthy Extra A as well as your B choice but it's well worth it. I've obviously made one waffle this way, but the mixture makes three so you can either have one for a third of your Healthy Extra B (and use all of your cheese choice on that one waffle) or have three for your full choice (and split the cheese between the three)…it's totally up to you!
[yumprint-recipe id='101′]
2. SYN FREE WAFFLES WITH SLIMMING WORLD CARAMELISED BANANAS
This isn't the most photogenic of dishes, but trust me it more than makes up for that with how epic it tastes! One cooked or pureed banana is 5 syns, and there's a teaspoon of choc shot drizzled over the top of this which brings this to a grand total of 5.5 syns in total! One banana is more than enough to cover all three waffles, as you can see I only had one so the excess was dolloped less than beautifully on each side! I haven't had caramelised bananas since before I stared Slimming World, because brown sugar is obviously a no no in terms of syns. However, Sukrin (who make the best damn sweeteners on the planet!) have a brown sugar sweetener which tastes, looks and acts the same way as regular brown sugar. You can pick Sukrin Gold up from Amazon here (or click the picture), or buy it from stores such as Holland & Barrett.
I don't think caramelising the bananas would work with regular sweetener so Sukrin Gold is a must have for this particular recipe, however it's great to have in the cupboard anyway as it lasts forever (as you use it in the same quantities as regular sugar too), and can be used in so many different recipes from cakes and brownies to syn free porridge!
[yumprint-recipe id='102′]Some people have recently started synning granulated sweetener at half a syn per tablespoon. I personally don't as I have lost plenty of weight without doing so, however if you decide to do so then add one syn extra for the topping and one syn extra for the waffle itself – bringing the total syn value for three waffles with the topping to 7.5 syns.
3. SYN FREE WAFFLES WITH FRESH BERRIES AND CHOCOLATE
This is the simplest topping I added to my waffles, and sometimes simple is all you need. With just a few fresh berries and a teaspoon of choc shot drizzled over the three waffles (that's all you need honestly!) this is just half a syn for three waffles including the toppings.
Yields 3
Syn Free Waffles with Fresh Berries and Chocolate
Simple, delicious and very low syn waffles with fresh summer berries and Choc Shot!
Ingredients
For the Waffles35g Oats

2x Eggs
3tbsp Fat Free Natural Yogurt (plain)
1tsp Vanilla Extract
2tbsp Sukrin Gold Sweetener

For the ToppingHandful Mixed Summer Berries

1tsp Choc Shot
Instructions
Preheat your oven to 180 degrees.
Use your fingers, a pestle and mortar or a food processor (depending on the texture you want), blend the oats.
When you're happy with the texture of the oaty flour you end up with, mix in the eggs, yogurt, vanilla extract and sweetener until smooth.
Pour into the waffle moulds and bake for 15-20 minutes or until springy.
Remove from the oven and allow to cool for a few minutes. Tip out.
Top with the fresh berries and Choc Shot and serve!
Notes
1/2 a syn for the Choc Shot. Add 1 syn if synning sweetener.
7.8.1.2
105
https://basementbakehouse.com/2016/11/syn-free-hexb-waffles-three-ways/
Nutrition
*I was sent some of the ingredients in this post to review, but all views and opinions are my own and I never ever suggest anything that I don't love!