Healthy Malaysian Laksa Soup with Grilled Prawns & Tenderstem®
If you're in the mood for something a little different, exotic and totally delicious then this Healthy Malaysian Laksa Soup recipe is going to be right up your street! It's the latest 'Fakeaway' I've put together and it has everything I look for. It's a spicy, complex flavour explosion and it's low fat, full of tasty veggies and a great source of lean protein with those grilled prawns. Garnished with a few pieces of Tenderstem® broccoli for extra goodness, it's an irresistible meal for anyone who likes a little spice and a lot of flavour!
Cooking With Frozen Tenderstem®
I created this recipe so that I could try the new Frozen Tenderstem® broccoli, which launched in Iceland on the 2nd January. When coming up with the recipe I was trying to think of the flavours and textures that would go well with this particular vegetable, and this Malaysian Laksa Soup seemed like the perfect option! So, what's so great about cooking with then new Frozen Tenderstem® broccoli?
You've probably seen Tenderstem® in the shops, I for one have eaten fresh Tenderstem® for years and in many ways, I prefer it to regular broccoli. Not only is it a more attractive vegetable to add to your plate (I've always used it for fancy meals!) it's also got so much more flavour. If you're not so sure whether Tenderstem® is for you here are some interesting facts about this delicious brassica that might help you make up your mind…
Tenderstem® is a cross between broccoli and kale, packing the goodness of both veggies into one awesome hybrid!

You can eat it cooked or raw, and there's no need to trim or cut it as you can eat the whole thing – from the stalk to the leaves!

It takes less time to cook than regular broccoli, which means it retains more of its nutrients during the cooking process!

Due to its low levels of digestible carbohydrates, Tendestem® is ideal for diabetics or those on low-GI diets.

It was created long ago in Japan, when someone decided to cross Chinese kale and broccoli using traditional plant-breeding techniques (no GM here!).
So, now that you're convinced that Tenderstem® broccoli is a great addition to your fridge, let me tell you why it's also an epic addition to your freezer! Tenderstem® has just launched their new frozen variety into Iceland (perfect to pick up along with your Slimming World meals ladies and gents!) and unlike other frozen broccoli, this is well worth stocking up on ASAP!
I have in the past bought packets of frozen broccoli and been less than impressed, as I've found them soggy and hard to cook with. So, it goes without saying that I was at least a little sceptical when Tendestem® asked me to give their frozen packs a go. On receiving this particular product, however, I knew I would have no problems! Each stem is frozen individually before being packaged which means they don't stick together so that you can use as many or as few as you want from a pack without any waste and without needing to defrost the whole lot just to cook a couple of bits! This gorgeous broccoli/kale hybrid is also frozen at its freshest, helping to lock in nutrients and keep the stems bright and flavourful – at their best to add to your meal!
You cook this particular variety of Tenderstem® from frozen and you could cook it in any number of delicious ways, including boiling, griddling, roasting, steaming or stir-frying! For my Healthy Malaysian Laksa Soup I chose to griddle the Tendestem® from frozen, using the same pan I used to griddle my prawns, adding a delicious smokey flavour to the broccoli, whilst retaining its natural taste and keeping it a little crunchy. It worked perfectly with this Malaysian Laksa Soup, which makes total sense given its Asian roots, and I can't wait to try it in any number of other recipes!
Is This Healthy Malaysian Laksa Soup Slimming World Friendly?
If you are one of my gorgeous Slimming World readers you'll be happy to know that this delicious Malaysian Laksa Soup is totally Slimming World friendly. At just four syns per serving it makes the perfect 'Fakeaway', saving you from the unhealthy Takeaway menu and helping you save syns for the things that really matter…like wine and chocolate! The syns in this recipe comes from the light coconut milk, which is four syns per 100mls, and so long as you use a syn free or homemade Thai Red Curry Paste you don't need to add any other syns! Tenderstem® is an excellent addition to your Slimming World meal plan, as it'll give you a new ingredient to play with! They have loads of other recipe ideas on their site, so you can really go crazy with it…especially as it's exclusively sold in Iceland so it's the perfect excuse to stock up on some more of their frozen Slimming World meals!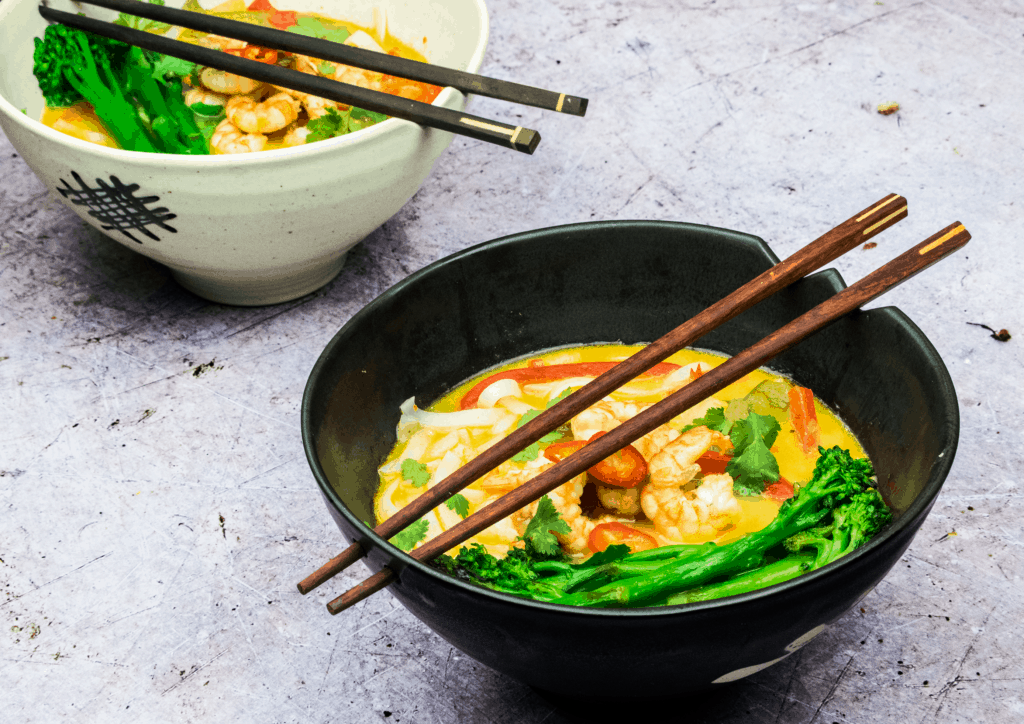 Homemade Syn Free Thai Red Curry Paste
You Will Need:
20-40 Small Red Birdseye Chillies (adjust depending on how spicy you want it!)
4x Cloves Garlic
6cm Piece of Fresh Ginger
2x Kaffir Lime Leaves
1x Stem of Lemon Grass
1x Lime (juice & zest)
2x Small Shallot Onions
Simply add all of the ingredients together in a food processor and blitz until smooth. You cannot use this paste uncooked, and it will always need to be fried or cooked off to help release the flavours…no one likes raw onion and garlic in their curry!
How To Make Healthy Malaysian Laksa Soup
I really hope that you adore this recipe as much as I do, it's full of flavour and has a proper kick to it! I've added it to the notes, but please do adjust the amount of red curry paste and chilli you use depending on your OWN spice preferences! You can also have a play around with the protein you include, and could make it vegetarian by adding tofu, or switch it up with some grilled chicken instead! I loved using prawns in this version, as it meant another ingredient from my freezers and another one purchased from Iceland!
Cliona Keane
Yields 4
Spicy Malaysian Laksa Soup with Grilled Prawns & Tenderstem® Broccoli
A healthy take on a Malaysian classic, this Spicy Laska recipe is full of flavour and topped with grilled prawns and beautiful Tenderstem® broccoli.
10 minPrep Time
30 minCook Time
40 minTotal Time
Ingredients
8x Stems Frozen Tenderstem® Broccoli
400mls Light/Low Fat Coconut Milk
800mls Vegetable/Chicken Stock
1x Packet of Fresh Frozen Prawns
4tbsp Thai Red Curry Paste (adjust depending on how much spice you like)
1x Red Chilli, plus extra for garnish (adjust depending on how much spice you like)
2x Nests of Dried Rice Noodles (thick or thin depending on preference)
2x Red Peppers (thinly sliced)
2x Shallot Onions (finely diced)
1x Lime (juice & zest - plus four extra slices for garnish)
1x Garlic Clove (crushed)
Low Calorie Cooking Spray
Salt & Pepper (to taste)
Coriander (to garnish)
Instructions
Spray a deep frying pan or thick bottomed sauce pan with cooking spray and add the diced shallots. Fry until they soften and begin to go brown.
Add the Thai red curry paste and stir in with the onions, allowing the spices and ingredients in the paste to cook until they become really aromatic.
Add the red peppers along with the red chilli, sliced thinly with the seeds removed.
Add two tablespoons of the coconut milk and continue to cook until the peppers begin to soften.
Add the rest of the coconut milk along with the vegetable stock, lime juice and lime zest. Bring to a simmer and then reduce the heat and cover to cook for 20 minutes.
Meanwhile, in a separate griddle pan fry the prawns with the garlic and some cooking spray. Set aside when cooked to add later. Keep the pan to cook the frozen Tenderstem® broccoli.
5 minutes before you're due to remove your soup from the heat, put your griddle pan back on the heat and let it heat up.
Spray the pan with some cooking spray and add your frozen Tenderstem® broccoli.
Season with salt & pepper and turn after a couple of minutes or before depending on whether you want some charred griddle marks or not.
Remove from the heat when cooked on both sides.
To assemble your laska divide the noodles between four bowls and add your spicy coconut milk soup into each until the noodles are not quite covered. Make sure to add plenty of the peppers.
Top with your grilled prawns and grilled Tenderstem® broccoli and drizzle with some more of the laksa soup.
Garnish with a slice of lime, some sliced chilli and a sprinkle of coriander.
Notes
Please adjust the amount of red curry paste and chillies depending on how spicy you enjoy your soup. Made according to this recipe it is likely to be three chillies on a four chilli scale! This recipe is four syns per serving, based on using a 400ml tin of light coconut milk and a syn free homemade red Thai curry paste.
7.8.1.2
178
https://basementbakehouse.com/2018/01/malaysian-laksa-soup-prawns-tenderstem-broccoli/
DON'T FORGET TO PIN THIS HEALTHY MALAYSIAN LAKSA SOUP RECIPE FOR LATER!
*this recipe was created in collaboration with Tenderstem® however, all views and opinions are my own. Frozen Tenderstem® is available exclusively at Iceland Foods, RRP £1.75 (270g pack)