Low Syn Gingerbread Christmas Decorations
Christmas is almost here and I'm so excited! It is 100% my favourite time of year and I get really really into every time it comes back around! Food is a major part of why Christmas is go great, but obviously it can make staying on plan rather tricky. I've been creating recipes over the last couple of weeks to help keep everyone on plan, at least partially, this year and this recipe for Slimming World friendly gingerbread is my latest creation! 
Slimming World gingerbread is an excellent addition to any healthy Christmas and this recipe made enough for me to cut out a massive 60 Christmas stars! I divided them in half and used half as nibbles to have there and then and made half into gorgeous hanging decorations…so pretty and so tasty! What's more, the entire batch of dough is just 48.5 syns which means that these stars are only 0.8 syns each!
As tasty as these stars are on their own, they get that bit more tasty when you ice them! I weighed out 50g of icing sugar which is 10 syns and mixed it with a little bit of water, then divided it into three pots colouring one with red, one with green and leaving one white. I then drizzled and dipped my stars and even adorned some with silver balls, glitter and sugar crystals to make them even more festive! Even with the icing and toppings divided between my 60 stars they still work out at around 1 syn each which is wonderful.
Hang these pretty edible Christmas decorations alongside the higher syn candy canes and chocolates on the tree and you'll give yourself an alternative option which everyone else will love too. It's these kinds of little changes which make staying on plan over Christmas much easier! You can give my filo pastry mince pies a go for pre-dinner nibbles and make my low syn lemon tart for pudding and you'll be well on your way to a healthier Christmas 2016!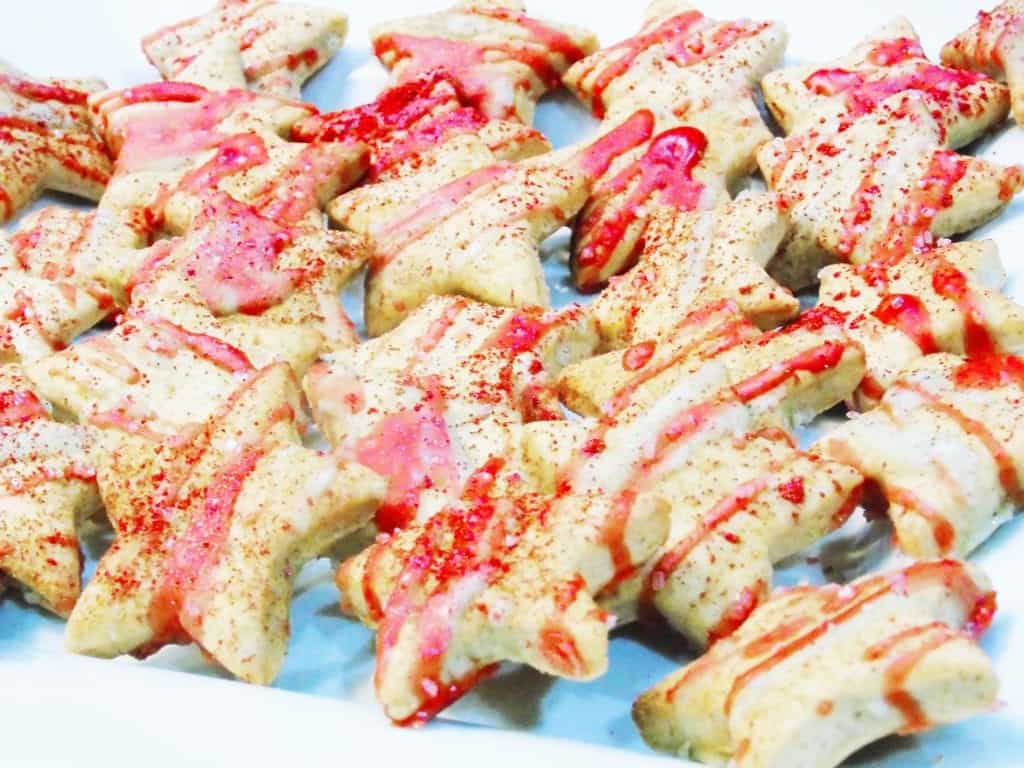 This is a recipe where you've got to, to a certain extent, work out the syns yourself so whilst if you do these the same way that I did they'll be one syn each, if you make different shapes, use more icing, use different toppings etc… you'll need to adjust the syns depending on what you've changed. It's really important to remember to do this as if you increase the syn value of each of these by just half without accounting for that it could push you over your syns and have unintended consequences down the line. So just be mindful of what you're putting on each decoration, and make sure to count then once you've cut them out, so you don't sabotage your own weight loss by accident!
YOU DO NOT NEED TO SYN THE SWEETENER IN THIS RECIPE! 
This recipe uses sweetener however you do not need to count the syns in this for each individual star. I use Sukrin :1 sweetener which has the same weight and consistency as regular sweetener, it also works in the same way and can be directly substituted in a recipe for sugar. So for this recipe it calls for 25g of sweetener which means I used the same quantity of Sukrin :1 as I would have for regular sugar. This equated to just a few tablespoons which when divided between the 60 stars means there's barely any sweetener in each. Slimming World's new rules mean that you are required to syn sweetener when there is a tablespoon or more per serving and in this there isn't. Even if you were to use regular sweetener, which is much lighter than Sukrin :1, you would not have 60 tablespoons of sweetener in this recipe and therefore you are NOT required to syn it. If you ate the whole batch you might want to consider adding a couple of syns for the sweetener, but trust me these are so yummy that everyone else will devour them before you have the chance to eat too many!
Cliona
Yields 60
Low Syn Gingerbread Decorations
Edible Christmas decorations with barley any syns!
Ingredients
150g plain flour
60g self raising flour
30g cornflour
25g Sukrin :1
3 tsp ground ginger (plus extra for dusting)
2 level tbsp Flora Light
2 level tbsp Fat Free Quark
1 tbsp oil
1 egg
1tsp vanilla essence
Instructions
Mix all of the ingredients in a food processor or using an electric mixer (or your hands if you've got the arm power!).
Once it comes together as a dough, tip it out onto a lightly floured surface and kneed until you have a smooth dough balls. Wrap it in clingfilm and leave it to rest in the fridge for at least 15 minutes.
Roll it out onto a clean lightly floured surface until it is about 2mm thick and use a cutter to cut out your shapes (in my case I used a star cutter).
Continue rolling and cutting until all of the dough is used.
Transfer the shapes onto a trays covered with baking paper, you may need to do multiple batches depending on the size of your oven and how many baking trays you own. Sprinkle them with a bit more powdered ginger.
Bake half of them as they are and use a skewer to create a hole in each of the others. You need to make a very pronounced hole as it will close up slightly when cooked.
Bake for 10 minutes or until they are golden brown and slide around on the baking tray without sticking.
Allow to cool and then ice however you want, remembering to account the right amount of syns for your icing.
Thread the ones with the holes onto ribbon or string once the icing has dried, you may need to make some of the holes bigger again with the skewer, and hang on your tree to enjoy on Christmas day!
Notes
I allowed one syn each per star to account for the gingerbread and icing.
7.8.1.2
120
https://basementbakehouse.com/2016/12/low-syn-gingerbread-slimming-world-christmas/