Low Syn Filo Pastry Mince Pies
At just 1.5 syns each (actually under but I'm rounding up to be safe!) these mince pies are the perfect thing to help you stay on plan this Christmas! Made using Filo Pastry and traditional mincemeat they are totally melt in the mouth and will please everyone this Christmas!
Christmas for me is a time for friends, family and food and it's traditionally a time of indulgence. It can be a notoriously tough time for those of us on Slimming World and some people choose to just call it quits until the new year. This is such a dangerous thing to do because if you're anything like me a month of pigging out can easily mean putting an entire stone back on! For me that would mean gaining almost a third of my whole weight loss back for the sake of a few mince pies and bags of chocolate coins. Instead I prefer to be a 'Flexible Felicity' as Slimming World so quaintly puts it. By this I mean I will absolutely not stick to plan 100% and Christmas day will most likely be a write off on the syns front! However, that does not mean I'm going to write off the entire Christmas period. I will be flexible on Christmas and probably on boxing day too (leftover chocolate has to be eaten after all!) but then it's straight back on it. Two days off plan will not ruin my entire weight loss, neither will the one or two days in the run up to Christmas for parties and drinks, however if I decided to just say stuff it and spend the in-between days stuffing my face too then my weight loss would be totally scuppered!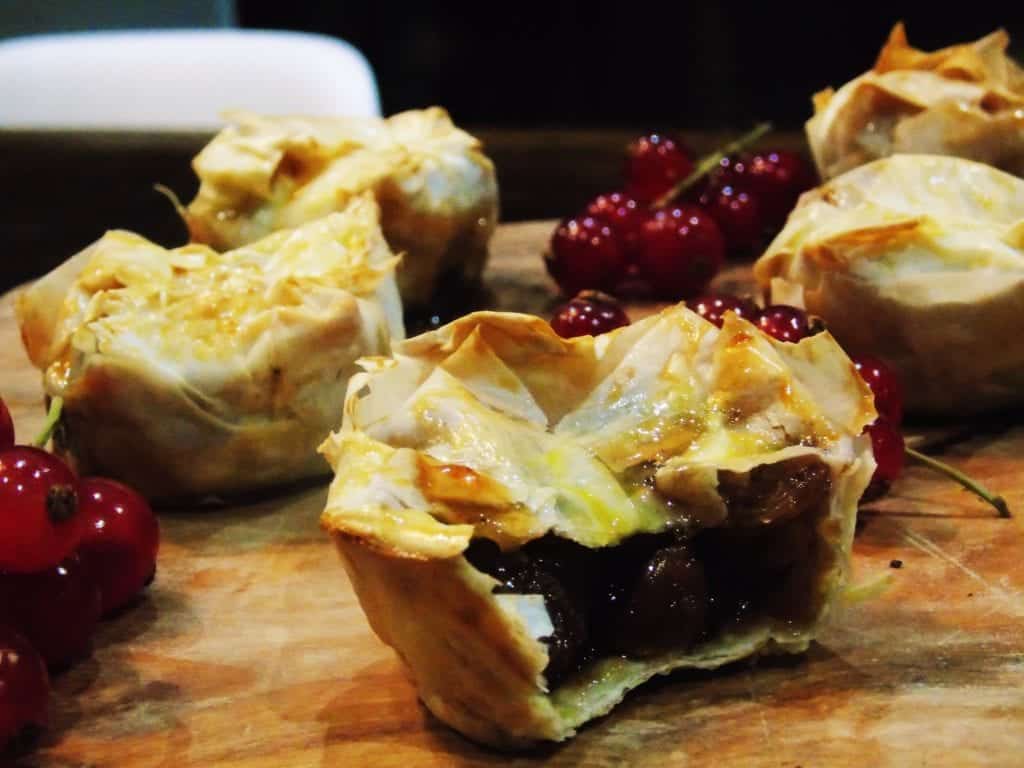 Something that makes staying on plan over Christmas much easier is being able to make lower syn versions of the classic Christmas treats. Mince pies can be something ridiculous like 11 syns EACH, with all of their melt in the mouth shortcrust pastry, but that doesn't have to be the case, especially as I don't know anyone who has ever stopped at just ONE mice pie!
Filo Pastry is absolutely delicious, it's light, crispy and for the quantities you need in each mince pie it's mega low syn! 25g or Filo Pastry is 3.5 syns, which makes the five grams you need in each mince pie (about 7-8 sheets 2 inches square) a tiny 0.7 syns! Made using egg instead of butter to bind the sheets, and with just half a syn (1tsp) of mincemeat in each they are just 1.2 syns each. I'm rounding up for each to 1.5 syns to allow for slight variations in quantities and sizes but that still means you could polish off 10 of them within your syn allowance if you wanted to!
I made these mince pies in a muffin tin like this one which had space for four on each line. This makes them small enough to remain low syn, but big enough to be a really satisfying couple of mouthfuls! You could make bigger ones by using a larger muffin tin by doubling the quantities, which frankly would still be only three syns per mince pie which is still very reasonable! These are about the size of the small mince pies you get in the shops, which are still about 5 syns each from what I've seen! As you can see from the pictures I served them up for everyone along with bunches of red currents, which to me are such a quintessentially Christmas-y fruit! You'll also find that if you serve these up with fruit that you'll eat fewer mince pies, which can also help protect your weight loss.
Yields 10
Low Syn Filo Pastry Mince Pies
Delicious 1.5 syn mince pies made with melt in the mouth filo pastry and traditional mincemeat!
20Prep Time
7Cook Time
27Total Time
Ingredients
25g Filo Pastry (cut into equal squares roughly 2inches x 2 inches)
10tsp Mincemeat
1x Egg
Fry Light
Instructions
Preheat your oven to 180 degrees.
Divide your piles of filo pastry squares into 10, this gave me about 8 sheets for each.
Whisk your egg in a cup or small bowl.
Spray ten of your muffin tin holes with plenty of Fry Light, this helps to give the pastry a more golden colour on the outside.
Carefully layer each layer sheets of filo pastry from each of your piles into each muffin tin, brushing them individually with the whisked egg before you put them in. You need to layer them unevenly so they go over the bottom and up the sides all the way around, stick up around the sides of the muffin tin holes.
Fill each with one teaspoon of mincemeat and then fold the sides over the top, brushing with plenty of egg as you fold. The egg makes the pastry go nice and golden as well as stick together so you want to make sure all the nooks and crannies are brushed lightly with egg.
Bake for 7 minutes in your preheated oven and then leave to cool before eating.
Enjoy them warm or cool!
Notes
1.5 syns on Slimming World.
7.8.1.2
117
https://basementbakehouse.com/2016/12/low-syn-filo-pastry-slimming-world-mince-pies/
Nutrition
Don't forget to PIN this recipe to make later!