At this time of year dessert is well and truly on the agenda. Christmas pudding, Christmas cake, chocolate roulade, its all delicious and high in syns. So, it is more important than ever to arm ourselves with healthier and more importantly lower syn options which will not only wow us, but well and truly wow all those non-slimmers at Christmas dinner too! That's where this lemon tart comes in, at just 2 syns per slice (or 1 if you cut 20 small sizes instead of 10 big ones!), its the perfect alternative to have on the Christmas table.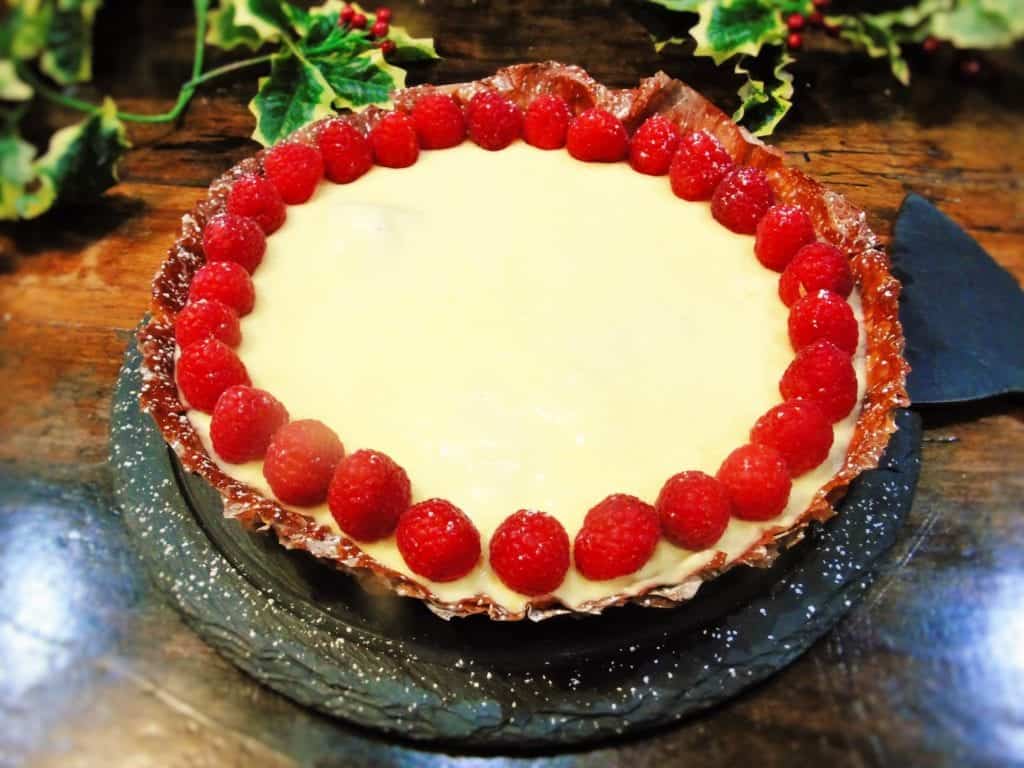 With a totally syn free lemon filling you can't go wrong and this is as good as it comes. Funnily enough I always hated lemon tart when I was a kid, I found it too rich and just too much to handle. This however is the perfect balance of creamy and tangy without being too rich. I used my syn free lemon curd recipe as the basis for the filling, with added gelatin to firm it all up and make it a tart filling and it was absolutely delicious. The filo pastry base enables you to keep this as low syn as possible, but if you wanted you could of course use a regular pastry base (homemade or shop bought) and just count the relevant syns per slice. Watch the video or follow my written instructions to make this delightful centrepiece!
Christmas is a time for family, friends and food, and that makes it a tricky time to stay on plan. What we all need to remember is to be flexible and that everything is OK in moderation. One of the most difficult things I always find is to stay on plan when family and friends are around and you've laid on (or are around) all of the food they want to eat. They don't have to worry about the syns they eat and it's very easy to scrap it all in and decide not to either. That's definitely one way to go about it but there is another way too. By making Slimming World friendly dishes alongside the high syn ones, you give yourself a choice. What's more, by making delicious low syn dishes like this lemon tart, not only do you give yourself a choice but you give yourself the better choice! So much so in fact, that you'll have to act quick to get a slice before everyone else!
The filling for this tart is totally syn free and as such makes a delicious pudding all on its own! I like to layer it with fresh fruit and even jelly! Recently Slimming World announced a new change to the rules, saying that granulated sweetener needed to be synned at half a syn per tablespoon. However you DO NOT NEED TO SYN THE SWEETENER IN THIS RECIPE! The reason for this is that it works out at half a tablespoon of sweetener per serving and it only needs to be synned when a tablespoon or more per serving is used. If you polish off more than one slice of this tart however you may decide to syn the sweetener at half a syn per two slices if you want to.
I used Sukrin :1 sweetener in this recipe, as it is the best there is and can be used exactly the same as regular sugar, but you can use other sweeteners if you want. Pick up Sukrin :1 on Amazon or from their website.
Yields 10
Low Syn Lemon Tart
A delicious filo pastry lemon tart, perfect for the festive season!
Ingredients
150g Filo Pastry Sheets
5x Eggs (the video only shows three used but I actually used five)
2x Lemons
6g Powdered Gelatin
100mls Boiling Water
5tbsp Sukrin :1 Sweetener (or alternative)
4tbsp Quark
Fry Light
Instructions
Preheat your oven to 150 degrees. Whisk one egg in a small cup or bowl.
Spray a tart tin with Fry Light and layer the pastry around, brushing each layer with whisked egg, until the sides and base are well covered. Don't worry if some of the pastry sticks up the top, you can trim this once cooked.
Bake for 10 minutes, or until golden brown.
Meanwhile, grate the zest of the lemons into a glass bowl and then juice them into the bowl too.
Add four eggs and the sweetener and mix until combined.
Fill a saucepan with about two inches of water and bring to the boil, set the glass bowl on top of it making sure the water doesn't touch the bottom of the bowl.
Dissolve the gelatin in the boiling water, if it doesn't dissolve completely then microwave for 10 seconds and stir again and it should dissolve. Add to the mixture over the heat.
Whisk the mixture continuously until it has thickened. You know that it is thick enough when you take a little bit on a spoon, allow it to cool slightl, and run your finger through it. If there is a clean line created then it is done.
Remove from the heat and stir in the quark.
Tip the mix into the tart base evenly and pop it into the fridge to set and cool for 2 hours. It won't set like jelly, you don't want it to, but it'll set enough that it doesn't pour out when cut.
Garnish with fresh fruit and a sprinkling of icing sugar if you want and serve!
Notes
2 syns per slice on Slimming World when split between 10 people. Best served on the day its made.
7.8.1.2
119
https://basementbakehouse.com/2016/12/low-syn-slimming-world-lemon-tart/
Nutrition