Lighter Than Light Lemon Drizzle Doughnuts
This is possibly one of the most exciting recipes I've ever made! I am genuinely totally in love with these Lighter Than Light Lemon Drizzle Doughnuts, and for 2 syns each you can probably see why! Not only are these light, fluffy and zingy, they're also seriously adorable! You can find the recipe and recipe video down below.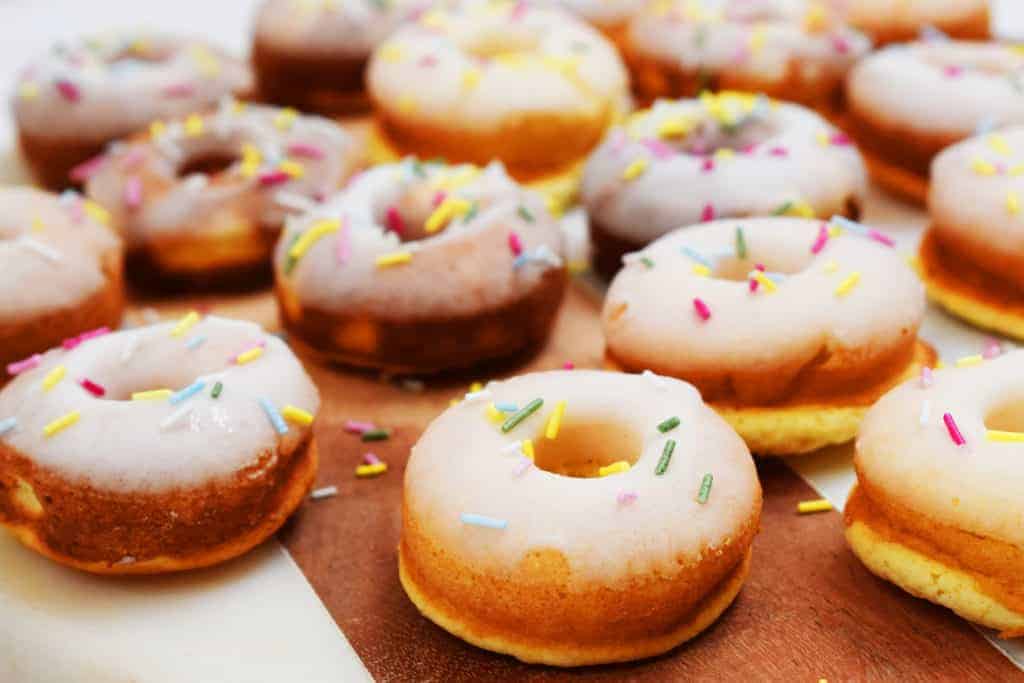 How Are These Lighter Than Light Lemon Drizzle Doughnuts Low Syn?
The recipe for these Lighter Than Light Lemon Drizzle Doughnuts makes 20 doughnuts, which are each about 3cm in diameter. They're more than a mouthful but they're not big and heavy which is great! They're made with lightest cream cheese which helps give them a fluffy texture and also helps keep them lower in fat!
They're also made using Sukrin Melis Icing Sugar which is a sweetener icing sugar and my favourite brand to use! I love it because it doesn't give you that nasty aftertaste that many sweeteners do. It also works in the same way as normal icing sugar, so it doesn't disappear when you mix it with water and you don't need an entire bag for one recipe, just as much as you would need if you were using regular icing sugar. This also means that you can substitute it for normal icing sugar if you're not on Slimming World!
Do You Have To Syn The Sweetener In This Recipe?
You do in indeed! Under Slimming World's new rules you have to syn sweetener at half a syn per tablespoon if there is more than a tablespoon of sweetener per portion. As these doughnuts aren't portioned as such you do have to syn the sweetener in this recipe and that is accounted for in the syns for this recipe.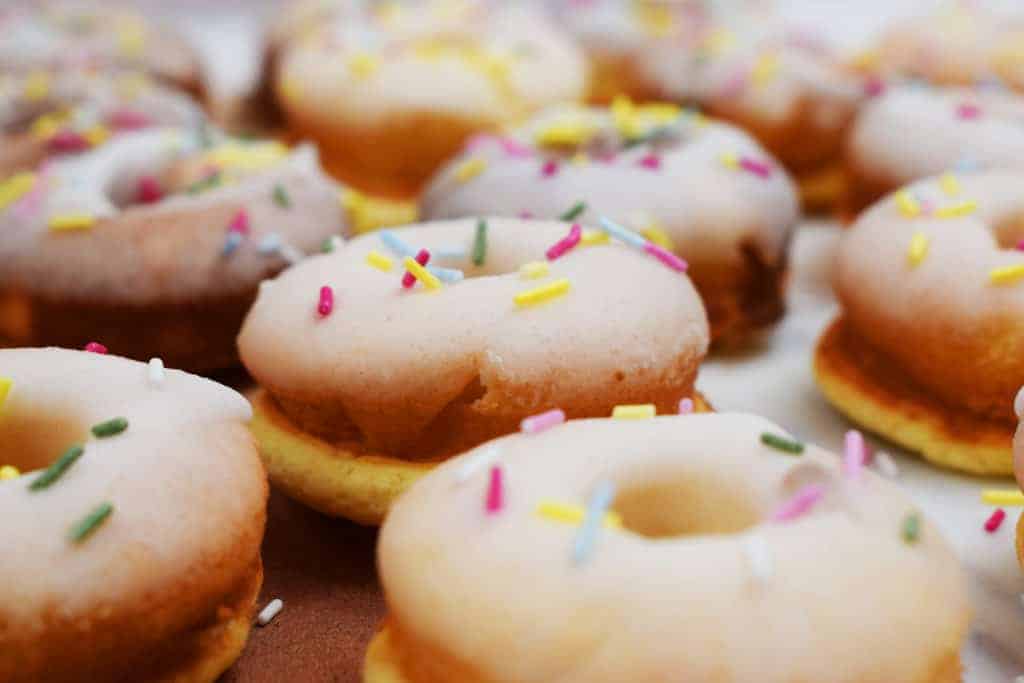 Making These Lighter Than Light Lemon Drizzle Doughnuts
I can honestly say that these doughnuts are probably my favourite recipe I've made in a while! They're so tasty and full of lemony flavour and are the perfect thing to help curb your sweet cravings if you're trying to be healthy!
Everyone in my house loved these and said they were full of flavour and that you honestly couldn't tell that they were healthy. That's one of the things I love doing with my recipes, making them simple, perfect for Slimming World and ensuring that they work for everyone, not just those who are dieting.
You can find the ingredients and step by step instructions for how to make these delicious Lighter Than Light Lemon Drizzle Doughnuts here and find the recipe video by scrolling down below!
Cliona Keane
Yields 20
Lighter Than Light Lemon Drizzle Doughnuts
Delicious lemon doughnuts, perfect for a light bite to help your sugar cravings!
10 minPrep Time
10 minCook Time
20 minTotal Time
Ingredients
For The Doughnuts

110g Philadelphia Lightest
100g Self Raising Flour
4tbsp Sukrin Melis Icing Sugar (Sweetener)
50g Butter
1x Egg
1tsp Lemon Extract
1tsp Vanilla Extract

For The Icing

3tbsp Sukrin Melis Icing Sugar (Sweetener)
Water
1tsp Lemon Extract

You Will Also Need

Piping Bag/Freezer Bag
Instructions
Preheat your oven to 180 degrees.
Combine all of the ingredients together in a mixing bowl and mix using an electric whisk or hand whisk until smooth.
Fill the piping bag or freezer bag with the mixture. If using the freezer bag fill so the mix goes into one corner. Snip the corner off to allow the mixture to be piped out.
Pipe the mixture evenly into the doughnut mould and flatten using a teaspoon or your finger.
Bake in the oven for about 10 minutes, or until they are golden brown on top.
Remove from the oven and allow to cool for a further 5 minutes. Tip out onto a cooling rack and allow to cool completely.
For the icing add the Sukrin Icing Sugar into a small bowl and then add the lemon extract. Gradually add water until you have a runny consistency.
Dunk the doughnuts into the icing and decorate however you wish!
Notes
2 syns per doughnut on Slimming World. Syn values correct at time of writing. Please do not screenshot this recipe, share the link instead!
7.8.1.2
147
https://basementbakehouse.com/2017/04/lighter-than-light-lemon-drizzle-doughnuts/
DON'T FORGET TO PIN THIS LIGHTER THAN LIGHT LEMON DRIZZLE DOUGHNUT RECIPE FOR LATER!