1/2 Syn Strawberry Mousse
What could be better than a sweet, mouth watering, delicious dessert for just half a syn? Not much as far as I'm concerned, and that's exactly what you get with these simple little individual mousse pots (although you could obviously make one big mousse if you wanted!)…and you get it all in under an hour!
I'm a big fan of strawberry mousse, it's creamy, airy and fresh tasting, and this Slimming World friendly version is very very similar to the original. The only difference is that it's slightly firmer (because of the use of jelly). It's also quite sweet, so depending on your tastes, you could use less of the jelly powder…which in turn would actually reduce the syns to less than half per portion!
Served in cute little ramekins (these gorgeous heart shaped ones are definitely on my shopping list!) this pudding is perfect whether you're entertaining or just cooking for one or two, they'll keep in the fridge for a few days too which is always a bonus.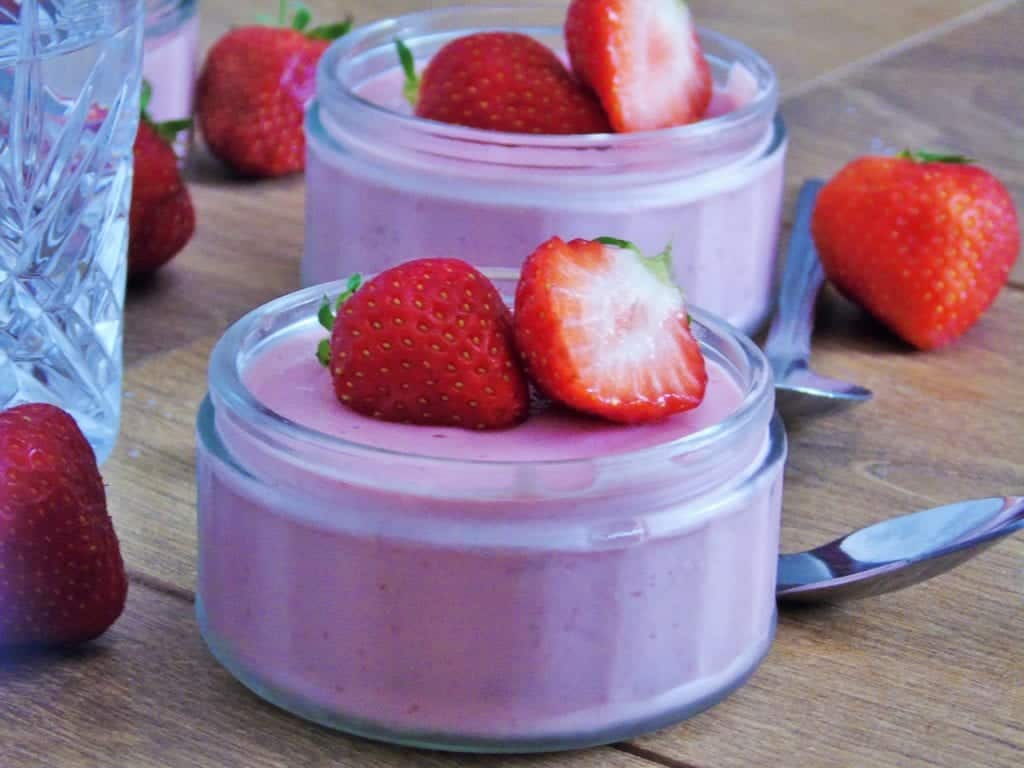 Yields 3
1/2 Syn Strawberry Mousse
A quick and simple Slimming World strawberry mousse!
60Total Time
5 based on 1 review(s)
Ingredients
1 Sachet of Hartleys Strawberry Sugar Free Jelly
80mls Boiling Water
1 Pot Strawberry Muller Light
1 Pot Fat Free Greek Yogurt (200ml approx)
Instructions
In a bowl mix your jelly and boiling water until the jelly crystals are completely dissolved.
Allow to cool slightly, and add your two yogurts.
With either an electric or hand whisk, whisk the mixture for a couple of minutes to help add air and froth it up slightly.
Pour into individual ramekins, or one large bowl if you wish, and put in to the fridge for up to an hour.
Serve with fresh strawberries!
Notes
1/2 syn per pot on Slimming World. 1.5 syns for the entire mixture.
7.8.1.2
56
https://basementbakehouse.com/2016/06/half-syn-strawberry-mousse-slimming-world/
Nutrition