Healthy Lemon & Blueberry Yogurt Cake
It has been a while since I made a cake, so it was high time I got my mixer out and came up with another healthy dessert recipe. One of my big pregnancy cravings seems to have been blueberry muffins, so I took that as my inspiration and created this delicious Healthy Lemon & Blueberry Yogurt Cake, which is not only packed full of anti-oxidants but is also healthy and Slimming World friendly to boot.
A Slimming World Friendly Treat
I'll put it out there straight away that this is not a syn free recipe for those following Slimming World, however, I have crafted it to be perfectly suited to the plan. The cake serves eight people, and when cut into eight the syn values work out as follows:
1 slice = 1/2 HexB + 4.5 syns
This means that you can have one slice of this cake for under five syns if you count it as half of your Healthy Extra B option on the plan. If you would prefer to save your HexB choice in full for something else, you would simply need to add another three syns per slice – making it 7.5 syns per slice. Personally, I like to split my Healthy Extra options, giving myself more variety throughout the day, and this cake makes the perfect mid-afternoon treat to get your energy levels up, or to serve with tea when friends arrive.
No one will ever know that this cake is a healthy option, that is unless you feel like gloating! It's deliciously sweet, with a hint of sour from the lemon, and it has a surprise gooey blueberry centre which oozes healthy goodness.
I have included two different ingredient methods below, one of which is more Slimming World friendly than the other as it uses granulated sweetener, and that is what I have used for these syn calculations. The second option is to use honey to sweeten this cake, which is a more natural choice for those who prefer to keep artificial ingredients out of their diet – however, if you are following Slimming World and are happy to include sweeteners in your diet then you simply need to follow the first option.
What You Need To Know to Make a Healthy Lemon & Blueberry Yogurt Cake
Making this cake couldn't be more simple, and requires very little stress or effort on your part. The important thing is to layer your cake batter with the cooked blueberry jam in the centre, so that it cooks with that perfect gooey centre. Of course, to keep this recipe nice and healthy and without too much added sugar, the blueberries in the centre are simply cooked down with a bit of water.
Once you've layered your cake mixture with the jam in the centre, and topped off with a sprinkling of whole fresh blueberries, this cake takes just 35 minutes to bake at 180 degrees Celsius. When combined with the time spent mixing, that means you have a delicious cake, suitable for any occasion, in just 45 minutes! Not a bad little number to whip up if you're expecting guests or fancy a sweet treat at your desk. Topped off with an optional drizzle of lemon and icing sugar (I use a sweetener icing sugar) and some lemon peel, there is no end of flavour in this delicious Lemon & Blueberry Yogurt Cake.
Naturally Good with St Helen's Farm
As the name suggests, yogurt is a very important element of this Healthy Lemon & Blueberry Yogurt Cake, and on this occasion I have used Fat Free Goats Milk Yogurt from St Helen's Farm which not only adds a gorgeous smoothness to the batter but keeps the syn value low as it is a totally syn free product. I recently switched all my dairy needs to goats milk varieties from St Helen's Farm, which is when I discovered just how much I enjoyed cooking with goats yogurt! It has a brilliantly silky texture and adds a whole new dimension to the dish.
Goats Milk is particularly good for cooking a healthy recipe like this, as it is packed with essential nutrients and is high in both protein and calcium. When combined with the antioxidant effects of the fresh blueberries and the fibre from the oats, it makes for a fighting combination that not only tickles your taste buds but helps protect your body and immune system too. It might sound like a lot to ask from one cake, but this one more than delivers!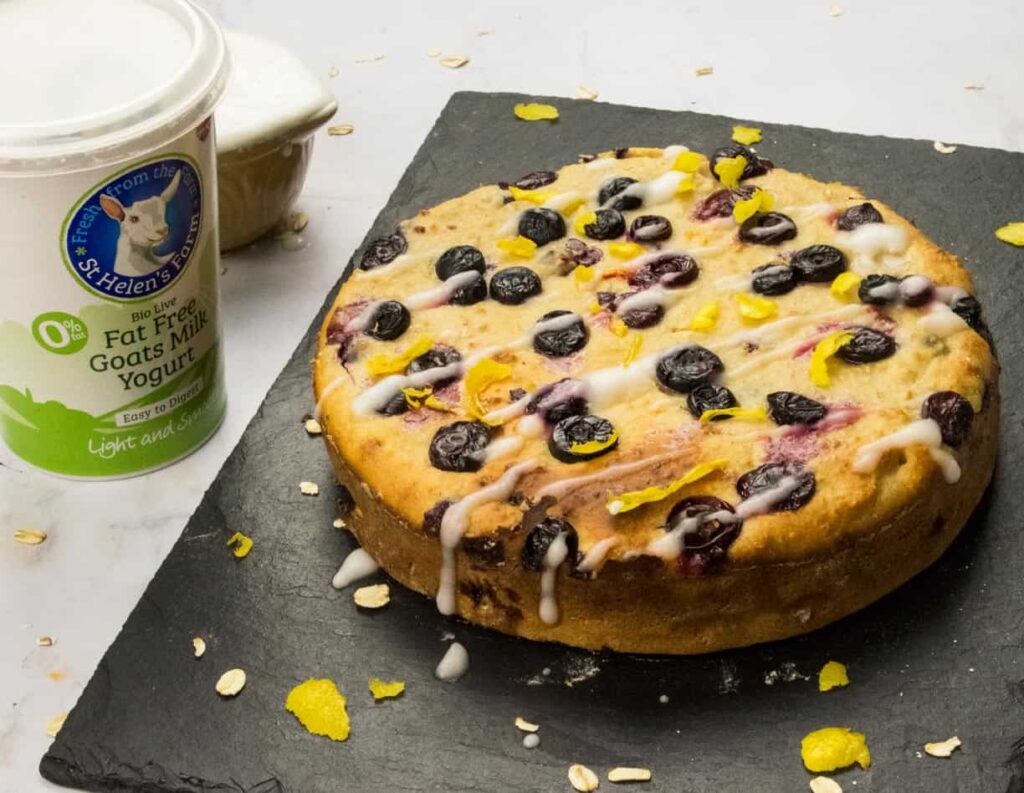 Making Healthy Lemon & Blueberry Yogurt Cake
Now that you know what goes into making this delicious Lemon & Blueberry Yogurt Cake, it's time to give you the specifics. Like I've said, this couldn't be more simple and is ready in just 45 minutes. I've made sure to pack it with lots of flavours, using two lemons, and kept it really moist and tasty with the blueberries. It's a cake that can be enjoyed as breakfast, as a snack, or with friends, so take your pick and get baking!
Cliona Keane
Yields 8
Healthy Lemon & Blueberry Yogurt Cake
A delicious and healthy Lemon & Blueberry Yogurt Cake, packed with flavour and healthy nutrients. Perfect for tea with friends, breakfast or as a mid-afternoon snack.
10 minPrep Time
35 minCook Time
45 minTotal Time
Ingredients
150g Self Raising Flour
140g Porridge Oats
2x Lemons
200g Fresh Sweet Blueberries (split into three portions)
5tbsp Granulated Sweetener (Slimming World friendly)
OR 5tbsp Natural Honey (not Slimming World friendly)
350mls St Helen's Farm Fat Free Goats Milk Yogurt
2x Medium Eggs
1tbsp Sunflower Oil

OPTIONAL TOPPING

2tsp Lemon Juice (retained from original lemons)
4tsp Icing Sugar/Sweetener Icing Sugar
Instructions
Preheat your oven to 180 degrees Celsius.
Using a peeler, peel small curls of lemon rind from one of the lemons. Set aside to garnish the cake with later.
In a blender, blitz half of the porridge oats until they are a fine powder.
In a mixing bowl, or the bowl of your stand mix, combine the blended oats together with the sweetener (if using), flour and the rest of the oats, keeping back one teaspoon of flour to coat the cake tin.
Add the eggs, yogurt, sunflower oil lemon juice and zest of the remaining lemon. If you are topping with a drizzle, keep two teaspoons of lemon juice for later.
If you are using honey instead of sweetener then add the honey at this point too.
Blend until smooth and then add 1/3 of the blueberries. Mix together with a spatula.
Place a saucepan over a low heat and add the second portion of blueberries, with a couple of teaspoons of water. Cook until reduced to a jam-like consistency.
Greace your cake tin, or use a spray oil, and add the teaspoon of flour using it to coat the tin.
Layer half of your cake batter into the cake tin, and then spoon the blueberry jam in the centre, topping with the second half of the cake mix - making sure that the jam is fully covered. Top with the remaining blueberries.
Bake for 35 minutes or until the sides start coming away from the side of the tin and a skewer comes out almost clean. Because of the gooey centre, the skewer will likely have blueberry residue even when the cake is cooked.
Allow to cool for 10 minutes and then tip out onto a cooling rack and allow to cool completely.
Top with the lemon curls. If you are adding a drizzle then mix together the remaining lemon juice and the icing sugar, drizzle over the cake.
Notes
1 slice = 1/2 HexB + 4.5 syns. If you don't use your Healthy Extra B option count 7 syns per slice. Syn values correct at time of writing. Please do not screenshot this recipe. Copyright Basement Bakehouse.
7.8.1.2
190
https://basementbakehouse.com/2018/10/healthy-lemon-blueberry-yogurt-cake/
DON'T FORGET TO PIN THIS RECIPE FOR HEALTHY LEMON & BLUEBERRY YOGURT CAKE FOR LATER!
* This recipe was created in collaboration with St Helen's Farm but all views and opinions are my own.