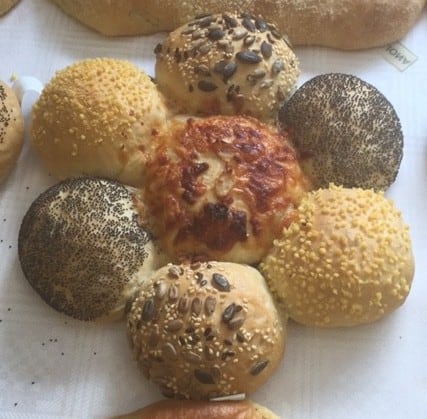 Bread Masterclass with Warings Bakery
So as you may have read in my last post, I was recently lucky enough to go on a bread baking masterclass with Warings Bakery near Reading.
Warings run a number of fantastic weekend sessions to teach you all about how to make bread, and when my lovely new boss told me that I could go on two of these courses I was over the moon! You can read about some of the things I learnt about bread making in that post I just mentioned, but here's a little info about the day itself.
The course I went on was an introduction to bread making, and I had no idea what to expect. In my head I assumed I'd be learning how to make one type of dough, wait for it to prove, watch it bake and that would be that. I'm sure that was a totally misplaced assumption but I've never been on one of these things before!
I couldn't have been more wrong though, when we arrived we were in a small group which was great, as it meant we all got one on one teaching and could actually learn! The day was completely hands on, no lecturing, no waiting around watching for too long. The different mixtures of flour, fats and yeast were laid out on a table, perfectly organised in rows behind our names so that we wouldn't have a GBBO style muddle up.
We learnt to make five types of dough on the day, and I'll be posting various incarnations of these over the coming weeks. Those five doughs however translated into SEVEN different products including: Ciabatta, Foccacia, Brown Bread, Rye Bread, Pizza, Tear and Share and a Pesto Twist.
So just to sum up… 4 hours, 5 doughs, 7 different loaves! 
I'm not going to spoil too much, because I really recommend that you go on one of these courses, or if you're not based near Reading find one to go on at a proper craft bakery. I have no doubt that part of the magic of the day was down to the family, history and warmth of this wonderful bakery.
Check out their website for more details! www.waringsbakery.co.uk