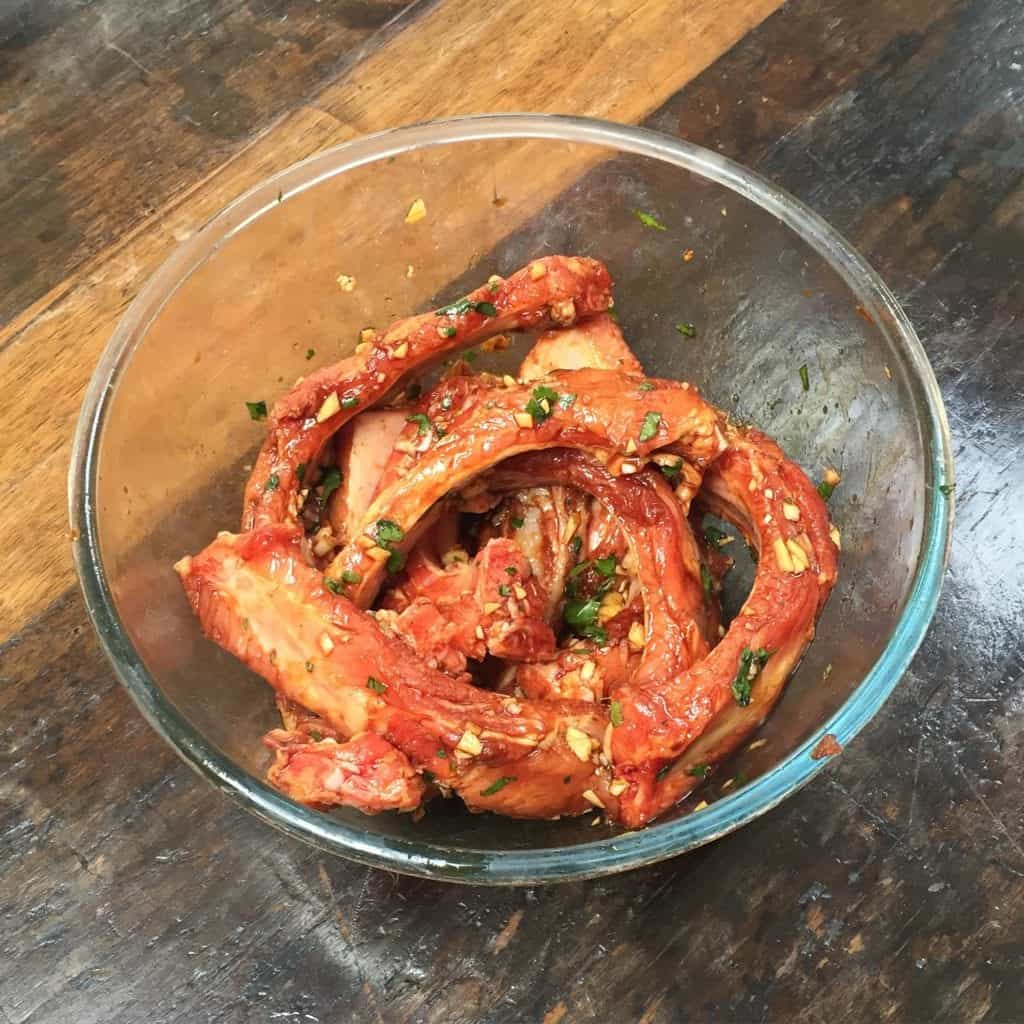 Low Syn Sticky Asian Pork Ribs
Asian food is beautiful, whether that be Japanese, Thai, Chinese, or one of the other gorgeous styles of cooking from one of the many amazing countries out there, and I'm always looking for new ways to create healthier, more Slimming World friendly, versions of my favourite dishes.
I am in love with the flavours of Asia, and genuinely can't get enough of them, but generally if I'm just looking for something to whip up on a Saturday night instead of heading to the nearest takeaway, I don't have a lot of the specialist ingredients to hand. If I had these ingredients I would definitely use them, but as it happens I do find that I can get the same warming, taste sensations, from a lot of my store cupboard essentials, and a few regular herbs and spices.
I made these ribs for dinner with friends the other day, and we had them as a starter alongside some chicken satay skewer and garlic and chilli prawns. I can honestly say that they were delicious, and that it was a huge treat to eat something that I'd actually had time to marinate properly! Usually, because I've been known to be a bit of a lazy cook in my time, I'll marinate for an hour or so and decide that it's enough, or I just won't have thought far enough ahead to give myself the time, but these sat infusing with beautiful flavour for a good four to five hours and they were gorgeous. That's why the prep time looks so long on the recipe below, but the actual doing part of the recipe is super quick, so if you don't have the time to do the whole shabang then don't worry, they'll still be really tasty I promise!
Yields 10
Sticky Asian Pork Ribs
Low syn, delicious finger food!
240Prep Time
10Cook Time
250Total Time
Ingredients
Rack of 10 Pork Ribs
1 De-seeded Red Chilli, chopped finely
3 Cloves Garlic, chopped finely
Fresh Ginger (about 2cm by 2cm), chopped finely
Bunch Fresh Coriander, loosely chopped
2tbsp Soy Sauce
1tbsp Honey
1/2tsp Chinese Five Spice
1/2tsp Chilli Powder
1/2tsp Garlic Powder
Instructions
Cut the pork into individual ribs, and place in a large bowl.
Mix all of the other ingredients together, and pour over the ribs.
Using a spoon, or your hands if you have some plastic gloves to hand (no one likes chilli hands!) mix everything so that the ribs are covered in the marinade. If you're using your hands try to rub the ribs with the liquid so that all areas are covered.
Cover the bowl with cling film and place in the fridge to marinate. If you can then leave them for a minimum of four hours, or longer, to really let the flavours infuse, but a couple of hours will do if you're pressed for time!
When they've marinated, heat up a grill pan on the hob or even the BBQ, and then place the ribs on. If you don't have a grill pan then just use a normal frying pan!
Brown the ribs on every side, so that you've got nice grill marks appearing and then pour over the rest of the marinade.
Grill until the ribs are done, and then take off and leave to rest for a couple of minutes before devouring!
Notes
There are 2.5 syns in the whole batch of ribs, which works out at half a syn per serving (of two ribs each), so if you ask me that's pretty darn good!
7.8.1.2
34
https://basementbakehouse.com/2016/04/low-syn-sticky-asian-pork-ribs/
Nutrition