One Pot Mushroom Risotto with Heck Chicken Sausages
I recently reviewed the Heck Chicken Italia Sausages (half a syn each!) and you may remember that I had half a pack left after indulging in a very delicious and totally Slimming World friendly cooked breakfast.
I can now confirm that the Heck Chicken Italia Sausages work just as well when cooked into a recipe as they do when eaten on their own, and the added flavours of mozarella and tomato through these particular ones adds a whole lot of flavour to the dish which simply wouldn't be there otherwise!
One other good thing about this recipe, is that it's all made in one pot/saucepan, which means it saves massively on the washing up. Something which my other half was rather pleased about!
One Pot Mushroom Risotto with Heck Chicken Sausages
2.5 syns for the whole lot!
5Prep Time
20Cook Time
25Total Time
Ingredients
100g Risotto Rice
Fry Light
1L Chicken/Vegetable Stock
2 Large Flat Mushrooms
5 Heck Chicken Italia Sausages
10 Cherry Tomatoes (halved)
Handful of Coriander (roughly chopped)
4 Mint Leaves (roughly chopped)
1tsp Lemon Juice
1tsp Dried Mixed Herbs
Instructions
Place a large sauce pan or deep frying pan on a hot hob and spray with lots of Fry Light.
Add your risotto rice, stirring until the Fry Light has covered all of the rice.
Pour over half of your stock, and bring to simmer. Reduce the heat slightly and stir regularly until the water has begun to reduce.
Add the rest of the ingredients, except the stock, and stir until combined.
As the stock is absorbed in the cooking, add a little more at a time. If you use more than 1L then just top up with more boiling water.
When the stock is all absorbed and your risotto rice is soft then it's ready to eat.
Remove from the heat and leave to sit with a lid on for 5 minutes to make sure all of the liquid is properly absorbed.
Serve with a crack of salt and pepper and a sprig of fresh coriander, on a bed of salad for extra speed!
Notes
2.5 syns for the whole batch on Slimming World.
7.8.1.2
35
https://basementbakehouse.com/2016/04/one-pot-mushroom-risotto-with-heck-chicken-sausages/
Nutrition
This recipe is linked up to
CookBlogShare
!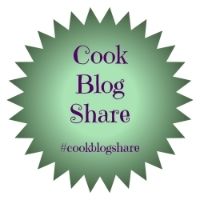 Check out some other amazing recipes on A Mummy Too's Recipe of the Week link up –