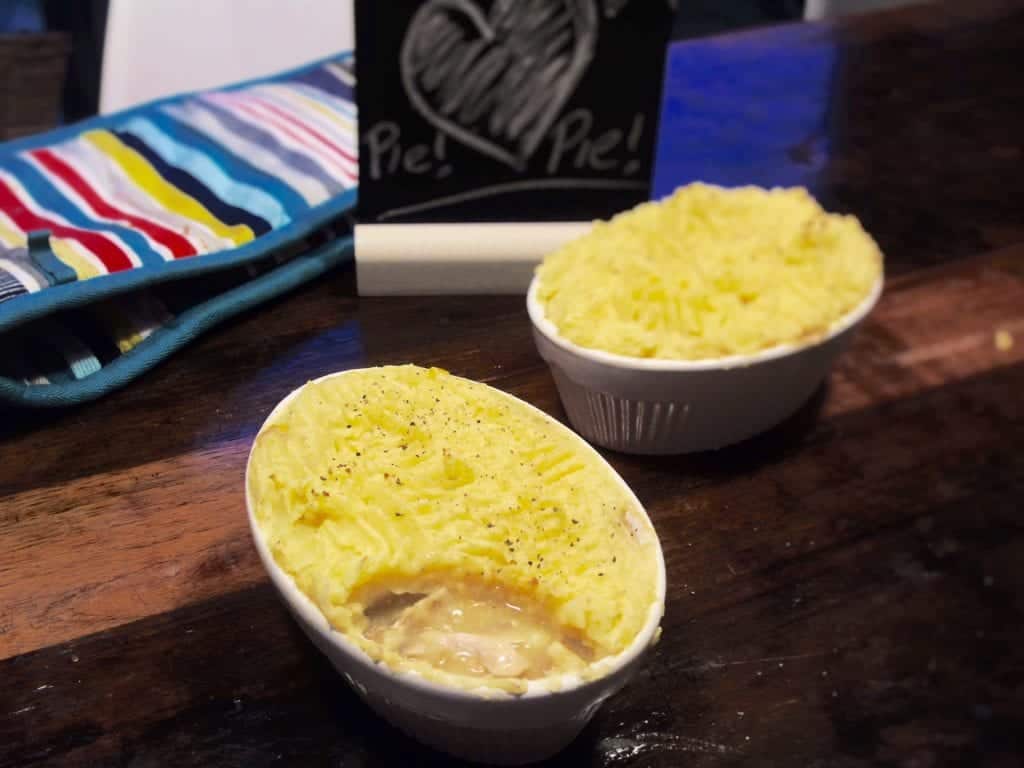 Super Simple 30 Minute Low Syn Proper Chicken Pie
I'm talking proper pie here! Hearty ingredients coated in a thick, shiny sauce and topped with creamy mashed potato…yum!
One of the biggest misconceptions about being on a healthy eating plan, is that you have to cut out all the fun stuff! That's just not true…Slimming World is specifically designed to enable you to enjoy the things you love, just in moderation. Where you use your syns is entirely up to you, some people prefer to use them on chocolate, sweets, crisps and all of the deliciously decedent treats that will fit within their syn allowance, and others like to build their syns into their cooking in a healthy and balanced way.
Personally I do a bit of both, some days I'll stock up on Drum Stick Lollies (2.5 syns each!) and frozen Curly Wurlys, and others I'll use my syns in cooking, it simply depends what mood I'm in! I do find however, that the weeks where I build my syns into my main meals tend to be the weeks that the weight comes off quicker, but that's just me!
This meal might be absolutely scrumptious, but I have to admit that it's not the most photogenic meal, so you're going to have to forgive my less than Instagramable pictures!
Ready in just half an hour, this pie is also incredibly convenient! You don't need fancy ingredients, you don't need to make your own pastry or leave anything to rest in the fridge. Just a few simple steps, and you've got yourself a thick and luxurious pie, what could be better than that!?!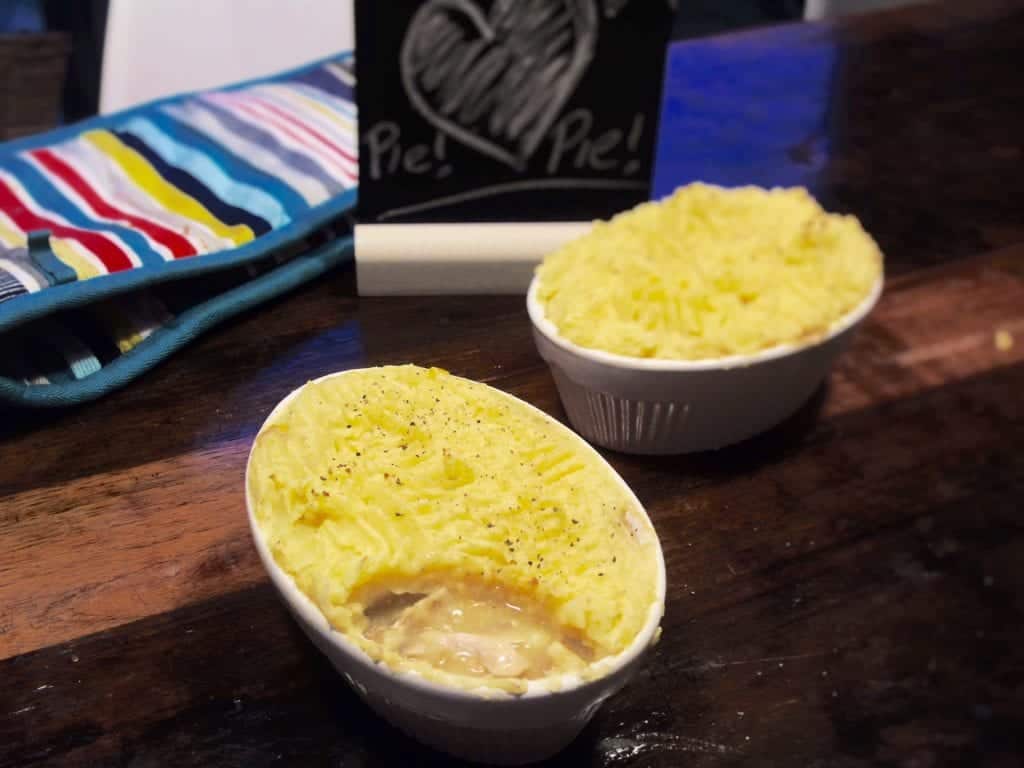 The glossy sauce in this pie comes from the use of a little bit of flour. What some people do when they're trying to thicken sauces is to make a liquid and then add flour to thicken it up. That is definitely not the way to go about it! Not only do you end up using much more flour than needed, but you're likely to end up with lumps of gloopy dough throughout your sauce. Instead, by frying an onion, adding the flour and then gradually adding chicken stock bit by bit, stirring as you go, you end up with enough thick, shiny sauce for two large pies, from just two LEVEL tablespoons of flour (4 syns in total).
You could of course add whatever filling your wanted to this pie, if you fancied beef just use beef stock instead of chicken and maybe add some peas, and if you fancy some added speed foods just chuck in a handful of kale, or spinach! I'm really giving you a framework to work from here, so that you can go an experiment yourselves at home with different varieties of pie. I chose to add sweetcorn and mushrooms to my chicken filling, as they're two of my favourite veg, but you can go wild with this one!
Super Simple 30 Minute Low Syn Proper Chicken Pie
A thick, shiny, luxurious pie filling topped with creamy mashed potato!
Ingredients
For the Filling1x Onion (diced)

2x Level Tablespoons Plain Flour
1.5L Chicken Stock (you may not need it all)
3x Chicken Breasts (chopped into mid sized chunks)
Salt & Pepper (to taste)
Sweetcorn (optional)
Chopped Mushrooms (optional)
Fry Light

For the Top5x Potatoes (peeled and chopped)

2tbsp Fat Free Quark
50mls Chicken Stock (from the 1.5L above)
Instructions
Preheat your grill to 200 degrees.
Fry your diced chicken in a frying pan with some salt, pepper and Fry Light until cooked through. Set aside.
Cover the chopped potatoes with boiling water in a sauce pan and set on the hob to boil.
Meanwhile, heat a medium sized sauce pan on the hob with some Fry Light and then add your diced onion. Fry for a few minutes until the onion is cooked.
Add your flour to the onions with a dash of chicken stock. Stir continuously until the flour has taken in all of the water and it has started to become doughy.
Gradually add more chicken stock a little at a time, stirring the mixture continuously as you go, until you have a thick, glossy sauce.
At this point add your other vegetables, for me this was sweetcorn and chopped mushrooms, and continue to stir, adding more stock if it thickens too much.
When you're happy with the consistency of the sauce, add the chicken.
Remove your potatoes from the hob when they're soft and a knife can penetrate all the way through breaking them apart. Drain the water.
Add the quark and a bit of chicken stock, and mash the potatoes until they are smooth.
Spoon your filling into deep pie dishes until about a centimetre from the top. Don't over fill otherwise they'll overflow when you add your topping (mine did!).
Spoon mashed potato on top of your filling. It shouldn't sink much, instead it will sit easily on the mixture.
Using a fork, spread the mashed potato over the top, ensuring it reaches the edges of the pie dish.
Sprinkle the pie with some salt and pepper, and spray over a bit of Fry Light. Place under the grill for a couple of minutes until the top most ridges of the mash begin to catch slightly.
Enjoy with some extra veggies and a smile!
Notes
Each pie contains 2 syns for those on Slimming World.
7.8.1.2
60
https://basementbakehouse.com/2016/06/super-simple-30-minute-chicken-pie-slimming-world/
Nutrition