Low Syn Individual Baked Cheesecakes
At less than 1 syn each (although I'm rounding to 1 each for safety's sake!) these cupcake sized baked cheesecakes are to die for. With a delicious crunch from the cereal bar base, and a deliciously smooth and creamy cheesecake topping, they are light and easy to eat, and the addition of jam gives them a whole new level of flavour!
You could use pretty much any flavour of jam that you fancy in this recipe, and on this occasion I went with Rhubarb Conserve, a new jam from the fabulous Bonne Maman who have always been my favourite brand when it comes to jam in general. I was therefore unsurprisingly thrilled when they got in touch with me recently to send over not only their new Rhubarb Conserve, but also their brand new seasonal cookbook.
If you get one thing from this post and recipe, please let it be that you should go out and buy some Bonne Maman Rhubarb Conserve today! It is actually to die for, and I'm not ashamed to admit that half the pot is gone already because it turned into a 'one teaspoon for the recipe, one teaspoon for me' situation when I was baking! Because it's still got the slightly sharp and tangy Rhubarb taste, it's not over sweet, which makes a really nice change for jam, and at just half a syn per teaspoon for all of Bonne Maman's conserves, you can't really go wrong! Whether you decided to use strawberry jam, raspberry or one of their huge number of other different jams or conserves, it'll lift the recipe so much and I can't recommend it enough!
This recipe isn't from the cookbook, it's one of my own creations inspired largely by my 'Syn Free No Bake Cheesecake' from the other day, however it was great to read the recipes in the book and realise that jam did not just have to be spread on toast or sandwiched between a Victoria Sponge! I'm going to try out one of the recipes from the book soon though, and will give you some more information on its contents then, so keep your eyes peeled for that!
These individual cheesecakes went down so well at home, and I have to say that after the number I ate they weren't quite as low syn for me in the end, however if you were able to exercise some of the self control that I most certainly couldn't, these would be just 1 syn each using your Healthy Extra B choice and a third of your Healthy Extra A choice (making 10 cheesecakes). What's more, because they're baked cheesecakes, you don't have to wait for them to set as you do with a non baked cheesecake, which means these can be whipped up in less than 45 minutes! Perfect if you've got friends coming round or you're really fancying something sweet and delicious!
I don't know about you, but rhubarb has a lot of sentimental value for me. Growing up, I was lucky enough to grow a huge number of different types of fruit and vegetables at home, from apples, strawberries, gooseberries and pears, to pumpkins, sweetcorn and tomatoes, and one of the things we particularly loved to grow was rhubarb. This meant that growing up it was a staple part of our diet when it was in season (April to June and often into Summer) , mainly being eaten in crumbles and pies along with our freshly grown cooking apples. For me, this jam bought back a lot of taste memories of Sunday lunches and family dinners followed by my mum's completely unbeatable Rhubarb and Apple crumble! As I say, you could use any of Bonne Maman's jams or conserves, but this rhubarb one is a must try…and I'm not just saying that I promise!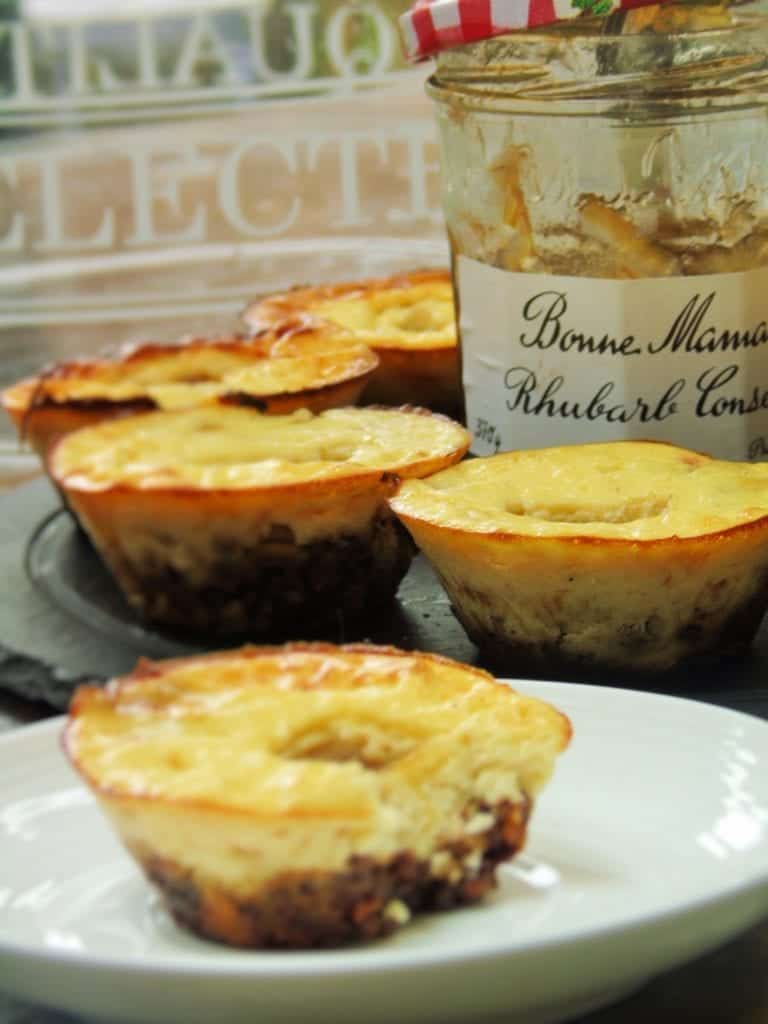 This recipe is ideal for those of us on Slimming World, as not is it a new and exciting way to use your Healthy Extras, but it's perfect for portion control. Because the cheesecakes are already made as individual portions, it helps with self control (unless you're like me yesterday!). What's more, these are just the thing to take along to a Slimming World taster evening, or make if you're friends from group are joining you for a cuppa and a chat!
Yields 10
Low Syn Individual Baked Cheesecakes
Light and creamy baked cheesecakes using your Healthy Extra B and just a third of your Healthy Extra A!
Ingredients
10x Special K Delight Cereal Bars (or equivalent Healthy Extra B cereal bars)
2x 110g Tubs Philadelphia Lightest
2x Eggs
5tbsp Granulated Sweetener
2tbsp Bonne Maman Rhubarb Conserve (or your choice of jam/conserve) to mix
10tsp Bonne Maman Rhubarb Conserve (or your choice of jam/conserve) to decorate
Instructions
Preheat your oven to 180 degrees.
Break up your cereal bars into a microwaveable bowl and microwave for 40 seconds.
Using a spoon, mix the melted cereal bars together, and then spoon into rubber cupcake moulds, pressing flat to create a base in each one. I used about one tablespoon per cupcake. If you don't have a rubber cupcake tray, use a regular cupcake tray but line it with paper cupcake cases so that you can take them out of the tray at the end. With a rubber tray you don't need these as you can just pop them out when they're cooled.
In a separate bowl, whisk the eggs and Philadelphia Lightest together, along with the two tablespoons of Rhubarb Conserve and sweetener. Make sure it's completely mixed, I prefer using an electric whisk in order to make sure there are no lumps.
Spoon this mix equally on top of your cereal bar bases, until they reach just below the rim. They do expand when cooked however they then sink again when cooled so don't worry too much about them overflowing, but equally don't overfill just in case.
Spoon a teaspoon of Rhubarb Conserve onto the middle of each cheesecake, and then put in the oven to bake for 20 minutes or until they begin to go golden brown on top. I didn't do this but I'd advise turning the tray around half way through as I found that the ones at the back cooked a lot quicker so did catch on top slightly.
If you are worried that the tops are done, but they aren't fully cooked in the middle, simply turn your oven off after 20 minutes and allow them to sit in the oven for another 5-10 minutes as it cools.
Remove from the oven and leave to cool, remove from the rubber moulds or cupcake cases depending on what you've used, and serve as soon as possible.
They will keep in the fridge for a few days after cooking.
Notes
Bonne Maman Rhubarb Conserve is 0.5 syns per teaspoon. Therefore each cheesecake contains half a syn on top and less than half a syn within the cheesecake mix itself, however I am rounding up to 1 syn to be safe. Using your Healthy Extra B and a third of your Healthy Extra A these are otherwise syn free. They are therefore 1 syn in total for those on Slimming World.
7.8.1.2
61
https://basementbakehouse.com/2016/06/low-syn-baked-cheesecakes-bonne-maman-slimming-world/
Nutrition
*I was sent Bonne Maman Rhubarb Conserve and recipe book to review for this post, however all views and opinions are my own