Quinoa, Parmesan & Spinach Stuffed Butternut Squash
One of the things I love about eating healthily is that it is so much more colourful than eating unhealthily! Whilst unhealthy food is so often beige, healthy food can be made up from all of the colours of the rainbow! Case in point this delicious, and totally syn free, stuffed butternut squash which is not only one of my most delicious recipes of recent weeks but also one of the most beautiful!
I was inspired to cook this by another blog which I read avidly, Easy Peasy Foodie, on which I saw one of my favourite recipes of 2016, also a stuffed butternut squash and also so brightly coloured it makes you want to dive into the page and eat it straight away! You can find the Cranberry, Feta and Quinoa Stuffed Butternut Squash here, and whilst you're at it make sure to have a look around the Easy Peasy Foodie's other amazing recipes! Having been so blown away by how lovely the recipe looked I couldn't not try my own version, adapted to be syn free of course, with my own flavour combo. I'm so pleased that Eb, the genius behind Easy Peasy Foodie, put me onto this style of dish because it went down an absolute storm when I cooked it this Christmas!
I decided to cook this for a party we had on the 27th for close friends and family as part of our Christmas festivities. My reasoning behind it was twofold, firstly that I had just about eaten all of the heavy food I could stomach on Christmas and Boxing Day and secondly that my vegetarian bestie was joining us for the party and I couldn't see her go hungry! I have been guilty in the past of being dismissive of vegetarian food, because I am an avid meat lover to my core, but one of my missions for 2017 is to familiarise myself with a wider variety of vegetarian dishes! Often I think vegetarians are provided with the same options time and time again (mushroom risotto anyone?!) so by putting recipes like this on the menu I hope not only to expand the horizons of any of my vegetarian readers but also to give a few ideas of great veggie based dinners to my meat loving followers too! After all, as a dear friend suggested to me recently, we could probably all do with cutting down our meat intake at least a little bit…
This recipe is not only wildly healthy for just about any diet, but is also absolutely syn free on Slimming World! It makes an excellent dish to have hot or cold, so could be made up for work lunches or as the centrepiece for your dinner, and is perfect for keeping you on the low carb end of the spectrum! As it is Stuffed with quinoa it isn't suitable for SP days however you could adapt it slightly to make it so.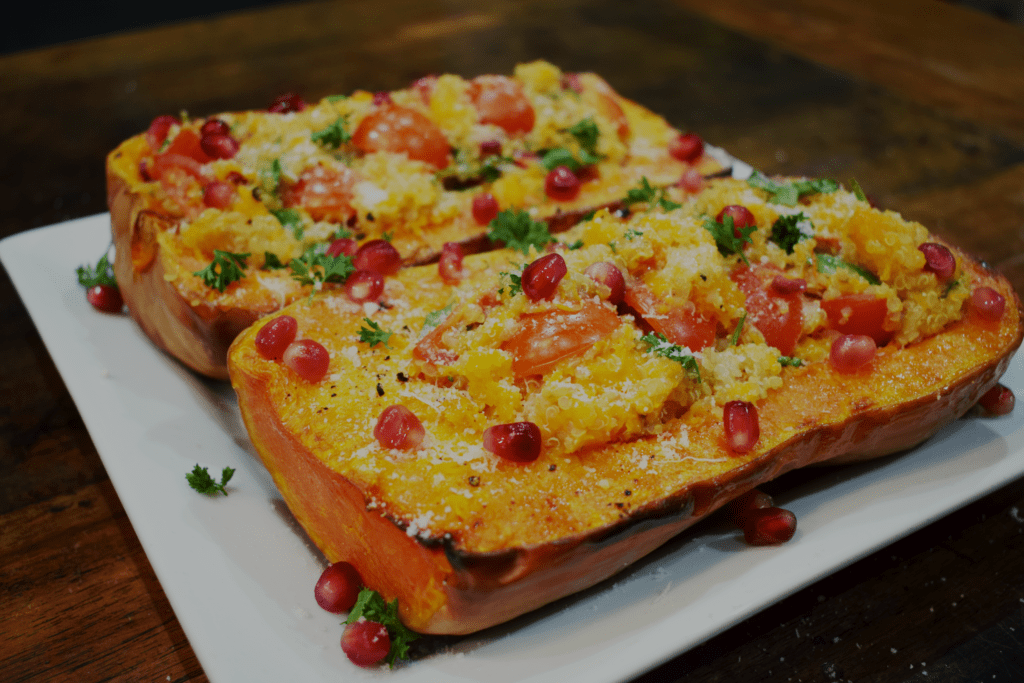 I am personally totally in love with this meal, and will be rolling it out at every opportunity I have. It is a very versitle dish for a number of reasons, not least that it can either be a main meal split between four or could be shared out as a side dish between more. When split between four it is either totally syn free using a quarter of your Healthy Extra A or 1.5 syns each if you'd prefer to use your healthy extra elsewhere.
I decided to mix the quinoa with spinach, tomatoes, pomegranate seeds and parsley, in addition to the Parmesan, because it creates a very good balance of flavours. Butternut squash is quite a sweet vegetable and the tomatoes provide a slight acidity alongside this, whilst the pomegranate seeds give both a different texture and a clean crisp flavour! The parsley and Parmesan together provide a more savoury taste which balances out the sweetness perfectly, giving you an overall perfectly balanced meal! You are of course totally free to play around with what you fill the butternut squash with, and it can even be a good opportunity to use up any leftovers you have in the fridge. If you'd prefer to steer away from the vegetarian roots of this recipe then you can of course mix in cooked bacon, chicken, steak or even fish and seafood to switch things up!
Quinoa, Parmesan & Spinach Stuffed Butternut Squash
A stunningly colourful and totally syn free butternut squash recipe!
Ingredients
1x Butternut Squash
Fry Light
Salt & Pepper (to taste)
Handful Fresh Spinach
30g Grated Parmesan Cheese (vegetarian options available)
2tbsp Pomegranate Seeds
10x Cherry Tomatoes (halved)
200g Quinoa
Handful Roughly Chopped Parsley
Instructions
Preheat your oven to 180 degrees.
Halve your butternut squash and scrape out the seeds.
Lay it on a baking tray and spray it with Fry Light. Sprinkle with salt & pepper and roast in the oven for 50 minutes or until it is soft enough to easily stick a butter knife into.
Meanwhile, cook the quinoa as per the packet instructions and then mix in the tomatoes, spinach, half of the pomegranate seeds and two thirds of the Parmesan.
Season the quinoa mix with salt and pepper and stir in the parsley, retaining a bit for garnish later.
Take the butternut squash out of the oven when it's cooked. Tip out any water that has accumulated in the dips.
Using a spoon scrape out a larger dip along each side of the butternut squash, leaving a few centimetres around.
Mix the scraped out butternut squash into the quinoa and then spoon the mix back into the grooves. Heap it as high as you like and then sprinkle with the rest of the Parmesan.
If desired pop it back in the oven for 2 minutes to melt the Parmesan (this won't cook the pomegranate seeds it'll just melt the cheese).
Garnish with the rest of the pomegranate seeds and parsley and serve hot or cold!
Notes
Syn free using a quarter of your HexA each between four people. 1.5 syns per portion if not using your HexA.
7.8.1.2
123
https://basementbakehouse.com/2017/01/quinoa-parmesan-slimming-world-spinach-stuffed-butternut-squash/
Nutrition
DON'T FORGET TO PIN THIS RECIPE TO MAKE LATER!