Easy Peasy Sweet Potato Fried Rice
As far as healthy 'Fakeaways' go, this Sweet Potato Fried Rice is to die for! By replacing the simple carbohydrates (rice) with more complex carbs (sweet potato) not only are you creating a dish which will fill you up for longer, nourish your body more and help you lead a balanced and healthy lifestyle. 
Funnily enough this Sweet Potato Fried Rice doesn't taste much like sweet potato! You get the mild flavour from the potato but all of the other gorgeous flavours from the ginger, chilli, garlic and soy sauce really stand out in this dish, so it's really perfectly balanced!
The great thing about Sweet Potato Fried Rice is that it can be eaten hot or cold…it's genuinely just as nice either way! It's a great 'take to work' meal, but you can eat it just as well in front of the telly to replace your Saturday night takeaway!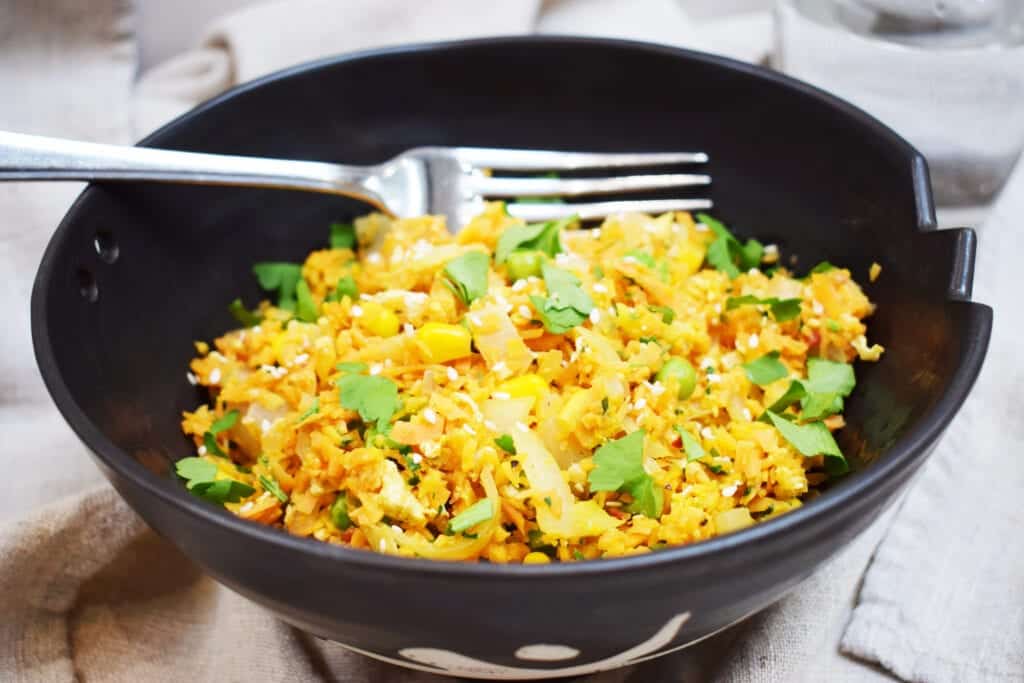 Why Sweet Potato?
Although sweet potatoes are a kind of carbohydrate, they are a highly nutritious and very healthy one. They are slow release carbs, which means they fill you up for longer and won't give you blood sugar spikes like white rice might do. They are also full of vitamins, like vitamin A and vitamin B6, not to mention that their orange pigment is known for its anti-inflammatory qualities. After all there's got to be a reason everyone's so obsessed with it right!
Swapping Takeaway for 'Fakeaway'!
One of the things that often puts people off 'dieting' is the idea of giving up the naughty foods we love to eat. Takeaways are a big part of our culture and they're hard to avoid, we're constantly bombarded with adverts telling us to order online, on TV and on the street, it can be seriously hard to resist! Therefore, having a good bank of 'Fakeaway' recipes to turn to when temptation is looming is essential.
Fakeaways are healthy, homemade, takeaways. You're faking the flavours, textures and deliciousness of a takeaway, without the fat, oil and unhealthy ingredients! It really is the best of both worlds! The great thing about most Fakeaways is that they usually take the same time, or less time, to make than waiting for a takeaway would do in the first place! This Sweet Potato Fried Rice for example takes just 15 minutes to  make and I can't think of a takeaway that could get to you in that time!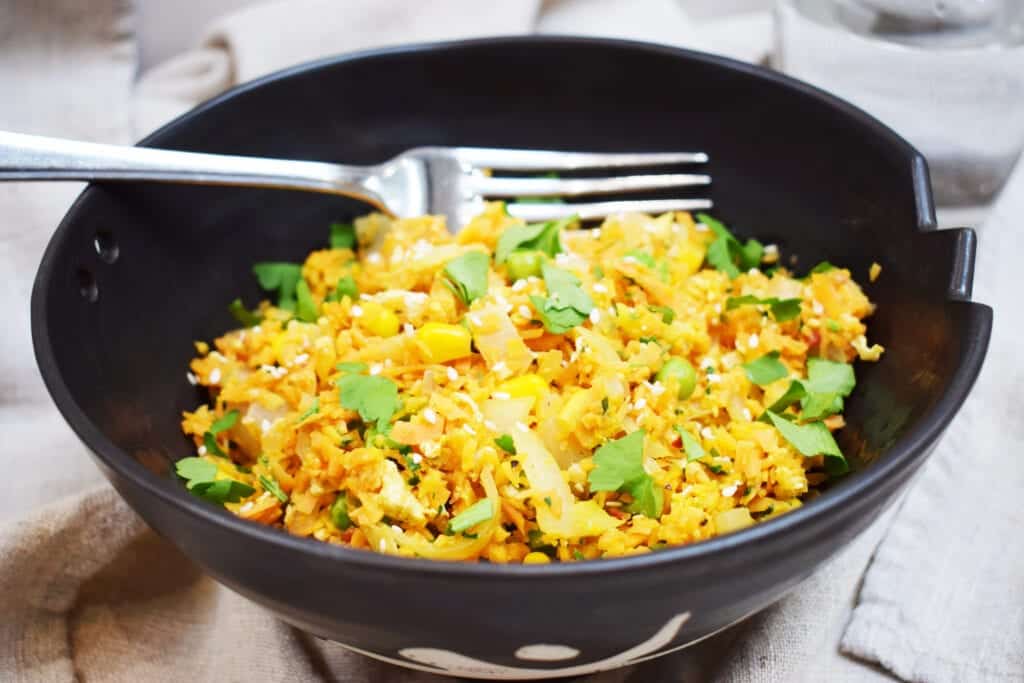 Competition Time! Enter below to win a ProCook Sprializer!
Enter below or visit my Facebook or Twitter pages to win a ProCook Spiralizer!
To get the best results with this recipe you need to spiralize the sweet potato before you blend it, as it gives you the perfect rice like texture with evenly sized bits. If you just blend the sweet potato you can end up with an uneven texture. There are many brands of Sprializer out there, I personally own three different ones, but the most easy to use are made from metal… like the ProCook Spiralizer!
To WIN a FANTASTIC ProCook Spiralizer enter my giveaway below or head to my Facebook or Twitter page to enter on a related post. Ts&Cs for this competition below.
To Make Sweet Potato Fried Rice
To Make this Sweet Potato Fried Rice watch the recipe video below and find the instructions and ingredients below that!
Cliona Keane
Easy Peasy Sweet Potato Fried Rice
A delicious healthy 'Fakeaway' recipe which is gluten free, syn free and low carb!
10 minPrep Time
10 minCook Time
20 minTotal Time
5 based on 1 review(s)
Ingredients
2x Sweet Potatoes
1tsp Chopped Garlic
1/2tsp Chopped Chilli
1tsp Chopped Ginger
100g Frozen Peas
100g Tinned Sweetcorn
1/1 Onion (diced)
2tbsp Soy Sauce
1x Egg
Salt & Pepper (to taste)
Handful Chopped Parsley
Fry Light

You Will Also Need

Spiralizer (enter above to win one!)
Instructions
Peel the sweet potatoes and spiralize them both.
Season the spiralized sweet potato with salt and pepper and the chopped parsley.
Pulse the sweet potato in a blender until you have a fine rice like texture. Set aside.
Spray a large sauce pan or wok over a high heat and add the onion and garlic. Fry unil the onion has softened, reduce the heat if the garlic starts to burn.
Add the peas and sweetcorn and continue to stir fry for a few minutes.
Add the ginger and chilli and continue to fry.
Add the sweet potato rice and stir fry for two minutes. Push everything in the pan to one side and crack the egg into the other side as though you're going to fry it.
Break the egg up with a spatula and scramble it until cooked, then mix together the rest of the contents of the pan.
Add the soy sauce and mix.
Remove from the heat and serve up your Sweet Potato Fried Rice!
Notes
Syn Free on Slimming World. Syn values correct at time of writing. Please don't screenshot this recipe, share the link instead to help prevent people stealing my recipes!
7.8.1.2
140
https://basementbakehouse.com/2017/03/sweet-potato-fried-rice/
DON'T FORGET TO PIN THIS SWEET POTATO FRIED RICE RECIPE FOR LATER!
Ts&Cs for the ProCook Spiralizer Competition: 
There is one ProCook Spiralizer to giveaway, the prize is non refundable, non returnable and non exchangeable.
The competition will run from 5pm on 03/03/2017 to midnight on 17/03/2017.
This competition will be run on www.basementbakehouse.com as well as the Basement Bakehouse Twitter and Facebook pages.
Entry on www.basementbakehouse.com must be via the Rafflecopter included in one of the recipes on the website.
To enter via Facebook like and share any post about the competition & comment on the post with your favourite Slimming World recipe.
To enter via Twitter, follow @basementbhouse on Twitter and retweet any tweet about the competition.
Mainland UK entries only.
One winner will be randomly selected on 18/03/2017.
The winner will be contacted once chosen and must reply within 7 days, otherwise another winner will be picked.
The prize will be dispatched within one week via Royal Mail.
Once the prize has been dispatched by Royal Mail Basement Bakehouse shall not be held responsible for any loss or damage to the prize.
The giveaway is free to enter.