Gluten Free Raspberry & Coconut Glazed Doughnuts
*this is a sponsored post but everything in it comes from my heart onto your plate!
Have you ever sat there, staring at a box of doughnuts, drooling slightly and wishing that you could just tuck in without having to feel guilty? Well, I certainly have which is why I've created these sensational Gluten Free Raspberry & Coconut Glazed Doughnuts which are not only low in fat, sugar and gluten free but are also just ONE syns each on Slimming World! Find the step by step instructions and recipe video for these below! 
Get Your Glaze On!
So I can literally hear you crying out right now at your screen…"How on EARTH can these be healthy with all that sticky raspberry glaze!?!"…well the answer is very very simple I promise and comes in the form of St Dalfour Raspberry Preserve!
St Dalfour got in touch with me a little while ago and asked if I would create a recipe for the using one of their range of preserves. I jumped at the chance because, although you'd never know by looking at them or tasting them, St Dalfour preserves are actually healthier than the jams you might be used to using!
This is because they are made with high concentrate fruit juice instead of processed sugars! This cuts out cane sugar completely, but the fun doesn't stop there…because the preserves are also free from chemicals, additives and artificial flavourings, not to mention that they're gluten free! With all that in mind, it'd be easy to assume that they compromise on taste but nothing could be further from the truth. In fact, this raspberry preserve tastes so good that my mum somehow managed to polish off an entire jar of it without me even realising!
How Do These Fit With Slimming World?
The answer to this is simply that these sensational Gluten Free Raspberry & Coconut Glazed Doughnuts fit very very well. You might find it very difficult to believe but these are juts ONE syns each! This is seriously helped because I've used the St Dalfour Raspberry Preserve, as it's half the syns of regular jam at just 0.5 syns per teaspoon.
To glaze the full batch of 30 doughnuts you only need 9 teaspoons of the preserve, which when coupled with the use of low fat butter, lightest cream cheese and healthier coconut flour and high quality sweetener (none of that nasty after taste rubbish) makes these the perfect healthy bake.  The syns work out as follows:
St Dalfour Raspberry Preserve – 4.5 syns
Coconut Flour – 9.5 syns
Low Fat Butter/Spread – 9.5 syns
Sweetener – 2.5 syns 
Bicarb & Baking Soda – 1 syn
Lightest Cream Cheese – 5.5 syns
Fresh Raspberries (cooked) – 1 syn
All of that when toted up makes 33.5 syns and equals a tiny ONE syn each (1.1 anyway) as this recipe makes 30!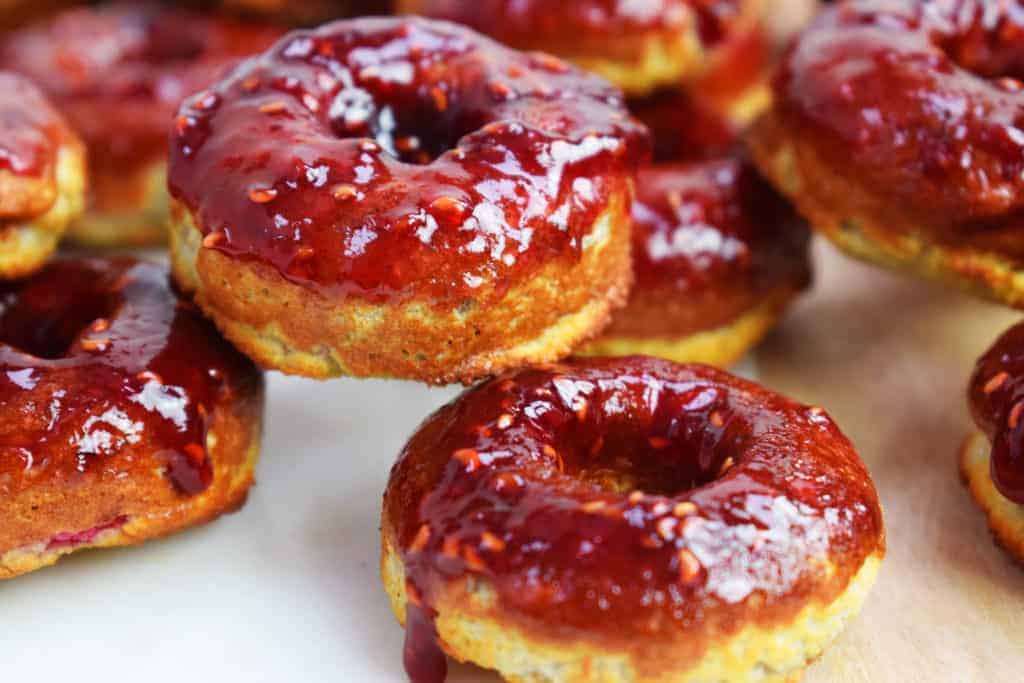 Making Them Gluten Free!
These Gluten Free Raspberry & Coconut Doughnuts are, surprisingly enough if you haven't guessed already, gluten free! This is because they're made with coconut flour, which is naturally gluten free, and the St Dalfour preserve which is also gluten free. The beauty of this is that even if you don't need to avoid gluten, the coconut flour makes these taste like coconut which goes perfectly with raspberry!
Cooking with coconut flour was a new experience for me so I made sure to do some Googling around it before getting under way with creating this recipe. What I found out from this very helpful website is that coconut flour absorbs lots of liquid and therefore you don't need a huge amount of it for a recipe (which helps with keeping the syns down incidentally!). What I also learnt is that recipes which use coconut flour also use lots of eggs to bind the ingredients together! I took both of these facts into consideration and came up with the following recipe, which I hope you love as much as I do…
Making Gluten Free Raspberry & Coconut Glazed Doughnuts
To make these perfectly sized doughnuts you'll need all of the fab ingredients listed below, but you'll also need a 12 hole doughnut mould to oven bake them to perfection. I got the one you see in the video below on Amazon and you can find it here: http://amzn.to/2qoXk4u
Cliona Keane
Yields 30
Gluten Free Raspberry & Coconut Doughnuts
Delicious, gluten free, low sugar and low fat coconut flavoured doughnuts with a delicious raspberry glaze.
10 minPrep Time
30 minCook Time
40 minTotal Time
Ingredients
75g Coconut Flour
5tbsp High Quality Granulated Sweetener
1tsp Baking Soda
1tsp Baking Powder
50g Low Fat Butter
110g Lightest Cream Cheese
4x Eggs
100g Fresh Raspberries

You Will Also Need
Instructions
Preheat the oven to 180 degrees.
Add the coconut flour, sweetener, butter, baking powder, baking soda, cream cheese and one egg together in a mixing bowl and whisk together.
Add the next three eggs one at a time, whisking between each one.
Fold in the fresh raspberries, allowing them to break up and distribute throughout the mix.
Put half the mixture into a piping bag or zip lock bag and pipe it equally into the doughnut mould.
Bake for 10-12 minutes or until golden brown on top.
Remove from the oven and allow to cool for a few minutes and then tip them out to cool completely.
Meanwhile spoon the St Dalfour Raspberry Preserve into a microwave safe bowl and microwave for 30 seconds until melted.
Carefully dunk doughnuts, making sure not to burn your fingers (the melted preserve might be a tad on the warm side).
Repeat with the rest of the mix and tuck in!
Notes
1 syn per doughnut on Slimming World when making a batch of 30. Make sure to use gluten free baking soda and baking powder to ensure these are fully gluten free. Syn values correct at time of writing. PLEASE DO NOT SHARE SCREENSHOTS OF THIS RECIPE.
7.8.1.2
153
https://basementbakehouse.com/2017/05/gluten-free-raspberry-and-coconut-glazed-doughnuts/
DON'T FORGET TO PIN THIS GLUTEN FREE RASPBERRY & COCONUT GLAZED DOUGHNUTS RECIPE FOR LATER!
*This recipe was created in collaboration with St Dalfour however all views and opinions are my own and I only ever review products that I love!