Easy Peasy Homemade Fresh Berry Ice Lollies
Summer is almost here and with it comes all of the trappings of hot weather…picnics, Mr Whippy, beer gardens….basically all the fun stuff! Summer doesn't need to mean that all of your healthy eating efforts need to be thrown out, especially if you make recipes like these Homemade Fresh Berry Ice Lollies.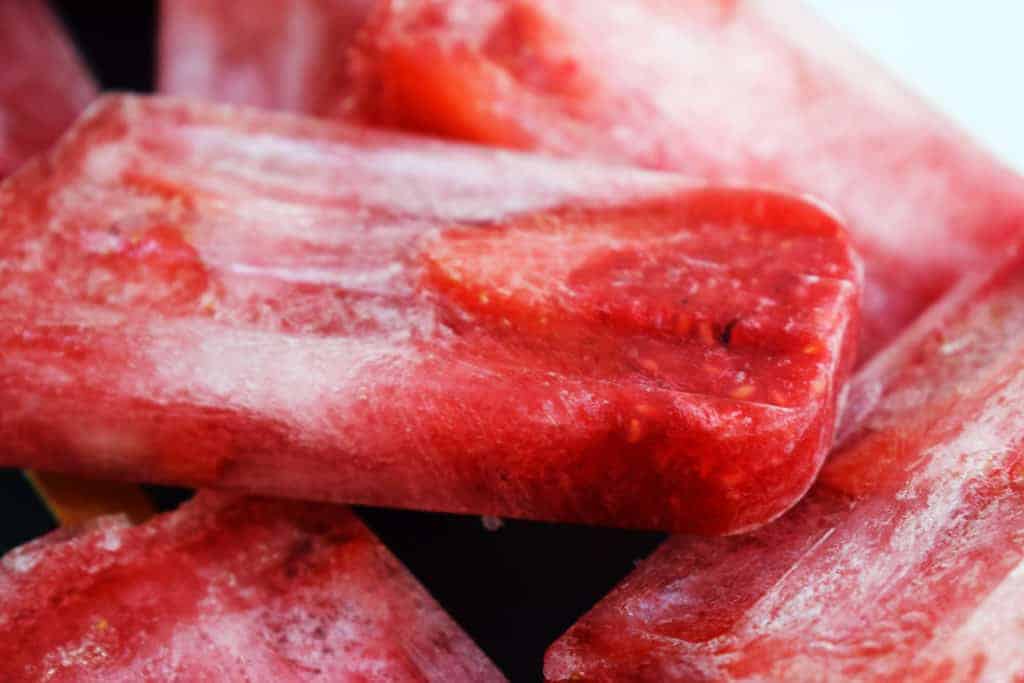 Packed with fresh fruit these are a healthy, delicious and satisfying sweet treat to enjoy this summer! You could add all sorts of berries, but strawberries and raspberries work particularly well. The raspberries give that slightly sharp tangy flavour which works perfectly with the sweetness of the strawberries. It's a time honoured combo and it's great in these homemade fresh berry ice lollies!
How Many Syns Are These Homemade Fresh Berry Ice Lollies?
Like I've said, there's no need for summer to signal the end of your health goals! Just think of all the delicious summer foods which can nourish your body. Salad, fruit, grilled meats, these homemade fresh berry ice lollies…the list is endless! This goes ten fold if you're on Slimming World! Summer is filled with even more danger areas, but these ice lollies are the perfect choice for you, because they're SYN FREE! Well…pretty much anyway…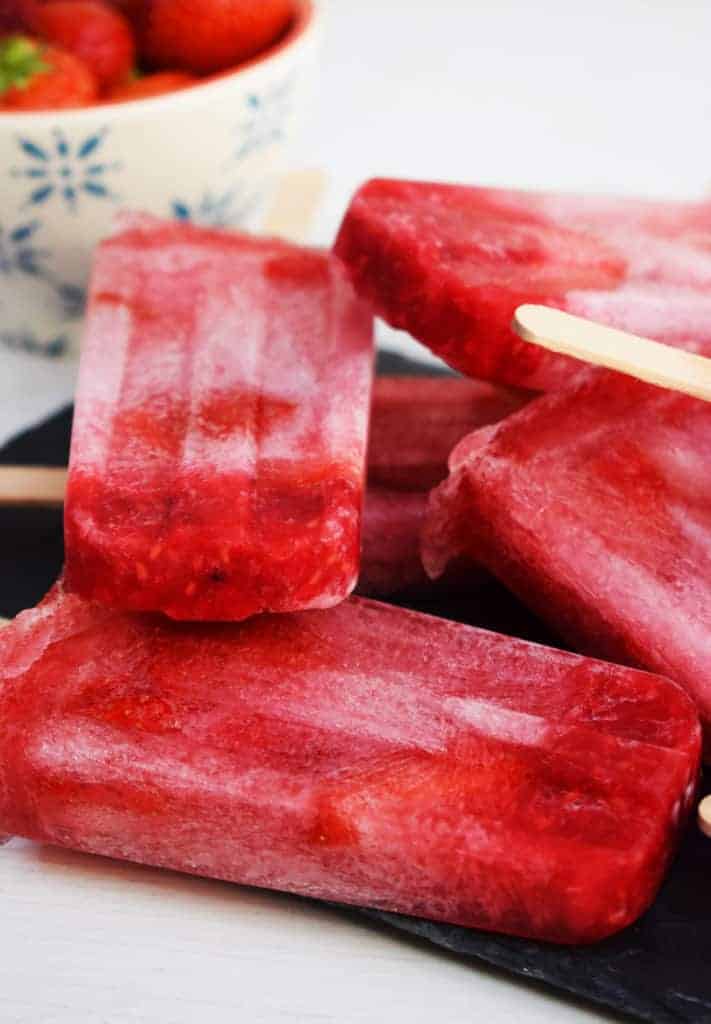 Technically there is one syn between the whole ten ice lollies that this recipe makes. This comes from the 100g of mashed raspberries, because blended or pureed fruit is synned on Slimming World. If you decide therefore that you are going to eat the full ten lollies then you'd need to count a syn, however I think that's kind of unlikely! Per ice lolly these are therefore just 1/10 of a syn which is negligible and therefore they're syn free for all intents and purposes.
Of course if you track your syns in tenths then by all means count these as such, but I feel quite confident in saying that the majority of Slimming World followers don't do that!
Little Tweaks…
Apart from the fact that they're healthy, taste great and literally couldn't be easier to make, these homemade fresh berry ice lollies look fun too! They get this eye catching frosted look from the use of fizzy fruit squash, because as the liquid freezes the air bubbles expand, burst and freeze. I think its such a fun little twist and makes them look that little bit different!
Of course if you prefer your lollies clear then you can swap the fizzy for still, it's all about preference! I love the frosted look but these little tweaks can make all the difference to the food you like to eat. You can also tweak the flavours, for instance switching to citrus flavours and squash for example, or even banana! What I would say though is to give the a go like this first…they're perfect!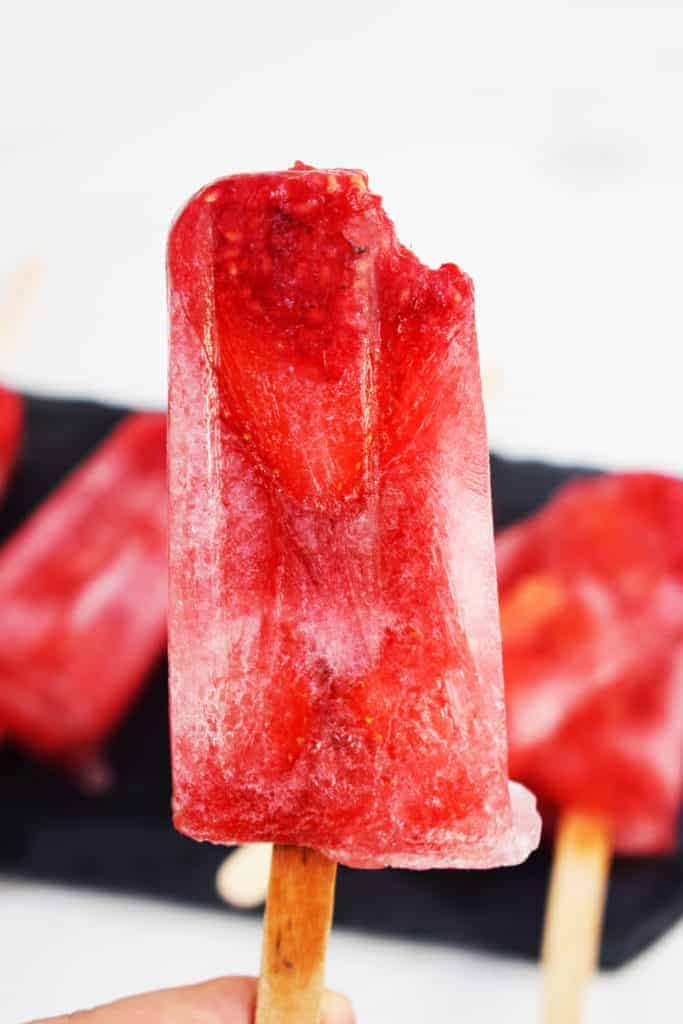 What You'll Need!
Other than the ingredients, you'll obviously need an ice lolly mould to make homemade ice lollies (I know, who'd have thought it right?!?). There are loads of different styles of ice lolly moulds out there but I honestly can't recommend this style enough!
The lid has holes in where you stick the wooden ice lolly sticks (which come with it) and this means you get proper grown up looking lollies…no plastic handles in sight! Again this might be something that is unique to me, but I love being able to serve up something that looks so professional. You can get them on Amazon here: http://amzn.to/2pqlnMr
Making Easy Peasy Homemade Fresh Berry Ice Lollies
You can find the recipe video for how to make these delicious homemade fresh berry ice lollies below & here are the simple step by step instructions! Enjoy!
Cliona Keane
Yields 10
Easy Peasy Homemade Fresh Berry Ice Lollies
Delicious homemade fresh berry ice lollies, perfect for summer! Syn free on Slimming World.
5 minPrep Time
2 hr, 5 Total Time
Ingredients
100g Fresh Raspberries
1/2 Punnet of Fresh Stawberries (sliced)
1 Pint Fizzy Water
100mls No Added Sugar Summer Fruit Squash

You will also need:
Instructions
Mash the raspberries and divide equally between ten lolly moulds.
Fill the moulds up 2/3 of the way with sliced strawberries.
Pour in the fizzy fruit squash so that it reaches the top of each mould.
Cover and add the lolly sticks.
Freeze for a minimum of 2 hours or until you're ready to enjoy them!
Notes
This recipe includes 1 syn of fresh raspberries however this is divided by 10 and therefore the lollies are counted as syn free individually. If you do eat all ten in one sitting then you would have to add one syn. Syn values correct at time of writing. PLEASE DO NOT SHARE SCREENSHOTS OF THIS RECIPE!
7.8.1.2
152
https://basementbakehouse.com/2017/05/easy-peasy-homemade-fresh-berry-ice-lollies/
DON'T FORGET TO PIN THIS EASY PEASY HOMEMADE FRESH BERRY ICE LOLLIES RECIPE FOR LATER!