Healthy Gluten Free Gingerbread Doughnuts
If you adore gingerbread men but want something a little healthier, then these Gluten Free Gingerbread Doughnuts are the perfect Christmas treat for you! Oven baked, they make a fantastic alternative to unhealthy fried doughnuts, and they're packed with sensational Christmas flavours to keep you feeling festive. They're even topped with a light cream cheese icing, helping to keep them low fat whilst remaining super tasty!

The Perfect Slimming World Christmas Treat
You might be thinking that these Gluten Free Gingerbread Doughnuts can't possibly be Slimming World friendly…well, you'd be wrong! They actually are, particularly if you use your Healthy Extras to indulge in a little Christmas spirit! The recipe makes 20 doughnuts and you could have TEN WHOLE DOUGHNUTS using your Healthy Extra A and Bs. If you did these then the whole batch of doughnuts would be 17.5 syns, including the icing but not any additional toppings (like the sprinkles I've used), which works out at less than one syn per doughnut. This means that you'd use less than 10 syns on 10 doughnuts, which throughout the day works out pretty well in terms of snacking!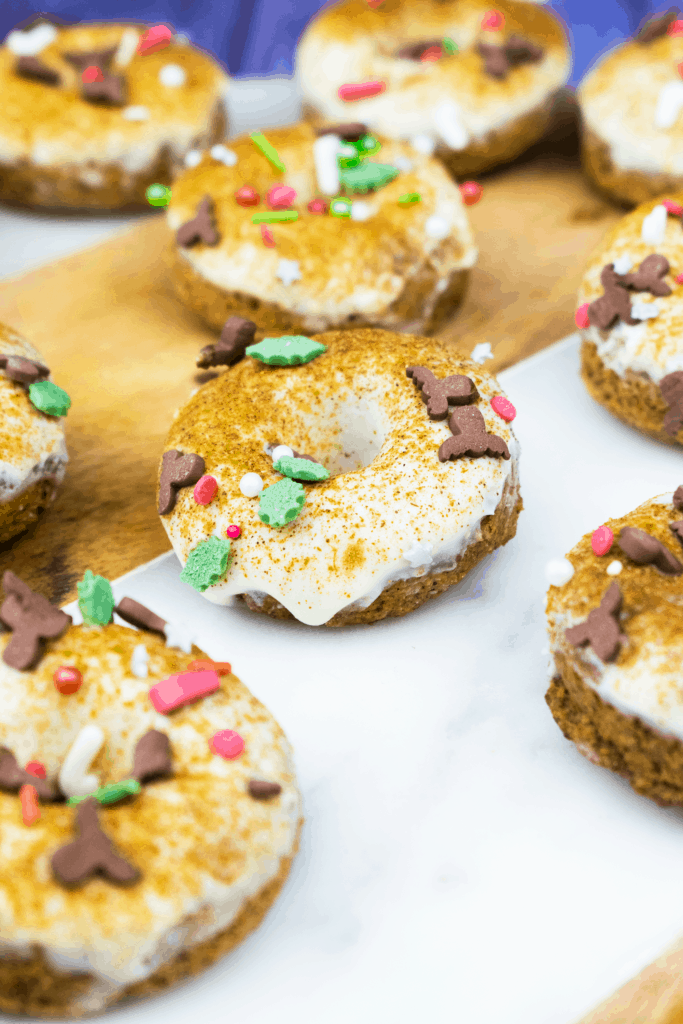 If you don't want to use any syns on these doughnuts, they still fit really well with the Slimming World plan, working out at just 1.75 syns each! As an alternative to a heavy, high fat, Christmas treat like a cake or biscuit, that's a massive saving on syns! These Gluten Free Gingerbread Men are ideal to make for family gatherings, office parties or even the big day itself! Without any healthy extras being used the whole batch is 35.5 syns.
Making Gluten Free Gingerbread Doughnuts
I really hope you enjoy these delicious Christmas doughnuts as much as I do! If you're oven baking your doughnuts you will need to get yourself a doughnut mould, I got mine from Amazon. I use a 12 hole mould for these, which gives you 20 doughnuts at the syn value I've mentioned above! These doughnuts are also gluten-free, although if you are gluten intolerant make sure you're using certified gluten-free oats and baking powder!
Cliona Keane
Yields 20
Healthy Gluten Free Gingerbread Doughnuts
Delicous gluten free Christmas Gingerbread doughnuts!
5 minPrep Time
24 minCook Time
29 minTotal Time
Ingredients
70g Oat Flour (oats ground up into flour)
100g Flora Light (or equivalent)
110g Philadelphia Lightest
75g (4tbsp) Powdered Sweetener
1tsp Baking Powder
3tsp Ground Ginger
2tsp Ground Cinnamon
1/2tsp Ground Cloves
1/2tsp All Spice
1x Egg

For The Icing

110g Philadelphia Lightest
2tbsp Powdered Sweetener
2tbsp Water
Instructions
Preheat your oven to 180 degrees.
Add all of the dry ingredients for the doughnuts into a mixing bowl and stir together.
Add the wet ingredients and whisk until smooth.
Transfer the mixture to a piping bag and pipe into your doughnut moulds.
Bake for 12 minutes or until cooked through and springy.
Remove from the oven and cool whilst your second batch cooks.
Meanwhile, mix together the ingredients for the icing until smooth.
When the doughnuts are cooled, dip them each into the icing. You will need to dip them and then refrigerate for a couple of minutes, before dipping them again. Do this three times to get a thick layer of icing.
Dust with a layer of ground ginger and cinnamon and add any additional toppings as desired!
Eat the same day as making them as the icing can make them go soggy if left in the fridge for too long.
Notes
See the post above for syn values. Syn values correct at time of writing. Please do not share screenshots of this recipe, share links instead!
7.8.1.2
176
https://basementbakehouse.com/2017/11/healthy-gluten-free-gingerbread-doughnuts/
DON'T FORGET TO PIN THIS GLUTEN FREE GINGERBREAD DOUGHNUT RECIPE FOR LATER!