No Waste One Pan Gammon & Bean Bake
Did you know that UK households waste a massive 7 MILLION TONNES of food every single year? That works out, according to the government agency WRAP, at a loss of £700 per family on average. Just think of what we could all do with that extra £700 each if we simply made an effort to reduce our food waste? Personally it'd go towards a deposit on a house, but you could go on holiday, get a dog, or just put it away for a rainy day. Whatever you'd do with the money, the fact remains that it is ridiculous that we waste so much, something with Iceland believe too, which is why they've asked me to come up with a recipe using their food which not only tastes amazing but shows exactly how far one meal can go and how easy it is to reduce waste and save money when cooking! This blog post for my No Waste one Pan Gammon &  Bean Bake doesn't only give you one recipe, but if you scroll further down gives you TWO MORE recipes for how to use your leftovers and reduce your household waste. 
Four Top Tips To Reduce Food Waste
It's all well and good for someone like me, or for Iceland, to suggest that you cut down on your food waste but I'm well aware that this can sometimes be easier said than done. After all waste tends to just happen and until you tot it all up it can all seem a bit inconsequential. So here are some of my top tips to help you reduce food waste. They've worked for me so fingers crossed they work for you!
Stock Up on Frozen Food
The reason I love shopping at Iceland is because the #PowerofFrozen is an indisputable fact! I make sure to stock my food up with frozen veggies and meat so I can just cook what I need when I need it. Frozen food doesn't mean worse quality, what it does mean is that you don't end up with manky broccoli going brown in your fridge or packets of off chicken getting steadily more slimy as the days go by!
Meal Prep Like Crazy
Meal prepping can often be seen as some big health food trend, but it's so much more than just something healthy people do on Instagram. If you meal prep your food at the start of the week you're less likely to make dislocated meal choices or buy packaged food from the shops. Not only does this save you money but it cuts down on plastic waste, saves you time and will more thank likely result in you making meals which go a lot further, like this No Waste One Pan Gammon & Bean Bake which extends into the frittata and soup recipes below!
Keep Your Fridge Organised 
Keeping track of what you have in the fridge is a surefire way to avoid buying unnecessary items when you pop to the shops and will help you reduce the food waste coming from your home. I find the best way to do it is to have a quick organisation ten minutes twice a week, where I bring the food with the closest 'use by' dates to the front of the fridge, put anything I know I'm not going to use in the freezer, plan to use anything that's going to go off straight away and make a not of the things I do need to buy. I do this on a Wednesday and a Sunday but it makes sense to plan it around when you go to the shops!
Reduce Your Portion Size
As a society we eat way too much, which is why we have rising levels of obesity and from a personal point of view is why I struggle so much with my weight. It does also contribute to levels of food waste as we all have a tendency to cook a little too much and have eyes which are significantly bigger than our stomachs. If you think back to your last week's worth of meals you might well remember tipping those last few mouthfuls into the food waste without even thinking! Reduce your portion size and not only will you make your meals go further (if you continue to cook the same amount) but you'll help your waist line and help reduce waste to boot!
How Reducing Waste Can Save You Money
Hopefully my tips for reducing food waste are helpful from an environmental point of view, but as I've already mentioned it's not just the wider impact of food waste that we need to think about. If the average family looses out on £700 per year because of the food they throw away, it goes without saying that any small reductions you make will have a big impact on your wallet.
One of the best ways to save money is to shop at stores which help and encourage you to do so. Iceland is a prime example of this because frozen food lasts longer, is usually cheaper in the first place and is incredibly convenient. The fact that you can shop both in store and online at Iceland with free delivery over £20 means you can save money on fuel to get to the supermarket which is another added bonus!
If you take this 'No Waste One Pan Gammon & Bean Bake', you have an execellent example of a money saving meal. The recipe on its own serves 6-8 people depending on portion size, but if you don't happen to have 6-8 people to feed in your family you can get another six portions of Gammon & Three Bean Frittata or another four portions (at least) of Gammon, Mixed Pepper & Bean Soup using the leftovers. That makes a minimum of TEN portions of food from ingredients which cost roughly £10 and a few store cupboard essentials which you more than likely own already.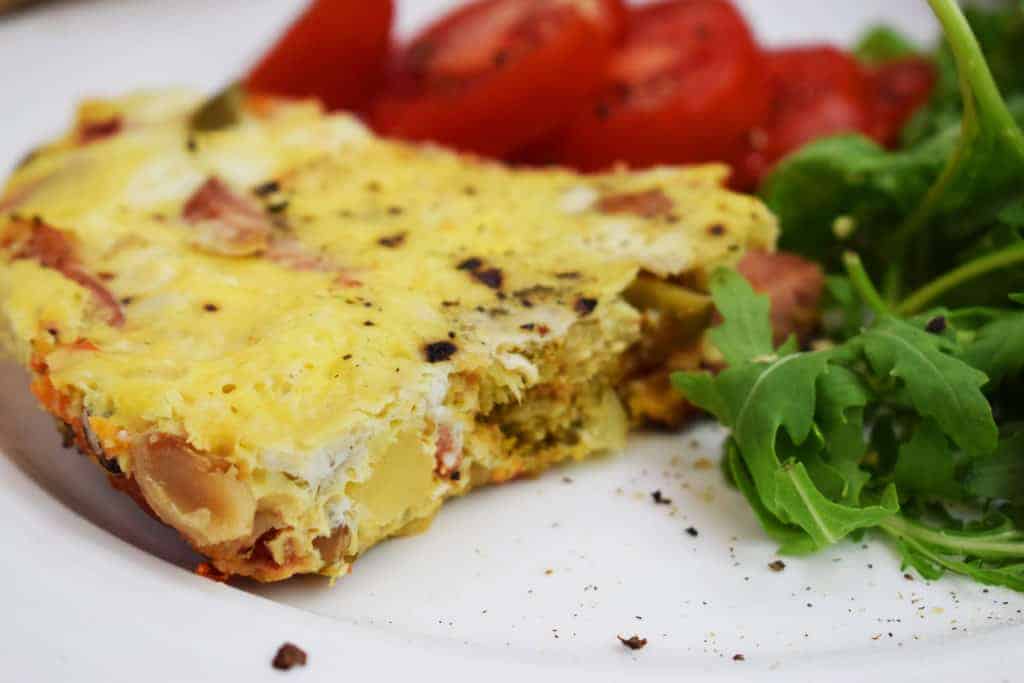 How Does This Impact Slimming World
Not only are all three of the meals you can make using these ingredients totally syn free as well as being seriously tasty, but reducing waste becomes even more significant when following a lifestyle plan which for many can seem rather expensive. I've talked before about ways you can help save money on Slimming World, and reducing the amount you waste is without a doubt an excellent way to do this!
Iceland is already a big part of Slimming World (with their own Slimming World meals in stock which, if you haven't already discovered them, are delicious) and so this recipe which uses a joint of Gammon from Iceland's range and is cooked from frozen will fit perfectly with your Slimming World meal plan and your shopping routines! What's more, it's a one pan recipe which saves on washing up too!
How To Make No Waste One Pan Gammon & Bean Bake
Here's the recipe for my No Waste One Pan Gammon & Bean Bake! Scroll down for my two recipes using the leftovers from this delicious, syn free and waste reducing meal which is cooked using Iceland's 'cook from frozen' gammon and frozen peppers as well as some of their store cupboard essentials!
No Waste One Pan Gammon & Bean Bake
Ingredients
1x Frozen Gammon Joint
1x Tin Chopped Tomatoes
2x Tin Mixed Salad Beans
1.5 Pints Chicken/Vegetable Stock
3x Large Roasting Potatoes (peeled & chopped)
1/2 Bag Frozen Sliced Peppers (use the other half in the soup)
1x Broccoli (chopped into small florets)
1tsp Mixed Herbs
Salt & Pepper (to taste)
Instructions
Preheat the oven to 180 degrees.
Place the gammon joint in the centre of a large deep baking tray.
Surround it with the chopped potatoes, broccoli and sliced peppers.
Pour the stock over the vegetables and then the tinned tomatoes, mix everything surrounding the gammon together.
Add the herbs, mix and season with salt and pepper to your taste. Cover with tin foil.
Bake for two hours and then remove the tin foil. Bake for a further 20 minutes.
Remove from the oven and mix in the beans. Bake for a further 10 minutes, stirring after 5.
Remove from the oven and slice the gammon into thick slices. Serve hot or cold and use any leftovers in one of the two recipes I suggest!
7.8.1.2
160
https://basementbakehouse.com/2017/06/no-waste-one-pan-gammon-bean-bake/
Scroll down to find two ways to use your leftovers & don't forget to pin this 'No Waste One Pan Gammon & Bean Bake' Recipe for later!
How To Use Your Leftovers
Here are two simple and tasty recipes for how to use any leftovers from this Gammon bake recipe. They literally couldn't be more simple and only require a couple of extra ingredients which you no doubt have lying around the house!
Idea One: Gammon & Three Bean Frittata
All you need for this recipe is two slices of your leftover gammon an a couple of large tablespoons of the surrounding mixture of beans, potatoes, peppers, broccoli and sauce and eight eggs. First you chop up your gammon and add a layer into a deep, oven use frying pan or a small baking tray.
Then you cover your base layer with 8 eggs, mixed together with a little bit of salt and pepper!
You then just need to cover and bake on 180 degrees for 15 minutes and then uncover and bake for five minutes until nice and firm on top. Serve with some fresh salad and tomatoes!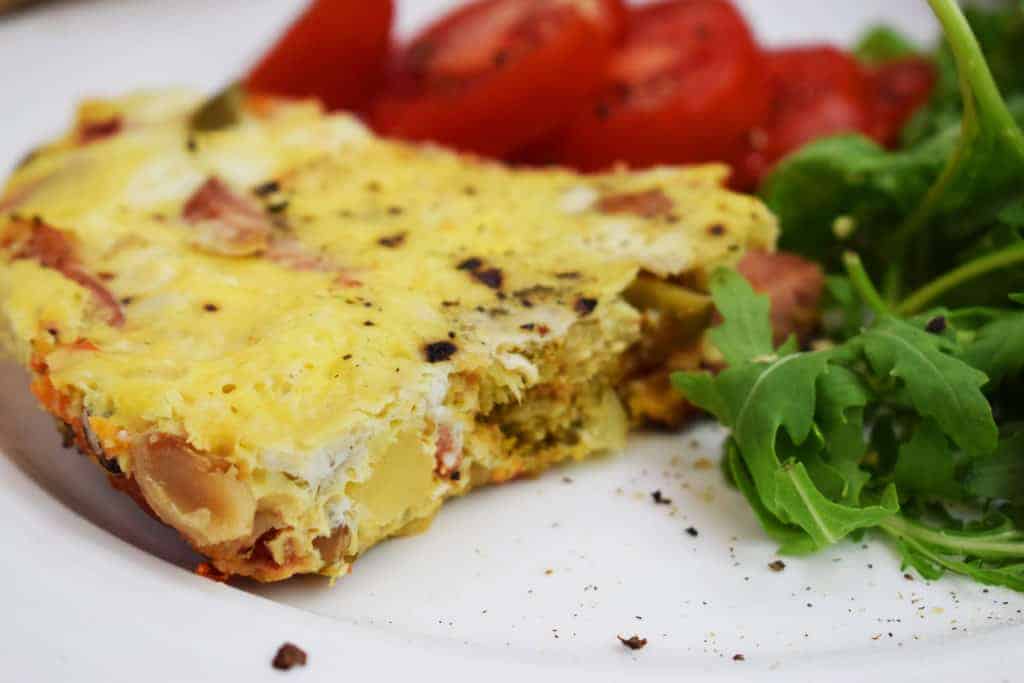 Idea Two: Gammon, Pepper and Bean Soup
This second idea is a great one for meal prepping! With a couple more fresh ingredients you'll have a tasty soup whipped up using your leftovers in no time at all! First you need to fry an onion and a clove of chopped garlic with Fry Light.
Then add two chopped pieces of your gammon from the bake!
Add a pint and a half of either chicken or vegetable stock on top along with a four or five large tablespoons of your leftover bean and potatoes.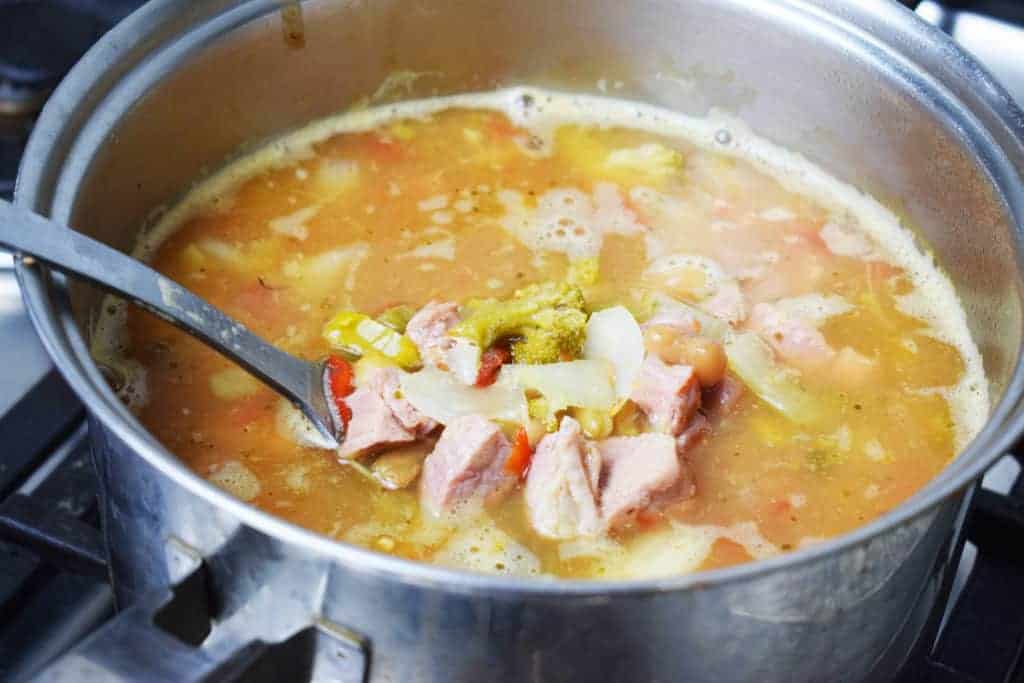 Add the second half of your bag of peppers and cover and simmer for ten to fifteen minutes over a medium heat!
Portion out and freeze to enjoy later!