Be Amazed By Iceland's Christmas Range
Anyone who knows me knows that Christmas is my favourite time of year. I'm obsessed with present giving, family times and the food! With this in mind I was super excited when Iceland invited me to celebrate a little taste of Christmas early at their Christmas in July event and get a sneak peak at what they've got coming into store for the festive season this year. When it comes to being prepared and planning the best day possible it can never hurt to get all the info early, so here's a sneak peak at what you can expect from Iceland's Christmas range this year! 
Why Shop Iceland's Christmas Range This Year?
Now, I have to admit that whilst the last few years have given me the opportunity to totally fall in LOVE with Iceland's food for its quality and variety, I have never previously considered heading there for my Christmas food shop. I'm sure it has been some of the old frozen food prejudice clouding my mind, but I've also never fully understood the many ways it could benefit me…
Cost
When you shop the frozen selection at Iceland (believe it or not they do actually have both a chilled and fresh section too and they are epic!) you might be under the misconception that frozen food is cheaper because it is of a poorer quality. This couldn't be further from the truth, in fact one of the main reasons that Iceland can be so competitive with their food, particularly the meat, is that they can purchase the ingredients when they are at their cheapest and freeze them. This means that they can pass on their saving to their customers, which is pretty special if you ask me! A fantastic example of this is their new Gilded Turkey, which you cook from frozen (helping to save you time and hassle) and is purchased by Iceland before the main 'turkey season' when prices get hiked up! This means they get them cheaper than other retailers, who tend to buy their turkeys to freeze in about September when prices are higher.
This fantastic centrepiece isn't only seriously competitive on price, but it's one hell of a centrepiece too! Like I say,  you cook it straight from frozen which gives you more time to spend with your family away from the kitchen, and it comes with a delicious honey and mustard dressing which is added five minutes before you take it out of the oven and gives it that glorious golden colour! If this isn't something you'd be proud to have in the middle of your Christmas table then I don't know what is!
If I hadn't have known already that the turkey I got to sample at the showcase had been cooked from frozen I'd never have guessed! It was tender, delicious and made the perfect anchor for all of these classic Christmas flavours! This really is the #PowerofFrozen!
Creativity
Whilst one of the beautiful things about Iceland is the ability to either cook from frozen or serve straight from defrost, you've also got the option to use the time you save doing this to get really creative with their products! At this Christmas in July showcase we had the pleasure of being cooked for by Iceland's head chef and creative genius, Neil Nugent, who showcased perfectly how convinience food can be used to make show stopping meals. Take this sensational cheesey Nacho Chicken piece, which believe it or not he made using a cheese slice (the square kind!) and one of the tasty Nacho Coated Chicken Pieces which Iceland will be launching!
If this proved anything to me it was that cost effective, fun and easy food can still impress, which is good news for anyone doing their Christmas shopping on a budget or with limited time this year!
Variety
When I got home from discovering Iceland's Christmas Range and started telling my family about the huge variety of products the store has to offer this Christmas I was sure they'd all be a bit sceptical. I was right, particularly when I started telling them all about the chilled and fresh ranges the store is offering, alongside its famous frozen lines! In fact when I got onto Iceland's range of delicious cheeses, both my mum and my brother exclaimed "What?!? Frozen cheese?!!?"… after which I had to explain that Iceland is so much more than just frozen! If you don't believe me when I say there is a huge amount of variety in Iceland's Christmas range this year then just take a look at some of these mouthwatering examples…
Whether you're thinking nibbles at your Christmas Eve party or starters on the day itself, there's a huge range of possibilities in Iceland's Christmas Range. The beauty of the majority of these products is that you simply need to defrost and serve, totally removing the need for tiresome prep work and giving you more time to spend with your family and friends. I thought the little prawn and coconut boxes were particular show stoppers but my standout nibble of the day was the diamond shaped Salmon Terrine, which I had the pleasure of sampling at the event! If you ever needed proof that frozen doesn't have to mean worse, you've only got to look at the beautiful way Iceland's chefs presented this to know that your guests will be in for a treat!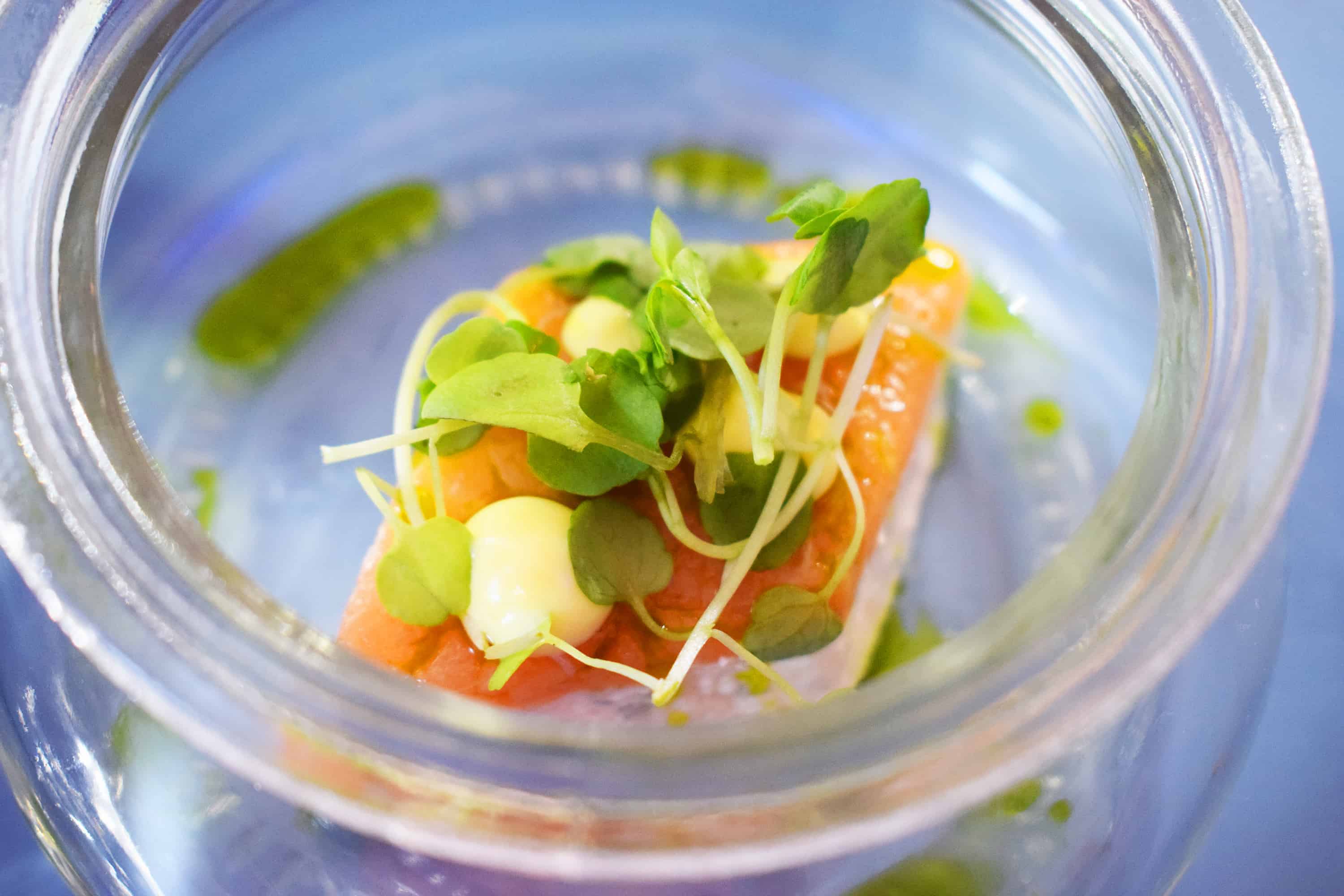 The best thing about this Smoked Salmon Terrine Snowflake is that it comes in a pack of six, so if you present it something like Iceland did at their showcase (although I think a smoker might be a bit out of my skill set!) then you've got a low cost, impressive and delicious starter with next to no effort!
For any pie lovers out there you'll be in love with these cranberry topped options from Iceland's Christmas range this year! I mean just look at that colour! Don't try telling me your guests won't be blown away by these…
If you thought that those starters look impressive, just wait until you discover Iceland's new Salt Baked Sea Bass! This is a product that I first saw at Iceland's Autumn Showcase and it blew my mind then without even tasting it, so I was in for a treat when I was served a taste at their Christmas in July!
Iceland farm their sea bass in the Agean Sea and it is gutted and frozen within hours of being caught, so it's just about as fresh as you can get. This Salt Baked Sea Bass is whole, skin on and stuffed with lemon and parsley is then encased in its salt baked coating and cooked from frozen, so that the sea bass itself is steamed to perfection in its own juices. This gives it a subtle taste (not salty at all!) and is honestly restaurant quality, plus it makes a great centrepiece with everyone chipping away to discover the delights inside!
I was served a few tender, melt in the mouth morsels of the Salt Baked Sea Bass from Iceland's Christmas Range with some slices of parma ham and a perfectly balanced lobster sauce…exquisite!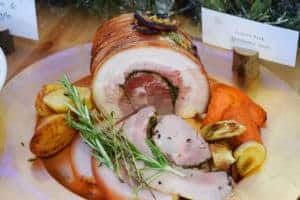 As if everything I've described so far wasn't enough to convince you of the sheer variety and the quality of Iceland's Christmas Range, take a look at some of their other main course products! Whether these feature as additional options on your Christmas table, or make the perfect Christmas Eve or Boxing Day option, you're spoilt for choice.
From the Turkey and Gammon Wellington to the Hand Stuffed Chicken Cushion – a fully deboned chicken basted with butter oil and stuffed with sage and onion before being wrapped in bacon and decorated – there's so much to choose from! I particularly love the look of the 21 day matured, 100% British beef Luxury Picanha Rump, which is right up my street! They've also got an excellent option for vegetarians in their Roast Parsnip & Portobello Mushroom Pithivier which is above and beyond what many stores offer as part of their range for vegetarians! When you combine all of these options together with that gorgeous gilded turkey, you're going to have a tough time deciding what to put on your table this year!
No good Christmas meal is complete with out dessert and boy do you have some good options from Iceland's Christmas Range this year! I had my mind blown by this stunning Luxury Raspberry & Pistachio Layered Pavlova, which you'd never guess was bought frozen – simply defrost and serve with a knowing smile! For a more traditional approach you've got Iceland's classic Christmas Pudding, filled with a little surprise to keep you on your toes…I for one know that a Christmas pudding filled with a brandy butter sauce will go down a treat in my house!
It doesn't just stop there on the dessert front though! How about a melt in the middle Reveal Chocolate Cake shaped like a snowflake? Simply pour over the rich chocolate sauce and watch it melt and reveal the totally indulgent chocolate mousse on the inside!
If those don't tickle your fancy, you could always try their classic Yule Log, Christmas Wreath or Gluten Free Christmas Pudding! Or how about some melt in the middle Christmas Tree cakes? I had the pleasure of sampling their gorgeous chocolate mousses…trust me you don't want to miss out!
If you're really looking to impress at your Christmas parties this year, why not present this sensational layered Red Velvet Cake…honestly they'll never guess it's not homemade 😉
It's not just your standard cheeses you can expect to find at Iceland this Christmas, keep your eyes out for their luxury Reblochon, Wookey Hole and the particularly festive Christmas Pudding Truckle which is a Stilton flavoured with a Christmas-y mix of rum, dates and orange and fashioned to look like a Christmas Pudding!
This is just a quick look at what Iceland will be bringing into stores this Christmas, there is so much more to the range! From their luxury mince pies to their rainbow macaron and everything they have to offer from across the frozen, fresh and chilled ranges, on both the luxury and standard levels! I can't stress enough quite how much my mind was blown, both by the amazing cooking of the Iceland chefs and the incredible job Iceland's buyers have done in creating a diverse, interesting and unexpected Christmas range for 2017! I know where I'll be doing my Christmas shopping this year…
*This is a collaborative post with Iceland, but all views and opinions are my own!