Easy Peasy 10 Minute Chilli and Prawn Linguine
Chilli and Prawn Linguine has long been one of my favourite dishes, but for some reason I never seem to get around to making it myself. This recipe was my opportunity to change that and I'm totally loving how this one turned out. What's more, this Chilli and Prawn Linguine recipe will be ready in just 10 minutes and couldn't be more simple to make.
The Perfect Slimming World Recipe
Not only is this Chilli and Prawn Linguine easy and full of flavour but it's also 100% syn free on Slimming World! It's packed full of of speed foods which makes it a nicely balanced meal too. One of the things I love most about Slimming World is that you can enjoy a proper plate of pasta without even the slightest bit of guilt. Give me one other 'diet' that allows you to do that?
A Simple Dish For All Seasons
Don't you just love simple mid-week meals? You know, those dishes you can whip up for a Wednesday evening date night and still impress, or the recipes you can put together without missing too much of your favourite show? This is one of those! You can even prep all of the ingredients beforehand and just whip it up when you get a moment. Whether you're cooking for just you or a whole host of friends, this is the ideal dish in any weather.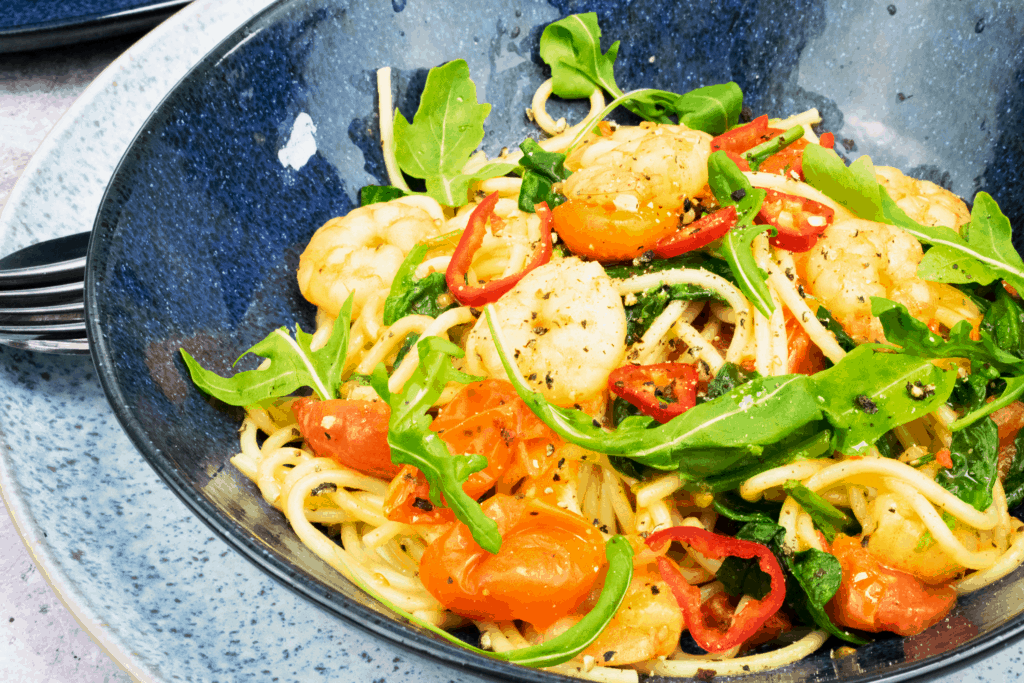 Honestly, this is a meal that would work just as well whether it's blazing sunshine outside or pouring down with rain, it'll even warm you up in a snow drift…the fiery chilli will see to that! This Chilli and Prawn Linguine is the perfect mix of clean fresh flavours, silky sauce, tasty seafood and and delicious veggies.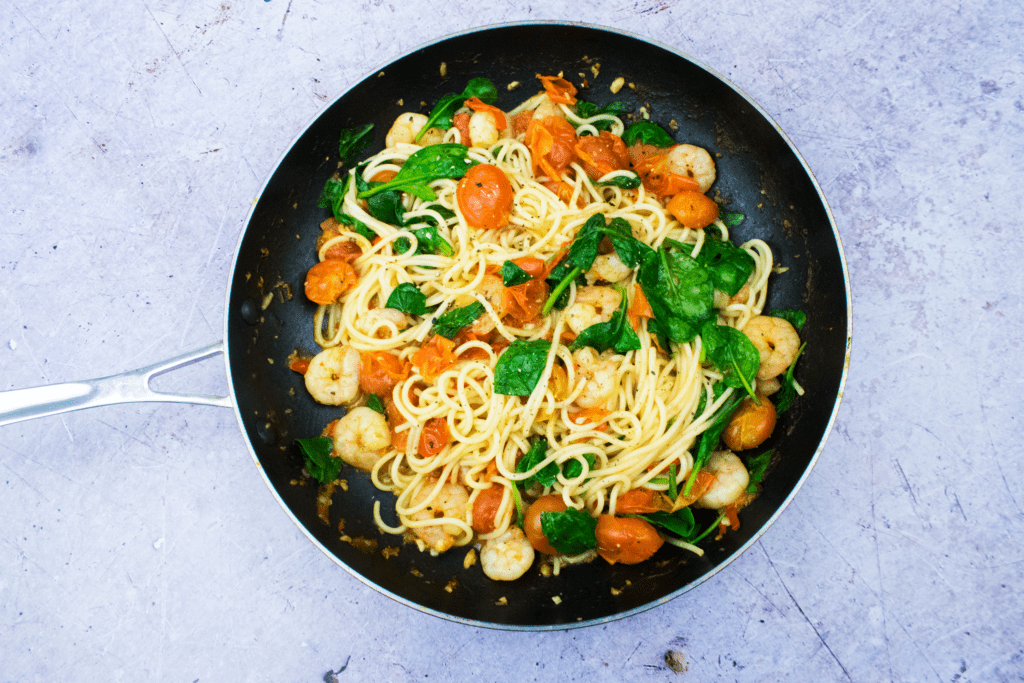 How To Make 10 Minute Easy Peasy Chilli and Prawn Linguine
This recipe really is the most simple thing you can possibly whip up. If you're looking for the best place to buy your seafood, I can't recommend Iceland Foods enough! They have a huge range of delicious frozen seafood, and you can just pop the prawns straight in the pan whilst frozen and get cracking with this recipe. As you can probably see from my previous recipes, I'm a massive fan of Iceland!
Cliona Keane
Yields 2
10 Minute Easy Peasy Chilli and Prawn Linguine
A fresh, zesty Chilli and Prawn Linguine recipe, ready in just 10 minutes!
10 minCook Time
10 minTotal Time
Ingredients
150g Linguine
180g King Prawns
1/2 Pack Cherry Tomatoes
150mls Vegetable Stock
2x Fresh Red Chilli
4x Cloves Garlic
1x Lemon
Handful Fresh Spinach
Salt & Pepper (to taste)
Handful Fresh Rocket
Chilli Fry Light
Instructions
Cook the linguine as per the packet instructions.
When the pasta is cooked, drain the liquid but save a cup of the cooking liquid.
In the meantime, remove the seeds from one of the chillies and finely dice it and mince the garlic cloves.
Put a frying pan over a medium heat and spray with Fry Light. When it's sizzling add the finely chopped chilli and garlic.
Fry until the garlic begins to change colour and then add the prawns and fry until they begin to go pink.
Season with salt and pepper and add the vegetable stock, the juice from half of the lemon, and the cherry tomatoes. Bring to the boil and simmer until the tomatoes begin to soften and the sauce begins to thicken.
Add the drained pasta to the pan along with the spinach and stir until the pasta is coated and the spinach is cooked.
Take the pan off the heat and split between two bowls and garnish with rocket, sliced chilli, a drizzle of lemon juice and some salt and pepper.
Serve straight away for best results!
Notes
Syn free on Slimming World. Syn values correct at time of writing. Please do not share screenshots of this recipe, share links instead!
7.8.1.2
169
https://basementbakehouse.com/2017/10/easy-chilli-and-prawn-linguine-recipe/
DON'T FORGET TO PIN THIS CHILLI AND PRAWN LINGUINE RECIPE FOR LATER!