Easy Peasy Slow Cooker Burrito Bowl
I'm a huge fan of all things Mexican, especially the food, and burritos have always been a firm favourite at my house. This Slow Cooker Burrito Bowl recipe is a healthier take on a classic, and is slow cooked in an Instant Pot, making it oh so simple! To keep this super healthy I've made it without cheese, but I've added that in as an optional extra in the ingredients if you want to add it yourself.
Is This Slow Cooker Burrito Bowl Slimming World Friendly?
If like me you love burritos but don't want to rack up your syns, this is the perfect Slimming World friendly option! Minus the avocado topping it's syn free, not to mention the fact that it's full of speedy veg! If you use a brown or mixed rice, you'll be sure to get a slow release source of energy, and it's the perfect meal prep recipe!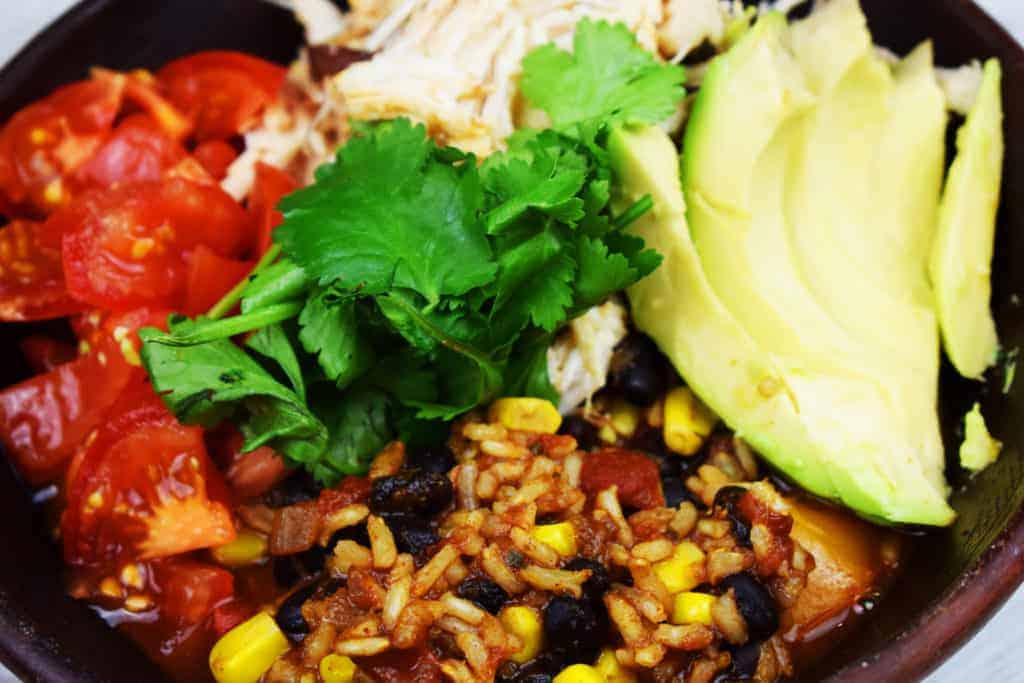 As if all of that wasn't enough, this recipe is also super simple to make and although it takes a bit of time in the slow cooker, only requires the smallest amount of attention! You only have to go back and check on it a few times to ad new ingredients, and at the end of it you have enough to feed even the hungriest family, or to save for leftovers! If you do want to meal prep this recipe you can portion it out and freeze it without the veggie toppings.
Why Use An Instant Pot?
Before I tell you why you should invest in an Instant Pot, I first want to say that no one has asked me to suggest it to you! This isn't a sponsored post and no one sent me one to try out. I got an Instant Pot for Christmas a couple of years ago and it's probably one of the most useful gifts I've ever received so I wanted to tell you why!
I love my Instant Pot because of the sheer number of things it can do! From sauteing to slow cooking and pressure cooking and literally everything in between (including pasteurising milk!!!) so you can truly make a one pot meal. In this recipe I use it to make the main burrito base and to super slow cook the chicken so that it falls apart and melts in the mouth!
Instant Pots save time, washing up and generally make life so much more simple! In the winter I use mine to make soups and stews and throughout the year I use it to cook rice quickly, make tender meat dishes using the pressure cooker and meal prep in bulk! It's perfect for anyone who's on a diet or eating healthily and it will turn you into meal prepping royalty!
It's very much a buy well buy once purchase, as it's not as cheap as other simple slow cookers, but it's durable and mine has never failed me. Moreover, it means you don't have to buy a slow cooker, rice cooker, pressure cooker, soup maker and whatever else people fill their cupboards with, saving you so much space. For me that's ideal as I really don't have a huge amount of space in my kitchen and I need every bit I can get! You can find Instant Pots at all kinds of different prices, as well as accessories to go with, on Amazon.
Making A Slow Cooker Burrito Bowl
When you're making this Slow Cooker Burrito Bowl don't be afraid to taste and add more spices as you go. After the initial 2.5 hour slow cook, give it a little taste and if you want more spice or a deeper flavour simply season as desired. Not everyone has the same tastes and learning to cook for yourself involves discovering your own tastes too! You can find the recipe video and printable recipe for this Slow Cooker Burrito Bowl below!
Cliona Keane
Yields 6
Easy Peasy Slow Cooker Burrito Bowl
A delicious burrito bowl recipe slow cooked in an Instant Pot for full flavour!
3 hr, 50 Cook Time
3 hr, 50 Total Time
Ingredients
Fry Light
1x Onion (diced)
2x Large Chicken Breasts (I used frozen chicken breasts from Iceland Foods)
1 Pint Chicken Stock
2x Tin Chopped Tomatoes
200g Uncooked Black Beans
250g - 300g Rice
2x Bell Peppers (sliced)
2tsp Garlic Powder
2tsp Paprika
2tsp Cumin
3tsp Chilli Powder
Salt & Pepper (to taste)
Chopped Coriander (to taste - plus extra to garnish)
1x Tin Sweetcorn
Fresh Tomatoes - To Garnish (optional)
Avocado - To Garnish (optional)
Cheese - to taste, mix in with the rice (optional)
Instructions
Saute your diced onions in Fry Light and then add your chicken breasts.
Add the chicken stock and tinned tomatoes along with the spices and salt & pepper.
Stir and slow cook for 2.5 hours.
Add the black beans and slow cook for a further 30 minutes.
Remove the chicken and set aside to add later.
Add the rice, peppers and coriander and set to slow cook for a further 45 minutes.
Add the sweetcorn and cook for a further five minutes. Add the cheese if desired.
Serve the rice and then build your bowl with the shredded slow cooked chicken, tomatoes, avocado and coriander for an authentic taste.
Notes
Syn free on Slimming World. Count syns for avocado if used. If using cheese count as your Healthy Extra A or syn accordingly. Syn values correct at time of writing. Please do not share screenshots of this recipe!
7.8.1.2
165
https://basementbakehouse.com/2017/08/slow-cook-burrito-bowl/
DON'T FORGET TO PIN THIS SLOW COOKER BURRITO BOWL RECIPE FOR LATER!