Best Ever Lemon & Herb Roast Chicken
Do you ever have one of those recipes that you cook and then obsess over for a full week afterwards? This was one of those for me! I think I probably told everyone I saw for a good seven or eight days about it because I was so pleased (and frankly amazed) at how well it turned out. Think tender, juicey, fall off the bone, roast chicken, infused with garlic-y lemon and herb goodness and encased in a crispy skin which is essentially a meal on its own! Is your mouth watering yet? I know mine is just remembering!
Eating This On Slimming World
So, if you're on Slimming World you might be thinking that there's no way you can eat something that looks that good, right? WRONG! Whilst you might have to syn the skin if you decide to eat it (trust me it's worth the syns!), you don't have to syn the meat on the inside. The Slimming World plan allows you to cook poultry with the skin on, to preserve its tender juiciness. In fact, the meat on the inside of this chicken is just as delicious as the skin on the outside, because I packed the space between skin and meat with herbs, and stuffed it with lemon, herbs, garlic and onion, ensuring that it stayed super tender all the way through!
It's recipes like this which helped me prove to myself that I didn't have to cook separate meals for myself when family came over, because frankly who's going to guess that you're on a diet when you put this down on the table! The marinade for this recipe has six syns in for the olive oil, but as it's all on the outside you don't have to syn it if you just eat the meat!
Why Make A Marinade?
A marinade is like a sauce that you add to meat before it is cooked to help infuse taste before and during cooking. Depending on the meat, marinade and the flavour you want you can leave a marinade on for anything from an hour to a day, or simply add it on for cooking purposes if you're slightly strapped for time!
The marinade for this recipe is super simple, consisting of garlic, half a lemon, fresh rosemary and fresh thyme, along with a tablespoon of olive oil. All of these ingredients are blended together, either using an electric blender or a pestle and mortar if you have the time. This makes a sauce which you then rub onto your chicken to really pack it with these flavours. As you can see I've left the herbs relatively visible in my marinade, which means you not only get the taste throughout the meat but the extra flavour on the skin from the herb coating itself.
This flavour combination goes perfectly together, with the lemon, herbs and garlic all complimenting each other completely. It's a classic mix of flavours which will very rarely go wrong! If you want to add a bit of kick to your marinade, you could add half a fresh chilli, or if you're a fan of pesto, you could replace the rosemary with basil instead. Marinades are a great way of experimenting with flavours, particularly on roast chicken, and they have the added benefit of ensuring nice crispy skin!
How To Cook A Tender Roast Chicken
Have you ever eaten dry roast chicken? It's not the best is it? Unfortunately, although it's one of the meats we enjoy most it can be one of the hardest to get right. Cook it for too long, or too high, or without the right techniques can lead to a chicken which might look good on the outside but is dry and tasteless on the inside! Trust me, this chicken is not one of those! If you stick with me you'll make a deliciously succulent roast chicken, which will impress everyone at Sunday lunch!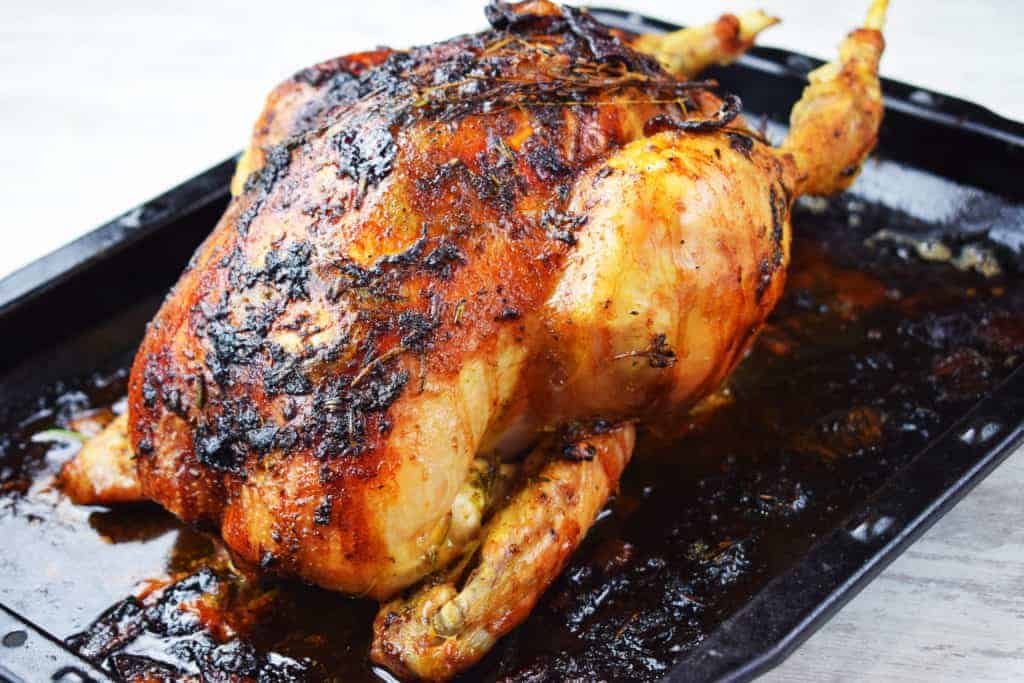 In addition to using a marinade, there are a number of ways you can try and avoid dry or tough roast chicken, including:
Cook It Low and Slow
This might seem like a bit more effort, as you've got to be near your oven for longer, but trust me it's so worth it! Cooking your roast chicken on a lower oven temperature for longer will help all of the juices stay in the meat as the fats in many cuts of meat take longer to break down. Once they do though, you are left with a super tender dish which is more than worth an extra half an hour in the oven! This chicken was cooked for 20 minutes on a higher temperature (200 degrees) to help seal the skin and then covered with tin foil and cooked on 120 degrees for two hours to help make it super tender!
Stuff It Up
No, I don't mean you need to ruin it! I mean you need to stuff your chicken full of moisture rich ingredients to help retain any moisture which would otherwise be lost out of the inside cavity. I'm a big fan of using onions, garlic and herbs to stuff my chickens, as I have here. But if diet isn't a concern, then sausage meat is another fantastic option as it's full of fat to keep your bird nice and moist. Not only does sausage meat help with your chicken cooking, it also makes a great side dish afterwards…after all who doesn't love a bit of stuffing at Christmas right?! There's no reason you can't have it at your Sunday roast too!
Stuffing doesn't just need to be for inside your chicken though…well not exactly anyway! By stuffing under your chicken's skin with herbs as I have done in this recipe, you make sure that all the flavour isn't just reserved for your chicken skin. After all, what's the point in having nice tender meat if it doesn't taste great too? You can just see the herbs under the skin on my chicken, trust me it's worth the effort of getting your hands all the way under the chicken skin, just to get that added kick of flavour!
How To Make The Best Ever Lemon & Herb Roast Chicken
I usually shy away from using phrases like 'Best Ever' in my recipes, after all no one likes a bragger! However, on this occasion I'm going to be bold and make the claim. It is, at least, the best roast chicken I've ever eaten and I really hope you love it as much as I did!
Cliona Keane
Best Ever Lemon & Herb Roast Chicken
The most succulent, flavourful and beautifully crispy roast chicken you'll ever eat!
20 minPrep Time
2 hr, 20 Cook Time
2 hr, 40 Total Time
Ingredients
1x Large Roast Chicken (bird used in recipe was 2.1kg)
1x Lemon
1x Large Onion
4 - 6 x Sprigs Fresh Rosemary
Handful Fresh Thyme
6x Cloves Garlic
2tbsp Olive Oil
Salt & Pepper (to taste)
Instructions
Add the juice from half of the lemon to the tablespoon of olive oil, then add the rosemary from half of your sprigs and half of the thyme.
Peel the garlic and add four cloves to the mix.
Blend together until you have a chunky marinade.
Use your fingers to separate the skin of the chicken from the meat, giving you a pocket all over the top of the bird. Distribute two of your bits of rosemary underneath the skin, along with more of the thyme (retaining a bit of garnish on top).
Peel your onion and cut it in half. Stuff half into the chicken, followed by the lemon, the rest of the garlic and more thyme and rosemary. Retie the legs together with the elastic/string that came on the chicken.
Brush the skin of the chicken with the marinade, making sure to get it into all the creases.
Add the rest of your herbs to the top of the chicken.
If you have time, cover your chicken over with cling film and leave to marinade in the fridge for an hour or more.
Preheat your oven to 200 degrees.
Once marinated, cook your chicken on 200 for 20 minutes to seal the skin.
After 20 minutes, allow your oven to cool to 120 (I find leaving the door open for a minute or two usually does it!) and cover your chicken with tin foil.
Cook the chicken for a further 2 hours. Two or three times during the cooking, remove from the oven and collect any juices/fat that has come off the skin and pour it back over the top of the chicken.
Uncover your chicken for the final 20 minutes to crisp the skin.
Allow to rest out of the oven for 5 minutes before serving. You can use any fat or crunchy bits on the pan to make a delicious roast chicken gravy!
Notes
The meat on the inside of the chicken is syn free. If eating the skin, syn accordingly. Add 6 syns for the marinade and divide between the number of servings of skin when served. This is in addition to the syns already in the chicken skin.
7.8.1.2
167
https://basementbakehouse.com/2017/09/best-ever-lemon-herb-roast-chicken/
DON'T FORGET TO PIN THE BEST EVER LEMON & HERB ROAST CHICKEN RECIPE FOR LATER!