Curry Week: 'Fakeaway' Family Curry with Iceland Foods
Don't you just love a curry? I know I do which is why this week is awesome in my opinion! That's because from the 9th – 16th October it is CURRY WEEK in the UK! Yes, you read that right. A whole week dedicated to the love and appreciation of curries, and to celebrate Iceland Foods have launched an exciting week long deal!

Iceland Celebrate Curry Week
If you ever read my blog you'll know full well that I'm a big fan of Iceland and everything they have in store. From the quick, easy frozen meals, to the exotic meats, desserts, and their ever expanding Slimming World range! This is why I was very excited when they got in touch to ask me to test out their latest deal, which gives you a FREE pack of Pilau Rice when you buy two any two curries from Iceland's Indian Takeaway range!
Iceland's Indian Takeaway
This range of deliciously flavoured and high quality curries might take the 'away' out of takeaway but trust me they're as good as anything from your local curry house. Not only are you making about a 90% saving on your usual curry order but your curries will be ready in next to no time, keeping your purse and your family happy! Whilst you're in store picking up your free Pilau rice and your curries you can stock up on extra veggies, naan bread, poppadoms, mango chutney from Iceland's fantastic range of extras! Serve it all up, garnish with a few chillies and some chopped up coriander and you'd never know the difference!
What About Slimming World?
One thing I LOVE about Iceland is that they always have so many complementary deals going on. Not only can you pick up the amazing curry week deal this week in stores, but you can also get your hands on some delicious Slimming World options too! Not only do Iceland stock an extensive range of curries in their main lines, but the Slimming World range also has a few delicious curry options to help you celebrate curry week. There's options for vegetarians and meat lovers alike, not to mention the option to 'do it yourself' with the tasty Tikka Masala sauce. The excitement doesn't stop there however, as right now in Iceland when you buy any three Slimming World meals you ALSO get a free pack of six steamed white rice packs, which cook in the microwave, and are completely FREE (both in price and on the Slimming World Easy Extra plan!).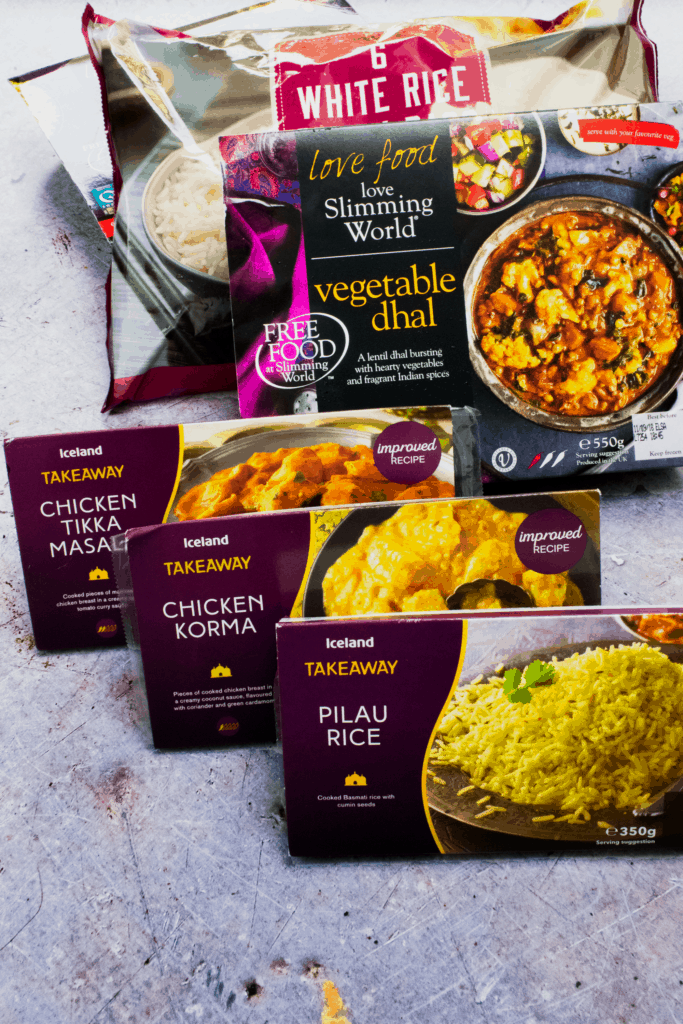 If you've been following Slimming World for a while now like I have, you'll know that there are not many quick and easy microwave rice options out there! This steamed rice from Iceland is therefore a lifesaver, especially if (like me) you suck at cooking rice! I therefore suggest heading into store to pick up their new Curry Week deal with delicious curries for the rest of the family and grabbing a three curry options from the Slimming World range along with the steamed rice for you. This means you can enjoy a full on Fakeaway with your family to celebrate Curry Week, without compromising your next weigh in!
Have A Happy Curry Week!
Not only is shopping in store, or online, with Iceland super easy and cost effective, but you're also guaranteed high quality food! Their range of curries are honestly delicious, for non-dieters and dieters alike. I've been spreading the word about the #PowerOfFrozen for a while now, but if you don't believe how great Iceland's products are then check out these recipes which showcase them as the stars!
10 Minute Chilli & Prawn Linguine