Slimming World KFC Double Down Burger
Unless you've been living under a rock in recent weeks, you'll have seen that KFC have launched the Double Down Burger into the UK. Inevitably, as it's only in stores for a limited time only, everyone seemed to go crazy for it and if I'm totally honest I went out and bought one…purely for research purposes…honestly 😉 Anyway, having tried it for myself and confirmed that yes, bacon and BBQ sauce sandwiched between two fried pieces of chicken is as good as it sounds, I decided to help myself avoid any future trips down fast food alley and create this Slimming World KFC Double Down Burger as a healthy and delicious alternative for any slimmers out there!
I know what you're thinking…How in the name of all that is holy is THIS Slimming World friendly?!?
Well my friends, I can in fact confirm that not only is this Slimming World KFC Double Down Burger suitable for you to eat on Slimming World, the burger itself is in fact syn free if you use the cheese as your Healthy Extra A! You genuinely only have to syn the BBQ Sauce which is only ONE SYN per tablespoon! Just to recap, this entire burger, including the BBQ sauce is just one syn! Although the real version has not been given a syn value yet, it is 513 calories according to KFC which is a hefty number and when you think about the syns from the coating, grease, sauce and fatty bacon…trust me not only is this Slimming World KFC Double Down Burger more tasty, it's a lot better for you!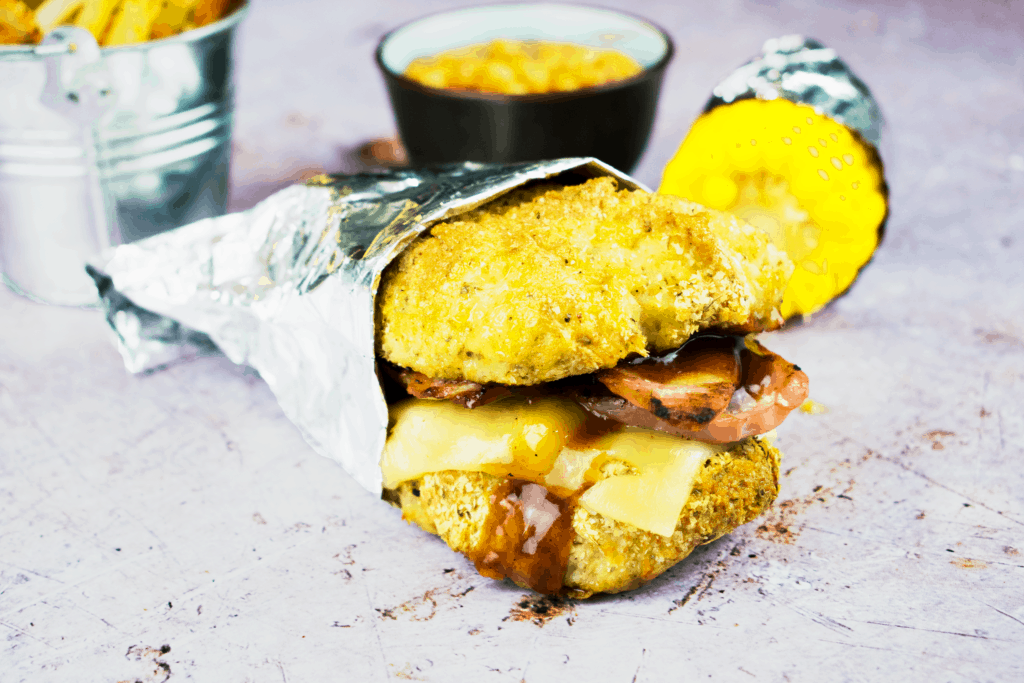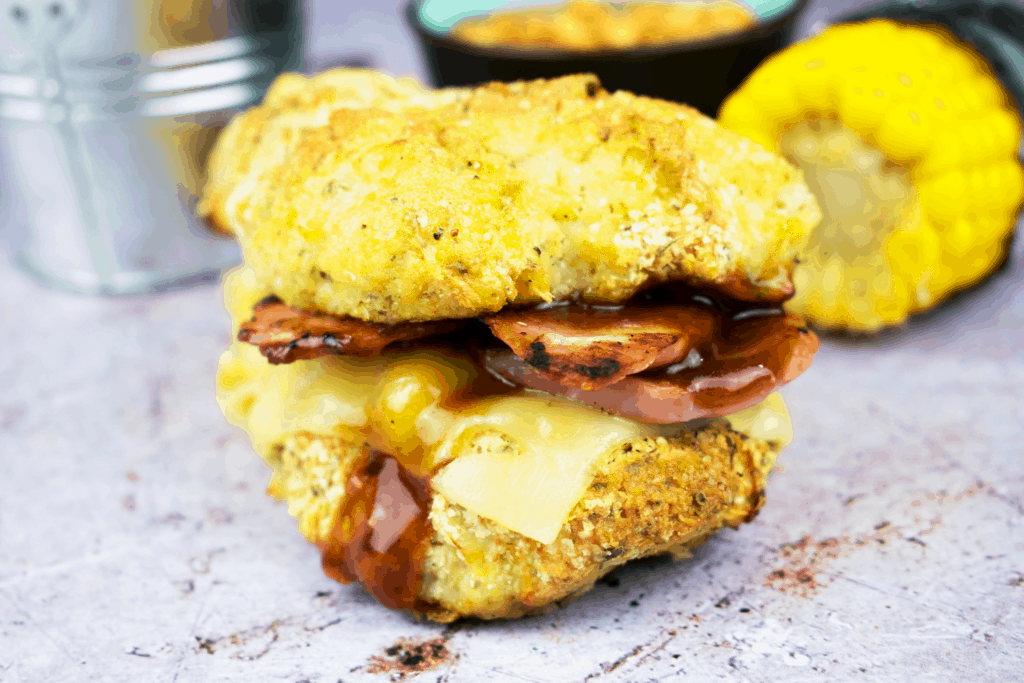 Is This Slimming World KFC Double Down Burger A Tweak?
So, before the tweak police get on my case about using Smash as the coating for this chicken I am very aware that some people may count this as a tweak. However, tweaks don't necessarily count if you're eating the tweaked ingredient in question as part of a main meal and frankly when it's the equivalent of one less chip it's hardly going to effect your weight loss. If you don't know what a tweak is, you can find out more about them and what my views on them are in my article 'To Tweak or Not To Tweak: That Is The Question'! I make my Slimming World KFC Fakeaways with Smash, as it gives a super crispy coating that really does taste like KFC, but if you prefer to use breadcrumbs check out this recipe from Sugar Pink Foods.
A Delicious Fakeaway For The Whole Family
This Slimming World KFC Double Down Burger is really everything it looks and more! It's succulent pieces of chicken in a crispy coating, salty bacon, melted cheese, tangy BBQ sauce and when served with all the trimmings really does live up to its greasy counterpart! I would suggest that there are two ways you can make this burger, one way is to use two full chicken breasts and the other is to slice one breast in half to make two. It is a very LARGE meal if you use two whole chicken breasts (but totally worth it!) and so if you're not super hungry then slicing one large breast in half will work just as well!
How To Make A Slimming Workd KFC Double Down Burger
So, without further ado, I give you the amazing recipe for this amazing Slimming World KFC Double Down Burger! Give it a go and let me know what you think in the comments! This really is one of those Slimming World meals that would trick even the most unhealthy of eaters into cutting back on the grease.
Cliona Keane
Yields 1
Slimming World KFC Double Down Burger
An incredible KFC Fakeaway, this Slimming World KFC Double Down Burger is the meal of your dreams!
15 minPrep Time
30 minCook Time
45 minTotal Time
Ingredients
2x Chicken Breasts (or one large breast sliced in half lengthwise)
4-6tbsp Smash
2x Egg (beaten)
1tsp Powdered Chicken/Vegetable Stock
1tsp Salt
1/2tsp Pepper
1/2tsp Paprika (optional)
2 Pieces Lean Bacon
30g Cheddar Cheese (HexA)
1tbsp BBQ Sauce
Fry Light
Instructions
Preheat your oven to 180 degrees and spray a baking tray with Fry Light.
Beat your eggs in a bowl, and add your smash into a SEPARATE bowl.
Add the salt, pepper, powdered stock and paprika to the smash and mix together.
Dip one of your pieces of chicken into the egg, making sure to coat it. Let some of the excess egg drip off and then place the chicken in the smash bowl, turning to make sure the smash coats the chicken.
Dip the breast once more into the egg and then back into the smash, making sure that there are no bald patches.
Place the chicken breast on your baking tray and repeat with the other one. Depending on the size of your chicken breasts you may need more egg/smash.
Bake for 30 minutes, or until the chicken breasts are cooked through and the coating is golden brown and crispy.
In the meantime cook your bacon pieces.
Remove the chicken from the oven and top with the cheese, bacon and BBQ sauce. Top with the second piece of chicken.
Enjoy with fries, sweetcorn and beans for the full Fakeaway experience!
Notes
1 syn for the BBQ sauce. Cheese = Healthy Extra A. Some may count the smash in this recipe as a tweak, see post for details. Please do not screenshot this recipe. Share links instead! Syn values correct at time of writing.
7.8.1.2
172
https://basementbakehouse.com/2017/10/slimming-world-kfc-double-down-burger/
DON'T FORGET TO PIN THIS SLIMMING WORLD KFC DOUBLE DOWN BURGER FOR LATER!