Skinny Cranberry Margarita
Right now, life is all about festive planning! There are presents to be purchased, meals to plan, friends to see, cards to write and parties to host…so if you're trying to do all that (and more) without going too far off the diet wagon then this Skinny Cranberry Margarita is for you! Whilst I'm not going to sit here and tell you that knocking back some festive cocktails is 'healthy', I can assure you that going the extra mile to make your cocktails that bit more healthy can make a difference…and trust me it doesn't kill the buzz!
Creating Cocktails with Ocean Spray
When the lovely folks at Oean Spray got in touch asking whether I would like to test out their new Wholeberry juices, I was very excited! I love the Ocean Spray cranberry juices, and the idea of a cranberry juice that falls halfway between a juice and a smoothie was tantalising. When the juices themselves turned up and I actually got to try them, it was evident that as delicious as they were on their own, they would work amazingly well in a cocktail!
Cranberry and lime are two flavours that go together perfectly, so a this Skinny Cranberry Margarita seemed to be the natural choice when creating a cocktail with ocean spray. I knew that the cocktail would have even more flavour because of the Wholeberry juice, which contains 40 whole crushed cranberries (not just the juice) per serving! Not only does this mean the juice is full of fibre, but it's no added sugar and a great source of vitamins and antioxidants. Perfect when creating a 'skinny' cocktail!
What Makes This Skinny Cranberry Margarita So Skinny?
First and foremost, I would never go as far as saying a cocktail could be healthy. After all, alcohol is definitely not an essential part of a healthy diet… however, there are healthier decisions that can be made to reduce the sugar and calorie impact of the cocktails you create at home! This is one of those little tweaks that you can make during the festive season to help you stay at least somewhat on track!
By using the Ocean Spray Wholeberry Cranberry Juice in this Skinny Cranberry Margarita, you take any need for extra sugar away from the recipe, as well as adding the health benefits of the juice itself. Between the juice and the lime, this cocktail has a gorgeous balance of tangy and sweet, not to mention the kick from the tequila! A sprig of rosemary in the garnish and some fresh cranberries bring the whole cocktail together beautifully! The Wholeberry juice gives it a thicker texture, which makes the cocktail feel more sumptuous and adds a luxury element that cranberry juice alone just doesn't have!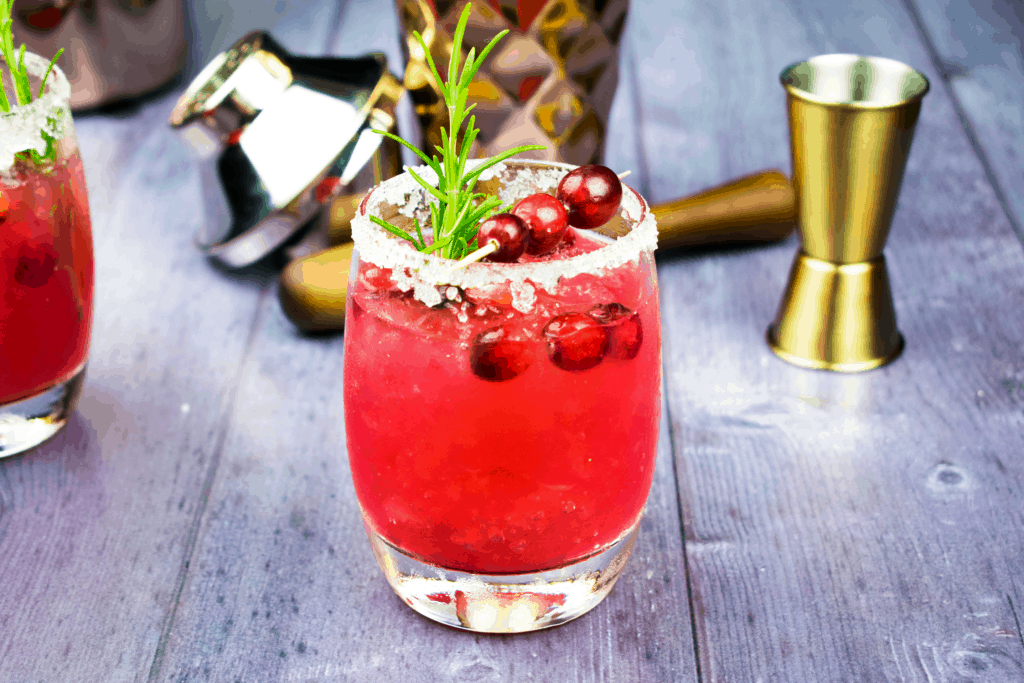 Skinny Cranberry Margarita on Slimming World
As a general rule, this Skinny Cranberry Margarita is on the healthy side of cocktails, but that doesn't always translate to Slimming World friendly. On this occasion though, you might just be surprised. A cocktail is never going to be syn free, if it was I think we'd be drunk all the time, and cocktails on a night out can set you back more than 15-20 syns because of all the sugar! This, on the other hand, sets you back just 5 (not including any sugar you add around the top – which is definitely not necessary for the recipe!). The syns come from the Tequila, which is 3 syns for 25mls, and 2 syns for 75mls per glass of the Ocean Spray Wholeberry which is 6 syns for 250mls.
Making A Skinny Cranberry Margarita
Cliona Keane
Yields 2
Skinny Cranberry Margarita
A sweet and tangy festive cocktail made using Ocean Spray Wholeberry Cranberry Juice!
5 minPrep Time
5 minTotal Time
Ingredients
MAKES TWO COCKTAILS

150mls Ocean Spray Wholeberry Cranberry Juice
50mls Tequila
4x Limes
Crushed Ice
Ice Cubes (for Mixing)

You Will Also Need:
Instructions
In a cocktail shaker, add the Wholeberry juice, tequila, lime juice and three or four ice cubes.
Shake Shake Shake Shake Shake!
Pour over crushed ice and fresh cranberries, garnish with a sprig of rosemary!
Notes
5 syns per serving. Syn values correct at time of writing. Please do not share screenshots of this recipe, share links instead! Please drink responsibly!
7.8.1.2
175
https://basementbakehouse.com/2017/11/skinny-cranberry-margarita/
DON'T FORGET TO PIN THIS SKINNY CRANBERRY MARGARITA RECIPE FOR LATER!
*this post was written in collaboration with Ocean Spray, however, all views and opinions are my own. You can find Ocean Spray Wholeberry Cranberry Juice & Wholeberry Cranberry, Blueberry, Rasberry & Strawberry Juice in Sainsbury's, Tesco, Waitrose, Asda, Co-Op and Booths (850ml, RRP £2.99), visit www.oceanspray.co.uk for more info.