Low Syn Cinnamon Roll French Toast Bake
This is one of those recipes that came to me when I was scrolling through Pinterest and getting very jealous at all of the super unhealthy baking recipes that were popping up on my screen. I was dying to do some baking but didn't want to break away from being healthy…it was a bit of a conundrum! I was particularly fancying some cinnamon rolls, and that's when I decided to put this little recipe for Low Syn Cinnamon Roll French Toast Bake together. It combines two of my favourite breakfast foods (french toast and cinnamon rolls) whilst remaining totally Slimming World friendly and very quick to make.
A Slimming World Friendly Breakfast
I will be the first to admit that this is not one of my most gourmet recipes, nor is it one of the prettiest I've ever made! In fact, I wasn't planning on writing it up as a recipe at all, but it was too tasty not to share and the world isn't all about pretty food after all…right?! The most important thing here is that this is a totally Slimming World friendly breakfast/brunch recipe that can be whipped up in just 20 minutes and will satisfy all of those sweet cravings you've been having.
To make this recipe you'll need a small baking tray, like these on Amazon. I've used one that makes two portions as we are a two-person household, but if you are cooking solo, or for a larger family then you would simply need to use a baking tray of the appropriate size and adjust the recipe accordingly! When split into two portions, this recipe is just 1.25 syn per portion plus your Healthy Extra B choice. The recipe breaks down as follows:
120g Wholemeal Bread (without crusts) – 2x HexB
2tbsp Granulated Sweetener – 1 syn
2tbsp Powdered Icing Sugar Style Sweetener – 1 syn
2tsp Cinnamon (plus extra for garnish) – syn free
Splash of Semi-skimmed milk – 1/2 syn
I've specified the weight of the bread, instead of talking about it in terms of slices as it is pretty well known that different loaves of bread have different slice weights and so you can often either underserve your Healthy Extra B or have a little too much by accident. If you are using a new brand it is always worth weighing out your bread the first time, and if you are using a brand that you know well then simply use enough for two portions of Healthy Extra B in this recipe.
There are a lot of different sweetener brands out there, but I tend to use Sukrin for a number of reasons. Firstly, their Sukrin:1 Granulated Sweetener can be substituted 1:1 in place of normal sugar. This means it works in exactly the same way and you don't have to adjust the recipes you're using. It is also much more like regular sugar than other sweeteners in terms of its texture and the way it cooks! If you are using a different powdered or granulated sweetener then you may just need to adjust this recipe for the sweetness of the recipe.
You can find Sukrin:1 on Amazon here.
My second reason for buying Sukrin sweeteners is that they have an icing sugar version which works really well in baking. It has a very similar texture to regular icing sugar and doesn't dissolve to nothing when combined with water or when it is used to make icing. It does have a kind of cold taste, but that doesn't detract from the recipe or the overall flavour, and it makes an excellent glaze. It's well worth having a packet in the cupboard for mornings where you simply need a Low Syn Cinnamon Roll French Toast Bake!
You can find Sukrinmelis Icing Sugar on Amazon here.
These two products are two of my must have Slimming World store cupboard essentials, and I use them all the time in baking of all sorts! If you love Slimming World baking too then you can check out my whole archive of Slimming World sweet treats and puddings here – https://basementbakehouse.com/category/slimming-world-puddings/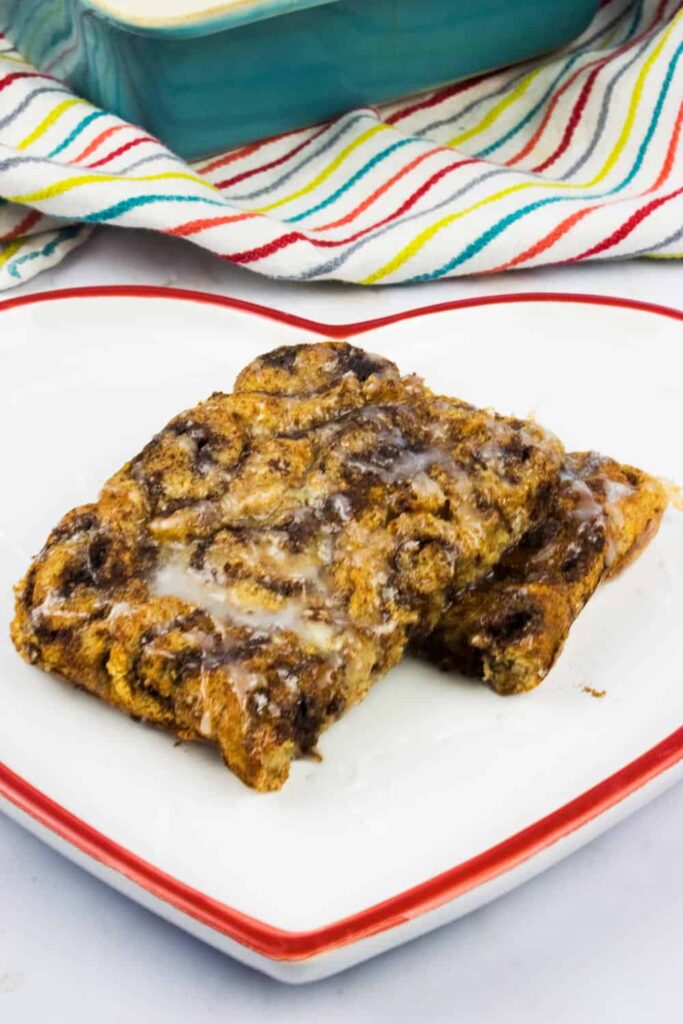 I love seeing when people make my recipes! So if you do whip up this Low Syn Cinnamon Roll French Toast Bake you can email it to me or share it on Facebook and Instagram tagging @basementbakehouse on Facebook or @basementbakehouse_sw on Instagram! You can also share it in my Facebook group too, you can join here if you haven't already.
Making Low Syn Cinnamon Roll French Toast Bake
This is for sure going to be one of my go to Slimming World breakfast recipes, particularly on lazy weekends where I want something extra sweet and indulgent feeling to start my days. I hope you enjoy it as much as I did, and don't forget to share your pictures with me!
Cliona Keane
Yields 2
Low Syn Cinnamon Roll French Toast Bake
A quick and easy Slimming World breakfast recipe.
5 minPrep Time
15 minCook Time
20 minTotal Time
Ingredients
120g Wholemeal Bread (without crusts) - 2x HexB
2tbsp Granulated Sweetener - 1 syn
2tbsp Powdered Icing Sugar Style Sweetener - 1 syn
2tsp Cinnamon (plus extra for garnish) - syn free 
Splash of Semi-skimmed milk - 1/2 syn 
2x Eggs
Low Calorie Cooking Spray
Instructions
Preheat your oven to 180 degrees.
Once you have cut the crusts off your bread, lay the pieces out side by side and spray them with a few sprays of low calorie cooking spray.
In a small bowl, mix the granulated sweetener with the cinnamon.
Sprinkle the cinnamon mix over the slices of bread, and spray over the top with a few extra sprays of cooking spray - this helps keep the sugar in place and stops the rolls unravelling.
One by one, roll up the slices of bread lengthwise. Slice them into pieces, about 1.5cm thick, and lay these out in your baking tray. Make sure they are closely packed together to stop them unrolling.
In a jug, whisk the eggs together with a splash of milk. Pour this equally over the bread in your baking tray, making sure that they are equally covered.
You may need to gently turn your baking tray to make the eggs soak into all of the bread. Use a spatula to press the rolls down if needs be as this will help them absorb the egg.
Leave to soak completely for 2 minutes and then bake for 15 minutes.
Mix together the Icing Sugar style sweetener with a few splashes of water until it is smooth.
Remove the french toast bake from the oven when it is done and drizzle with your glaze.
Serve straight away for the best results!
Notes
1.25 syns per serving plus your Healthy Extra B. Serves 2 people. Syn values correct at time of writing. Please do not screenshot this recipe. Copyright Basement Bakehouse.
7.8.1.2
194
https://basementbakehouse.com/2018/11/low-syn-cinnamon-roll-french-toast-bake/
DON'T FORGET TO PIN THIS LOW SYN CINNAMON ROLL FRENCH TOAST RECIPE FOR LATER!