Roasted Garlic & Rosemary Brussels Sprouts
It's nearly Christmas and I'm so excited! This time of year is my favourite, for the food, the family gatherings, the gift giving and the amazing atmosphere everywhere you go! This year I'm particularly excited as we're hosting Christmas for some of our extended family, which means we've got about 14 people for Christmas dinner. For some this might sound like a nightmare, but for me, it's just more excuse to test recipes and cook the perfect Christmas dinner! These Roasted Garlic & Rosemary Brussels Sprouts are my latest recipe in preparation for the big day!

Christmas on Slimming World
Christmas can be a daunting time of year if you're slimming and often people fall off the wagon completely. Trust me, I'm not here to make you feel bad for doing so! What I am here to say is that no matter whether you've fallen off the wagon or you're doing your best to stay on plan, there are some areas where you can up the health factor of your Christmas. Take this brussels sprouts recipe for example – if you're on Slimming World you can cook it with Fry Light to make it syn free (so long as you top with lean bacon too!).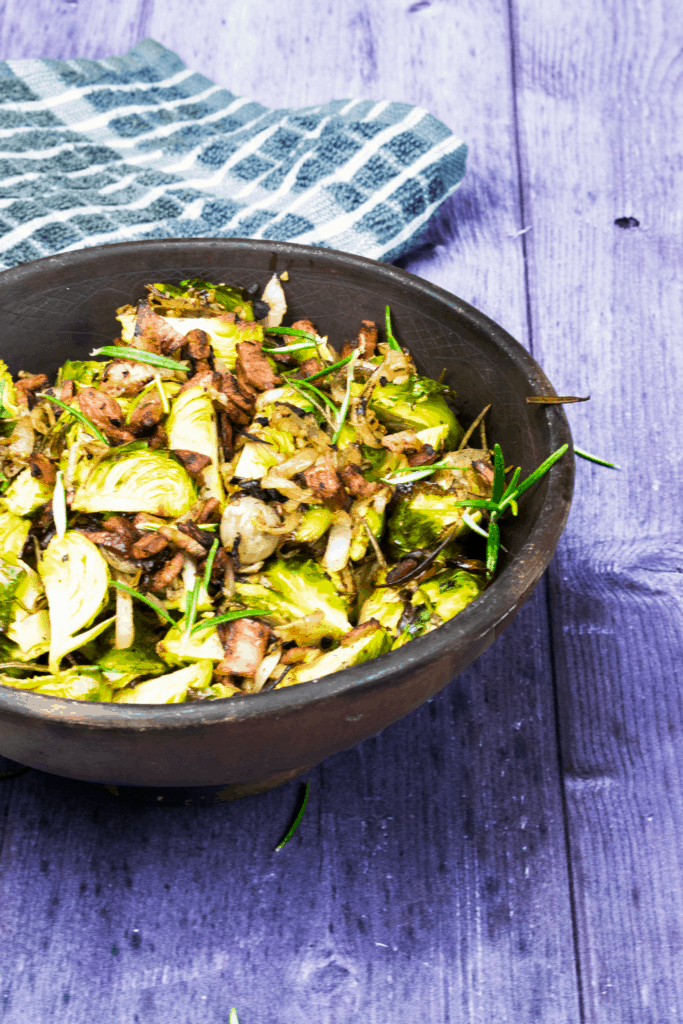 Everyone always goes on about how unhealthy Christmas dinner is, but if you ask me it's actually not that bad! Turkey is a lean meat, roasties can be made Slimming World friendly (I'm famous for my roast potatoes and no one ever guesses that they're syn free!), and you can pile your plate with loads of veggies! OK, so you've got the mince pies, Christmas cake, Christmas pudding and Christmas chocolate, but you can make some healthy adjustments in easy areas, like using this brussels sprouts recipe, to help mitigate the high sugar content of the rest of the day!
WANT TO SHARE YOUR HEALTHY CHRISTMAS INSPIRATION? LOOKING FOR ADVICE AND SUPPORT FROM OTHER SLIMMERS? JOIN MY SUPPORTIVE FACEBOOK GROUP, WITH NEARLY 10,000 AMAZING PEOPLE WHO ARE READY TO HELP!
How To Make Roasted Garlic & Rosemary Brussels Sprouts
This brussels sprouts recipe couldn't be more simple, and it's so tasty that even all the fussiest eater will love it! I have never been a brussels sprouts lover, but recently I decided to take the plunge and give them a go. It was one of those moments where I realised that my mum was probably right and I should have tried them years ago! These are garlic-y, fragrant and topped with an optional sprinkling of crispy shallots and bacon…Christmas in a bowl!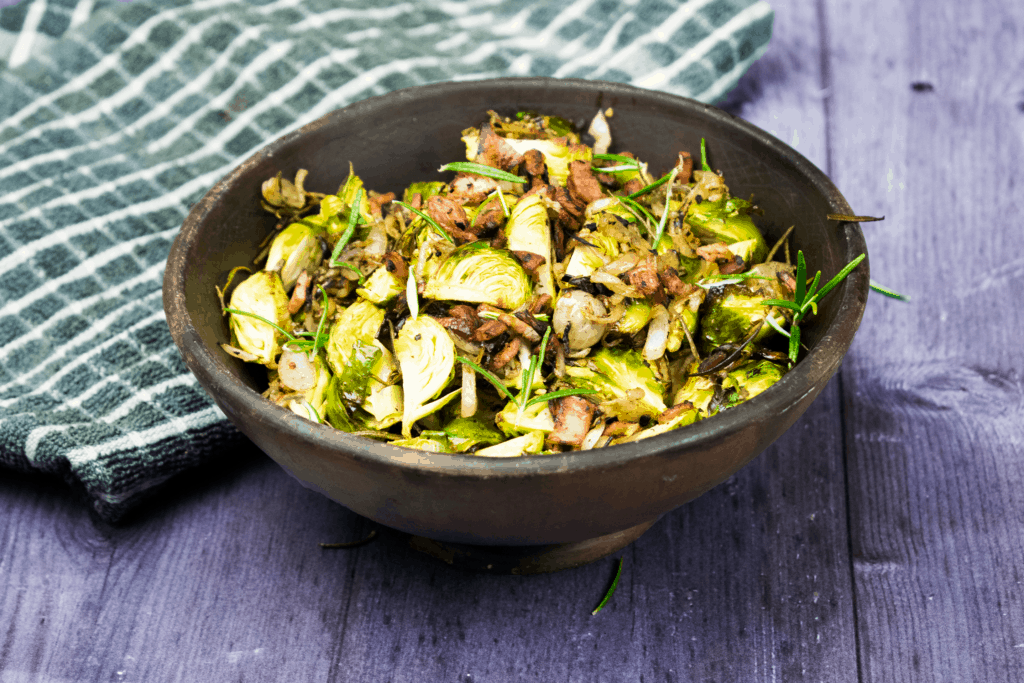 Cliona Keane
Roasted Garlic & Rosemary Brussels Sprouts
A delicious brussels sprouts recipe to liven up any Christmas table!
5 minPrep Time
10 minCook Time
15 minTotal Time
Ingredients
1x Bag Brussels Sprouts
1tsp Minced Garlic
Handful Fresh Rosemary
1tbsp Oil/A Few Sprays of low calorie cooking spray
2x Rashers Lean Bacon (fried until crispy)
3x Sliced Shallots (fried until crispy)
Instructions
Chop the brussels sprouts into quarters and add into a bowl with the oil/cooking spray, garlic and most of the rosemary.
Use your fingers to muddle the brussels sprouts around until they are coated in oil/cooking spray.
Tip out onto a baking tray and bake at 200 degrees for 10-12 minutes, or until they have crisped up and started to catch at the edges.
Remove from the oven and transfer into a serving dish, top with the crispy shallots and bacon.
Serve with your main meal!
Notes
Syn free if using low calorie cooking spray. Always check the syns of your spray before using to ensure it is syn free. Syn values correct at time of writing. Please do not share screenshots of this recipe, share links instead!
7.8.1.2
177
https://basementbakehouse.com/2017/12/roasted-garlic-rosemary-brussels-sprouts/
Love the sound of this? Check out the video!
DON'T FORGET TO PIN THIS ROASTED BRUSSELS SPROUTS RECIPE FOR LATER!