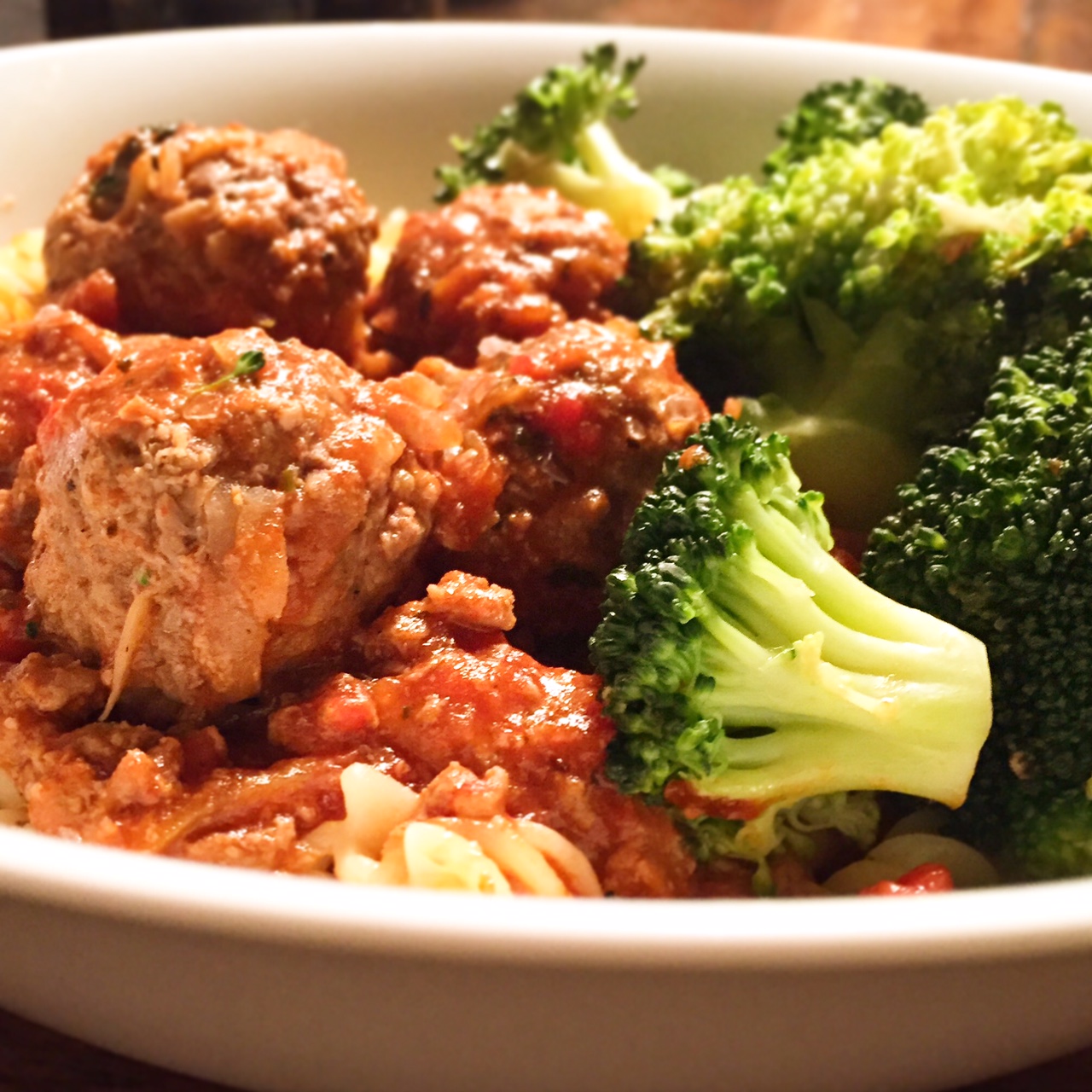 Homemade Beef Meatballs in Tomato Sauce
Meatballs are a seriously easy and very delicious meal, and this recipe is oh so simple to make! To make them even better, I've borrowed a trick from the lovely Jamie Oliver to help keep these wonderfully moist!
This meal was a resounding success chez moi and they were relatively quick to make too. If you're looking for a healthy, simple and impressive meal then these are for you! What's more, they're are syn free on Slimming World!
Homemade Beef Meatballs in Tomato Sauce
Tender, juicy and full of flavour!
10Prep Time
25Cook Time
35Total Time
Ingredients
For The Meatballs500g High Quality Lean Beef Mince

2 Eggs
Handful Basil (roughly chopped)
1 Raw Potato (peeled and washed)
1tbsp Dried Mix Herbs
1tsp Rock Salt
1/2tsp Paprika (optional)
1/2tsp Chilli Powder (optional)
1/2tsp Mustard Powder (optional)

For the sauce4 Large Tomatoes (chopped)

15 Cherry Tomatoes (halved)
1 Can Tinned Tomatoes
2 Beef Stock Cubes/Jellies
100ml Boiling Water
Salt & Pepper (to taste)
2tbsp Tomato Puree
Instructions
Preheat your oven to 200 degrees.
Add the mince, herbs, salt and spices into a large mixing bowl.
Using a cheese grater, grate the potato into the mince (thank you Jamie!!!) and then crack the eggs in.
Using your hands, mix all of the ingredients together until the mince starts to really stick together.
Set 75g of the mince to one side.
Roll small handfuls of the remaining mince into balls and place on a baking try which has been sprayed with Fry Light. You should get about 15 meatballs from the mixture depending on how big you do them.
Spray Fry Light over the top of the meatballs and then bake for 20 minutes.
Meanwhile, brown the mince that you set aside in a pan over a high heat, and then add the tomatoes, tinned tomatoes, beef stock cubes or jellies, boiling water and some salt and pepper.
Reduce the heat and simmer for 10 minutes.
Add the tomato puree and continue to stir until the sauce has thickened up.
Take the meatballs out of the oven when they're done, and mix into the tomato sauce .
Stir gently for a few minutes and serve over pasta!
Notes
This recipe is syn free on Slimming World!
7.8.1.2
24
https://basementbakehouse.com/2016/02/homemade-slimming-world-beef-meatballs/
Nutrition