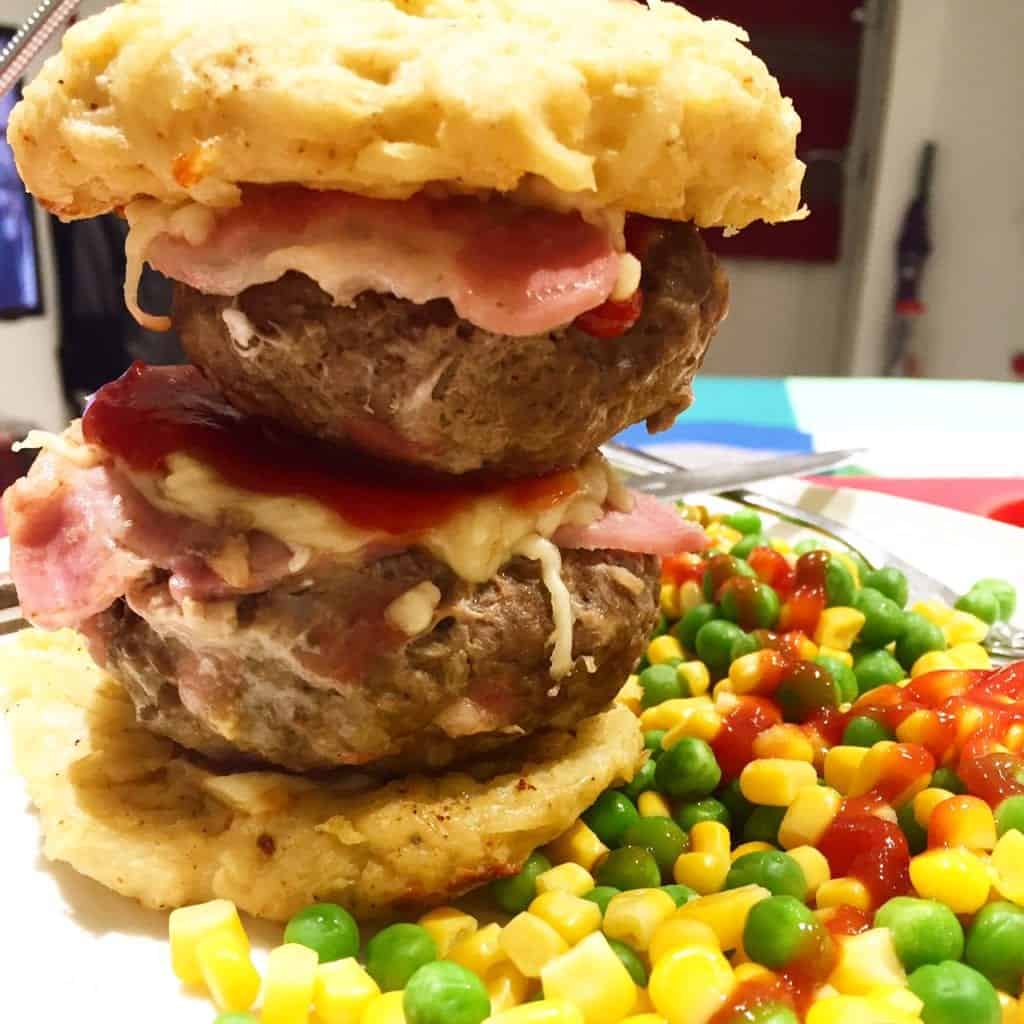 Syn Free (Double Stacked) Stuffed Cheese & Bacon Burgers in a Hash Brown Bun
There have been some very special moments on my Slimming World journey…that first weigh in, getting my club ten, reaching three stone, finding out that I can eat pizza again…and now I've got another one to add to the list! This double stacked burger was a triumph, and the hash brown burger bun was even more so. I'm going to let the recipe speak for itself and just let you enjoy it…
Syn Free Double Stacked Stuffed Cheese & Bacon Burgers in a Hash Brown Bun
Double stacked tower of heaven!
15Prep Time
20Cook Time
35Total Time
Ingredients
For The Burgers1 Medium Onion

2 Cloves Garlic
500g Pack 5% Lean Beef Mince
4 Chopped Rashers of Bacon (with fat removed)
4 Whole Rashers of Bacon (with fat removed)
1 Egg
1tbsp Tomato Puree
1tbsp Mixed Herbs
1tsp Soy Sauce
Salt & Pepper (to taste)
8 Mozzarella Pearls
60g Grated Mozzarella

For The Hash Brown Bun3 Large Maris Piper Potatoes

1 Egg
3tbsp Smash
1/2tsp Paprika
1tsp Salt
1/2tsp Pepper
Instructions
Preheat your oven to 200 degrees.

For The BurgersChop your onion and garlic up very small and add to a pan with Fry Light. Fry until cooked and then set aside to cool.

In a medium mixing bowl add all of the other ingredients for the burger, and use your hands to mix it together.
When the onion has cooled add that too and continue mixing. You want it to become more like a paste and not like individual pieces of mince.
Using your hands make 4 large balls of mince. Press two mozzarella pearls inside each ball and then close the mince around it so they're completely encased.
Flatten into a burger of your desired size. Remember that they'll likely shrink inwards and expand upwards when cooked.
Spray a baking tray with Fry Light and place your four burgers on this, sprinkle with some salt and pepper and then spray over the top with more Fry Light.
Once you've made your hash brown mixture, pop the burgers in the oven for 15 minutes (depending on how thick yours are) or until almost cooked through.
Top each with a piece of bacon and put them back in the oven. When the bacon has cooked sprinkle each with a quarter of the grated mozzarella and place back in the oven to melt.

For the Hash Brown BunsPeel your potatoes and then use a cheese grater to grate each one into a medium mixing bowl.

Tip the grated potato out onto some kitchen towel and press more kitchen towel on top to remove some of the moisture in the potatoes. Tip back into the bowl.
Crack in the egg, and add the smash and the rest of the seasoning. Mix using your hands or a spoon until everything is incorporated.
Spray a baking tray with Fry Light and then make patties large enough to hold your burgers. Place these on the tray and spray with a bit more Fry Light.
Pop them in the oven at the same time as you put in your burgers, until they've begun to firm up and come away from the bottom of the tray. Flip them and continue cooking until both sides have begun to brown (grill if preferred).

AssemblyOnce all the elements are cooked, stack your two burgers one on top of another on one hash brown, adding sauces if desired, and using the cheese to stick them together. Top with your final hash brown and serve with plenty of veg!
Notes
This is syn free on Slimming World when using the cheese as the HexA option for two people. Sauces add extra syns.
7.8.1.2
39
https://basementbakehouse.com/2016/04/slimming-world-syn-free-double-stacked-stuffed-cheese-bacon-burgers-in-a-hash-brown-bun/