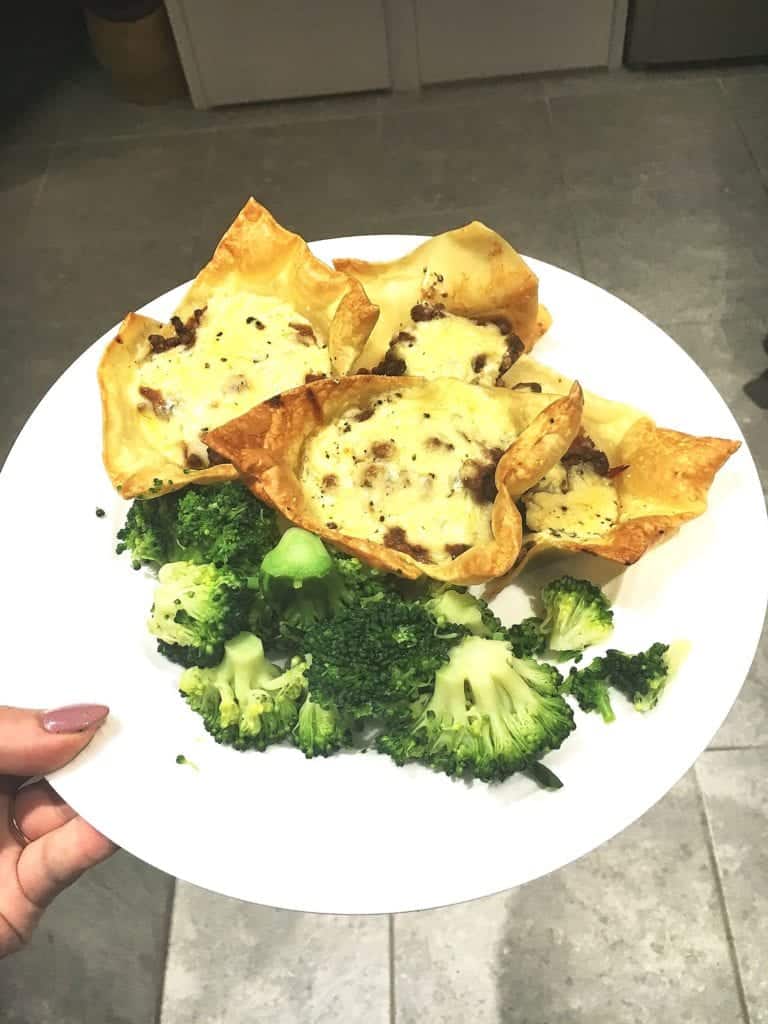 These are my new favourite way to eat lasagna, without a doubt! Quicker (you don't have to wait for a whole big dish to cook through), just as delicious, fun to eat and obviously syn free too! There's also something really special about the different textures that you get from this dish – there's the soft pasta around the bottom, the mince and the cheese which are gooey and delicious, and then the crispy lasagna sheets around the top which add a crunch to the whole dish! Perfect with a side of veg, great for midweek dinners, and easy to bake ahead of time and then take to lunch/reheat, these are seriously versatile!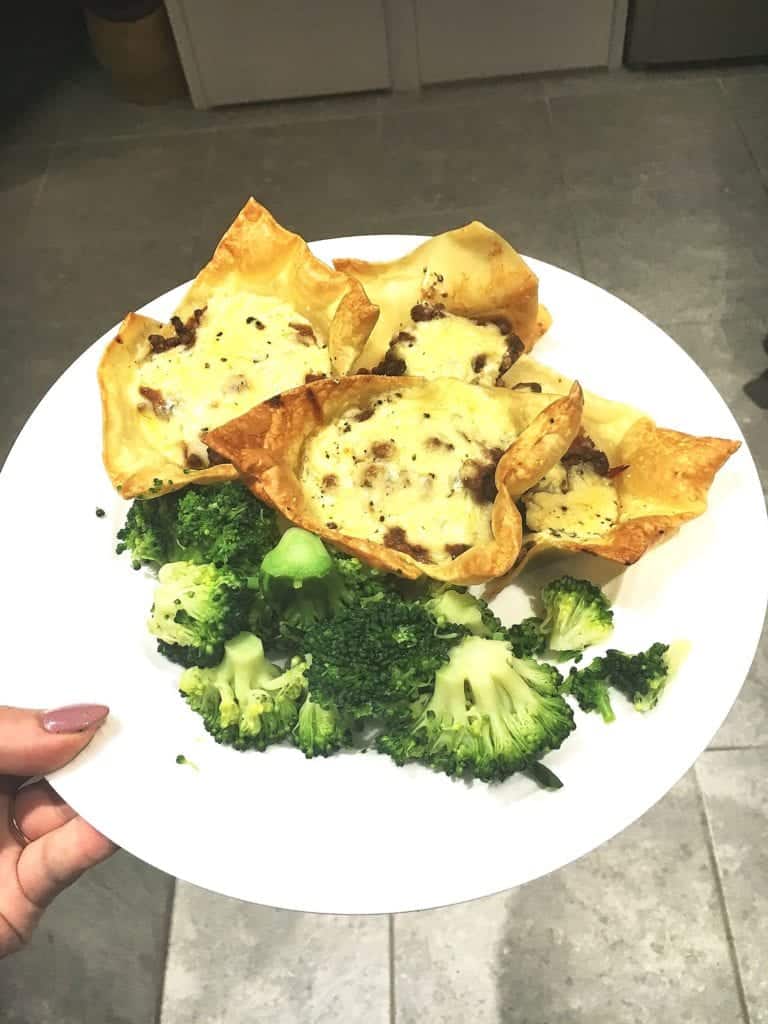 I came up with the idea recently after making the Slimming World Spring Rolls, which also use lasagna sheets. I realised that not only are they versatile, but they're really nice crispy! I then got to thinking about other ways they could be used, and this just seemed like the obvious choice! The great thing is, that it's a dish that you can easily multi-task with. Whilst you've got the mince on, you can be boiling the lasagna sheets and weighing out your cheese, and then it's easy to assemble! Another great thing about these little Lasagna Cups, is that they're a lot more low key than a whole lasagna, and you can make up as many as you fancy so you're not left with waste! This makes them ideal for lunches, and with a bit of clever clingfilming you can even take them in a packed lunch.
If you read my blog regularly, you'll know that I've got a bit of a thing for melted cheese…it's my favourite way to eat my Healthy Extra A! Using it as such in this recipe makes it completely syn free, but even if you fancied these after you'd already had your HexA they'd still only be 1 syn each! How great is that!?! At its base, this is one of the simplest recipes I've ever made, it's just mince, pasta, a little bit of sauce and then some cheese. The fantastic thing about it is that it's really fun to eat and makes an excellent change from standard meals! For me, one of the biggest things that helps me stay on plan when doing Slimming World is ensuring that I have a good variety of meals and recipes up my sleeve to do from week to week, this stops the plan getting boring and keeps me on my toes! These are going to be a firm favourite in my house from now on, so I'm pretty pleased.
Find the Muscle Foods Mince used in this recipe for just 73p here.
Yields 6
Syn Free Lasagna Cups
Perfect syn free Lasagna Cups!
30Prep Time
10Cook Time
40Total Time
Ingredients
1/2 Large Onion/1x Small Onion (finely chopped)
400g Muscle Foods Lean Mince
10x Cherry Tomatoes
1/2 Pint Boiling Water
2x Beef Stock Pots/Stock Cubes
2tbsp Tomato Puree
1tsp Mixed Herbs
6 Lasagna Sheets
1x Egg
1xtbsp Fat Free Yogurt/Fromage Frais
Nutmeg (optional - to taste)
Salt & Pepper (to taste)
60g Grated Cheddar Cheese (HexA)
Fry Light
You will also need a muffin tray/silicone muffin sheet on a baking tray
Instructions
Preheat your oven to 180 degrees.
Fry the onion with Fry Light over a high heat and then add the mince. Fry until browned.
Add the cherry tomatoes and fry until they soften. Add the beef stock with 1/2 pint of boiling water and add the herbs, salt and pepper.
Reduce the heat and cover. Leave to simmer while you cook the pasta sheets, stirring occasionally.
Spray your muffin tin/tray with Fry Light.
In a pan of boiling water, add the lasagna sheets one at a time. Allow them to cook until they are soft and easy to work with.
When each sheet is cooked allow it to cool slightly, and then cut it in half. Place each half into the muffin tins so that they overlap on the bottom and the sides and create a case in which you can put your fillings. Repeat six times.
Add the tomato puree to your mince and stir it in. Continue to simmer.
Mix together the egg and yogurt with nutmeg if you're using it and salt & pepper to taste.
Remove the mince from the heat. Spoon it into each lasagna sheet casing, you should get about 2 heaped tablespoons in each.
Divide the egg mix over the top of each lasagna cup and then top each with cheese.
Bake in the oven for 10 minutes, or until the lasagna sheets have begun to brown on the edges at the top and the cheese has melted.
Remove from the oven and leave to sit for 1 minute before serving with plenty of veg.
Notes
Syn free using cheese as HexA.
7.8.1.2
86
https://basementbakehouse.com/2016/09/syn-free-lasagna-cups-slimming-world/
Nutrition