21 Healthy Lunch Box Recipes To Take To Work
Variety is key to staying on track with any healthy lifestyle, and ensuring that you have a mix of different recipes is key to doing this. Maintaining variety can be tricky, especially when it comes to lunch time, so spending time finding recipes you love is really important! To that end, here are 20 stunning recipes from around the web to take in to work with you…aren't lunch box recipes the best!?! All of these can be easily adapted to Slimming World, or offer healthy and nutritious ways to use your syns. Remember if you are adapting recipes to fit Slimming World or any other diet/lifestyle plan then you may end up with different results. Not always, but it's just something to bear in mind!
Popped Beans and Steamed Broccoli Salad
Split between four people this gorgeous salad is nice and low in syns. Simply add them up for the mixed seeds and the dressing and you're good to go!
Find the recipe on Use Your Noodles.
Sweet Potato and Sweet Corn Fritters
Swap oil for Fry Light when pan frying these tasty corn fritters and then just count syns for the flour. The recipe makes 12 and each fritter would be well under 1 syn each, so they're perfect for taking to work or making for the kids to take to school!
Find the recipe on Kidgredients.
Easy Roasted Carrot Houmous Recipe
If you need something low syn and delicious to snack on at work, and to make sure you eat more speed food, then this is the recipe for you! Just syn the olive oil and orange juice and you've got the perfect light lunch.
Find the recipe on Eats Amazing.
Healthy Sweet Potato Noodle Salad with Chickpeas and Rocket
If you're in the mood for a filling and delicious salad then this is going to be right up your street! Yes you have to syn avocado, but it's healthy fats and that's a very good place to use your syns in my opinion!
Find the recipe on Happy Kitchen.Rocks
Savoury Southwest Cous Cous Salad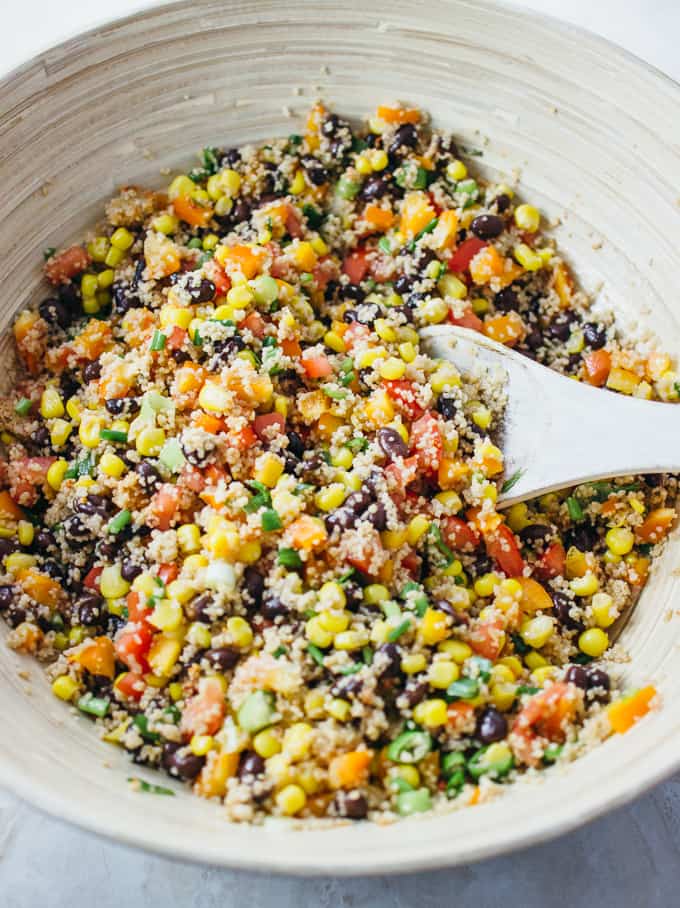 This recipe is practically syn free, you just need to syn any olive oil used, and just look at all of those colours! When it comes to keeping lunchtimes interesting colour is your friend for sure! Black beans are also a great source of fibre and Vitamin B6 which makes this a seriously nutritious meal too.
Find the recipe on Savoury Tooth.
Turkey and Spinach Meatballs
These look like they'd be delicious cold or hot which makes them ideal for taking to lunch (whether you have a microwave or not!). Use the Parmesan as part of your Healthy Extra A and just syn the flour for a super low syn lunch option.
Find the recipe on Living Lou.
Warm Lentil Salad
I love the idea of taking this into work for a warming winter lunch! Very low syn if you use the olive oil for frying, or if adapting to use Fry Light then it's totally syn free which is a big plus! Lentils are also high in fibre and very filling so this is sure to fill you up until dinner!
Find the recipe on Allergy Girl Eats.
High Protein Salad
Anyone who has ever said that salad is boring clearly hasn't seen this! Look at all of that beautiful protein piled high…it's a slimmer's dream. The dressing does have a few syns per portion but they're certainly worth it!
Find the recipe on Contentedness Cooking.
Roasted Tomato Chickpea Soup
Soup and winter go together like hand in glove and if you've got a microwave at work, or a handy soup flask like I do, then this recipe will work great for you.
Find the recipe on V Nutrition and Wellness.
Butternut Squash Buddha Bowl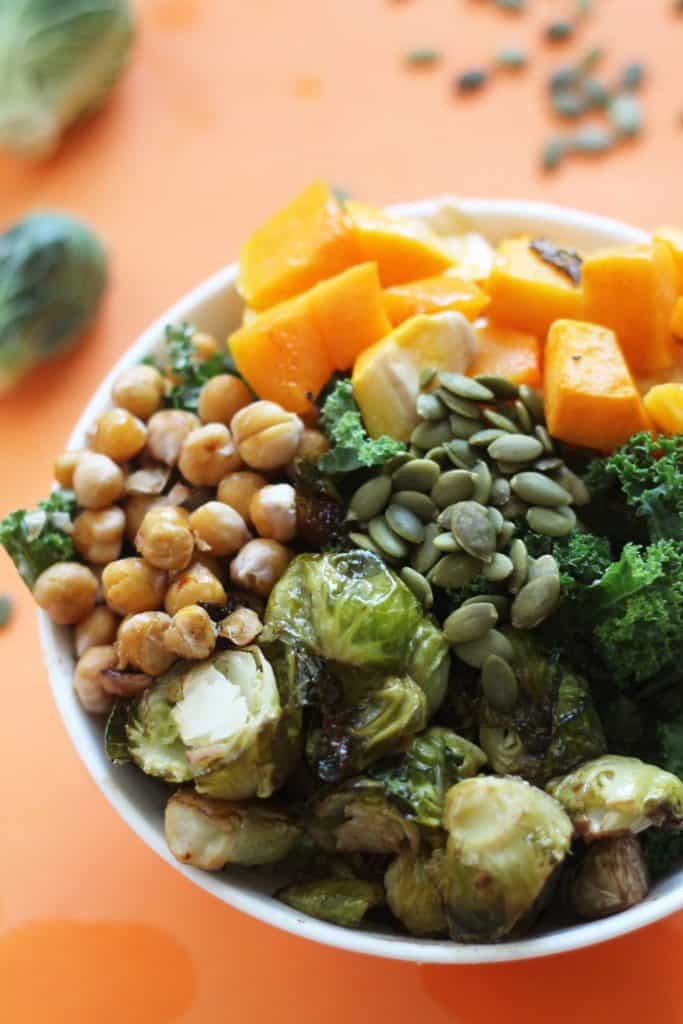 Buddha bowls are all the rage right now and it's not hard to see why! When you've got this much colour and taste piled high on a bowl of healthy carbs you're on to a winning formula. If adapting to use Fry Light for roasting then this is a super low syn lunch too, not to mention full of fantastic nutrients!
Find the recipe on The Kitchen of Danielle.
Grapefruit Farro Salad
Farro is a fantastic wholegrain which fills you up and is full of fibre, so it makes an excellent base for any salad. A really low syn recipe, especially as Hazelnuts can be used as your Healthy Extra B, this is an excellent choice for eating 'al-desko'.
Find the recipe on Lively Table.
Quinoa Tabouli Recipe
This quinoa tabouli recipe is packed full of flavour! With chilli, mint, cumin and lemon to name a few of the ingredients it really packs a punch, exactly what you want from a work lunch. Keeping things interesting means you're less likely to snack on unhealthy food, and this does just that!
Find the recipe on A Forks Tale.
Persian Pea & Herb Little Bakes
These are the ultimate in healthy lunchtime food, full of different flavours and ingredients they're probably unlike anything else you've ever tried! Experimenting with new flavours is part of the fun so making these for your lunchbox is an excellent idea!
Find the recipe on My Kitchen Love.
Healthy Kale Salad with Mango Dressing
Just look at all of the colour in this recipe! Pomegranate seeds are fab for adding interesting splashes of colour to your meal and the complement the mango perfectly here. Kale and mango go really well together, trust me, so this recipe is the ideal mix! What's more, kale is full of nutrients that help to fight off winter colds!
Find the recipe on Happy Foods Tube.
Skinny Butternut Squash and Red Pepper Bisque
Another delicious soup recipe to take to work with you! Butternut squash really is one of the best winter veg and this 'skinny' soup is as filling as it is beautiful!
Find the recipe on Easy Cooking With Molly.
Baked Tofu
For any vegetarians out there this is a particularly great recipe to take for snacking or lunchtime purposes at work! Tofu is packed full of protein and baking it keeps fat down (no deep fried food here!), in fact, if you baked this in Fry Light instead of olive oil it'd be totally syn free!
Find the recipe on Fried Dandelions.
Roasted Eggplant and Brown Rice Salad
Eggplants (or aubergines for us Brits!) are super nutritious and this would be lovely heated up for lunch at work. Rice dishes are so easy to meal prep too, so make a big batch of this on a Sunday night to see you through the first part of the week!
Find the recipe on Umami Girl.
Easy 20 Minute Turkey Bolognese
Turkey is super lean which makes it great for cutting down on fats and keeping yourself on track. This is another fantastic recipe for meal prep and bolognese works great for freezing so you can do a huge batch to defrost every night and heat up in the microwave at work!
Find the recipe on Salt and Lavender.
Chicken Gyro Quinoa Bowls
How jealous would everyone else in the office be if you rocked up with this?! Very, that's for sure! Grilled chicken, complex carbohydrates and all sorts of tasty flavours… sign me up!
Find the recipe on Plantings and Pairings.
DON'T FORGET TO PIN THIS RECIPE FOR LATER!