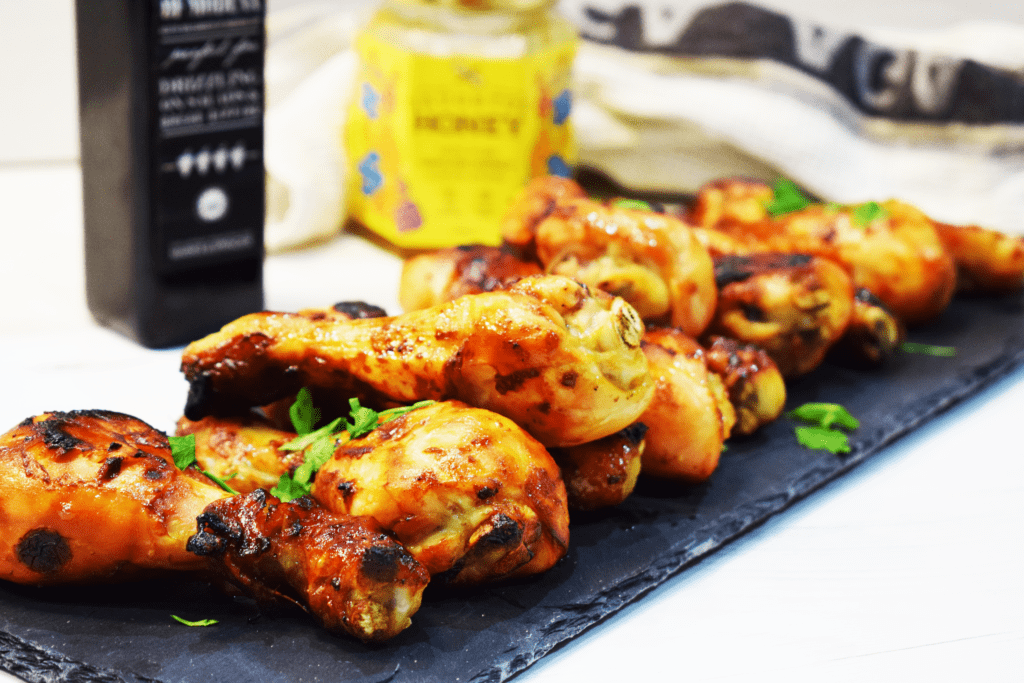 Sticky Balsamic Glazed Chicken Drumsticks
I do love a bit of finger food…I love it even more when it's as low syn as these are! At just 2 syns for the ENTIRE batch (removing the skin before eating of course), one syn per portion if you share them between two, you're really in for a treat. Not only that, but they're mega easy to make and pretty speedy too so if you're fancying some messy finger food at dinner or prepping for some last minute guests Slimming World style then these are perfect!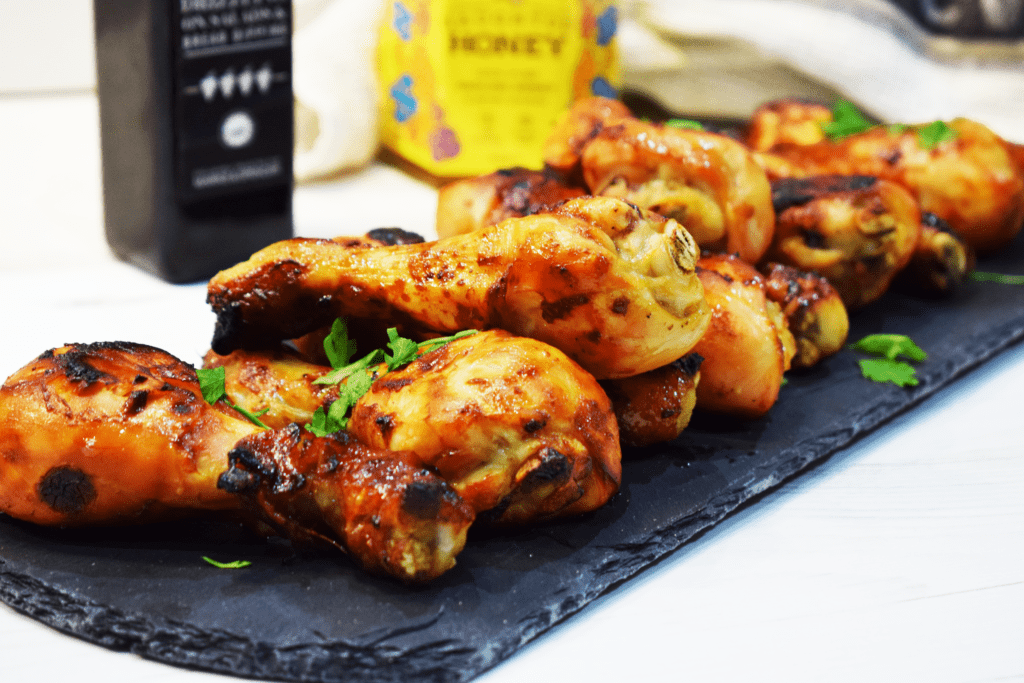 Whilst we're on the subject of perfect, can we just discuss for a moment how amazing Aldi is! I mean, I had genuinely never shopped there before (shame on me) but I'm trying to do a bit of shopping around to save money and decided it was high time I gave them a go. I got the drumsticks for this recipe from Aldi and they were really big and had loads of meat on. Genuinely that should be the least we expect from our food right? That it actually has some food content, but worryingly often I open packs of meat (especially meat on the bone) to find that the supermarket has drastically short changed me.
Not with Aldi though! As you can see these were nice and big, and what's more they didn't shrink loads when cooked (meaning they aren't pumped full of water) which was also a bonus. Chicken aside however, Aldi is a genuine treasure trove of delights. Not only was my grocery shopping nice and cheap, but I also picked up the pretty slate board you see in these pictures for the princely sum of about £4 and a marble and wood serving board for next to nothing!
As is often the case with shops like this (it happened when I shopped at Lidl too), I probably ended up spending more than I would have done because I picked up other useful things like the serving boards and a high visibility hoodie for my other half to take to work. I was not allowed to buy the £30 (!!!) punch bag that was also available…apparently we don't have the room…but I'm certainly going to be heading back there for it, along with the awesome selection of weights! Home gym here I come!
Anyway, that's enough about Aldi for now (seriously though if you haven't shopped there then give it a go, it'll probably surprise you!), back to these delicious drumsticks! Don't they just look divine! All of that crispy caramelised glaze and tantalisingly shiny coating…drool much! As it was we had them for dinner but I'd have been just as happy to share these around at a party (or taster evening) and no one would have even known they were healthy!
You can see this recipe being made in this video or read the instructions below! If you like it, please share it (either from Facebook or with the link directly to your friends) to help spread the word. I really appreciate every like, comment and share on Facebook, here on the blog or on any of my other social media channels, they mean a huge amount to me so please keep them coming! If you you want to grab yourself one of the silicone brushes I use to glaze these (they're super handy for everything from meat to pastry!) then you can get them on Amazon here: http://amzn.to/2l4PU0F*
Cliona Keane
Yields 10-12
Sticky Balsamic Glazed Chicken Drumsticks
Deliciously sticky balsamic glazed drumsticks for just 1 syn per portion (when serving 2) on Slimming World!
30 minCook Time
30 minTotal Time
Ingredients
10-12 Chicken Drumsticks (you can cook with the skin on to keep them moist)
Fry Light
Salt & Pepper (to season)
4tbsp Balsamic Vinegar
2tsp Honey
Instructions
Preheat your oven to 180 degrees.
Spray a baking tray with Fry Light and lay your drumsticks out on it evenly. Spray them with Fry Light and season with salt & pepper.
Bake for 15 minutes in the oven.
A few minutes before they are due to come out, add the balsamic vinegar over a high heat and stir until bubbling. Add the honey and stir.
Reduce the heat and bubble and stir until thickened. Set aside.
Remove your drumsticks from the oven and glaze them on both sides.
Bake for a further 15 minutes and then serve hot or cold!
Notes
Remove the skin before eating. Syn values correct at time of writing. Please do not screenshot this recipe - I'd love you to share it but please do so with the link to avoid it being stolen and shared illegally!
7.8.1.2
128
https://basementbakehouse.com/2017/02/sticky-balsamic-glazed-chicken-drumsticks/
DON'T FORGET TO PIN THIS BALSAMIC GLAZED CHICKEN DRUMSTICKS RECIPE FOR LATER!
*This post contains an affiliate link, which means I may make a small amount of money if you purchase something through the link. I only ever recommend products I use myself or really want (I'm not made of money!) and the income generated helps me continue creating and sharing recipes and videos so please don't be put off clicking on them!