Cheese and Vegetable Savoury Picnic Muffins
Sometimes life gets so busy that being healthy can fall to the wayside, but with these Cheese and Vegetable Savoury Picnic Muffins not only do you get a nutritious and delicious lunch option, but you get one that can be eaten anywhere – even when you're on the go! I love recipes like this because they help me stay focused on my health on those days where it would be just that little bit too easy to reach for a supermarket meal deal or coffee shop takeaway! Whilst those things have their place, it doesn't need to be in my daily lunch routine, so I make these instead.
A Slimming World Friendly Lunch Choice
If you're following the Slimming World plan, I have good news for you! These delicious savoury picnic muffins are totally Slimming World friendly, at just 2.5 syns each plus a quarter of your Healthy Extra A choice. They're actually just under a quarter (0.2) but I find its always best to round up if you're in doubt! The best thing is, that they're actual proper muffins made with flour, but they're just balanced in such a way that I have kept them low syn and super filling. What's more, they're packed with speed veg so they're ready balanced for you.
The syn values in this dish break down as follows:
200g Self Raising Flour – 32 syns
1/2tsp Baking Soda – 1//2 syn
3x Eggs – syn free
275mls St Helen's Farm Goats' Milk – 1xHex
1x Red Pepper – syn free
Handful Curly Kale – syn free
4x Chestnut Mushrooms – syn free
70g St Helen's Farm Goats' Cheese – 2x HexA
Total syns: 32.5
Recipe makes: 14 muffins
Syns per muffin: 2.5 + 1/4 HexA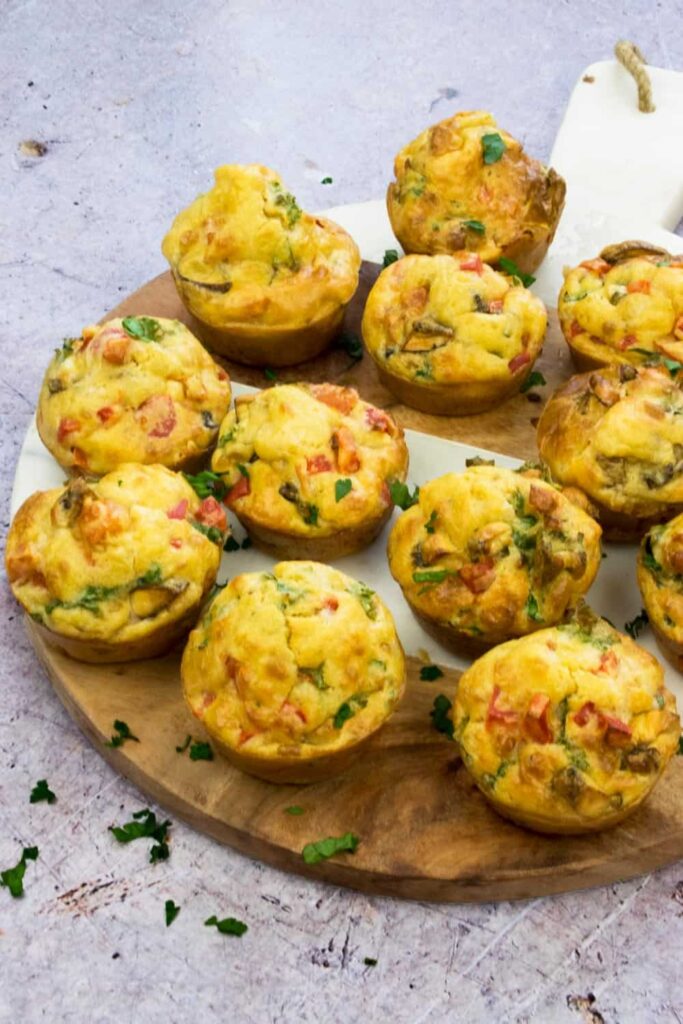 As I've said above, you would simply need to count a quarter of your Healthy Extra A per muffin (plus 2.5 syns), which means if you're super hungry you could have four muffins for 10 syns and your whole healthy extra choice – either all at once or split out over the day. Alternatively, you can save the other three-quarters of your Healthy Extra A choice for things other meals and snacks, or have in your tea or coffee.
These muffins have been made using goats milk and cheese because it brings so much extra flavour as well as being a naturally good source of protein and essential vitamins and minerals! I've used St Helen's Farm goats' cheese and goats' milk, which I fell in love with recently during my two-week swap to all things goats milk! I really recommend using goats cheese for a recipe like this, as it simply has so much flavour. I find that using a strong cheese like this helps me reduce the amount of salt needed in a recipe, as you are already packing a punch with the naturally good ingredients!
I love seeing when people make my recipes! So if you do whip up this Low Syn Cinnamon Roll French Toast Bake you can email it to me or share it on Facebook and Instagram tagging @basementbakehouse on Facebook or @basementbakehouse_sw on Instagram! You can also share it in my Facebook group too, you can join here if you haven't already.
Making Cheese and Vegetable Savoury Picnic Muffins
These Cheese and Vegetable Savoury Picnic Muffins make a fantastic meal prep choice, as they can be easily batch cooked in half an hour on a Sunday night, ready to take to work or on a day out for the rest of the week. I wouldn't advise freezing these as I can imagine they would go rather soggy when defrosting (because of the flour) so I would only suggest making a batch at a time. These should be kept in the fridge once baked.
Cliona Keane
Yields 14
Cheese and Vegetable Savoury Picnic Muffins
Delicious savoury picnic muffins packed with vegetables and tasty goats cheese.
10 minPrep Time
12 minCook Time
22 minTotal Time
Ingredients
200g Self Raising Flour
1/2tsp Baking Soda
3x Eggs
275mls St Helen's Farm Goats' Milk
1x Red Pepper (diced)
Handful Curly Kale (chopped small)
4x Chestnut Mushrooms (diced)
70g St Helen's Farm Goats' Cheese (grated)
1tsp Salt
Low Calorie Cooking Spray
Instructions
Preheat your oven to 180 degrees celcius.
In a large mixing bowl, combine the flour and baking soda together.
Whisk the goats' milk and eggs in a jug until combined and then add half to the flour. Stir until the liquid has combined.
Add the second half of the liquid and stir or whisk until smooth.
Add the salt, pepper, kale and mushroom and stir until combined.
Add the grated goats' cheese and stir through.
Spray a muffin tray with low calorie cooking spray and spoon the mixture evenly between them until the cases are just below full. I used a 12 hole muffin tray and cooked 12 and then 2 muffins. (I found that these work best without a paper muffin case, as long as you use a non-stick pan).
Bake for 12 minutes or until golden brown on top and then remove from the oven and leave to cool.
Serve hot or cold!
Notes
32.5 syns for the whole batch + 3xHexA choices. 2.5 syns per muffin + 1/4 of your HexA choice. Syn values correct at time of writing. Please do not screenshot this recipe - copyright Basement Bakehouse.
7.8.1.2
195
https://basementbakehouse.com/2018/11/cheese-and-vegetable-savoury-picnic-muffins/
DON'T FORGET TO PIN THIS RECIPE FOR CHEESE AND VEGETABLE SAVOURY PICNIC MUFFINS FOR LATER!