Cheesy Steak & Egg Hash
Potato 'hash' is absolutely delicious! It's basically chopped up potato fried/baked and covered with your choice of toppings…you can have breakfast hash (bacon, egg etc…), you could have Mexican hash with chilli, salsa and avocado, or you could have a delicious dinner hash like this one which is full of tasty peppers, onion, steak, cheese and egg! On it's own, it looks something like this…
On Slimming World we obviously are not in the habit of frying our food in copious amounts of oil, so whilst many hash recipes simply call for you to do so, this one is part fried (in Fry Light) and part baked to make sure the potato is nice and crispy. What's more, this dish is totally SYN FREE! How great is that!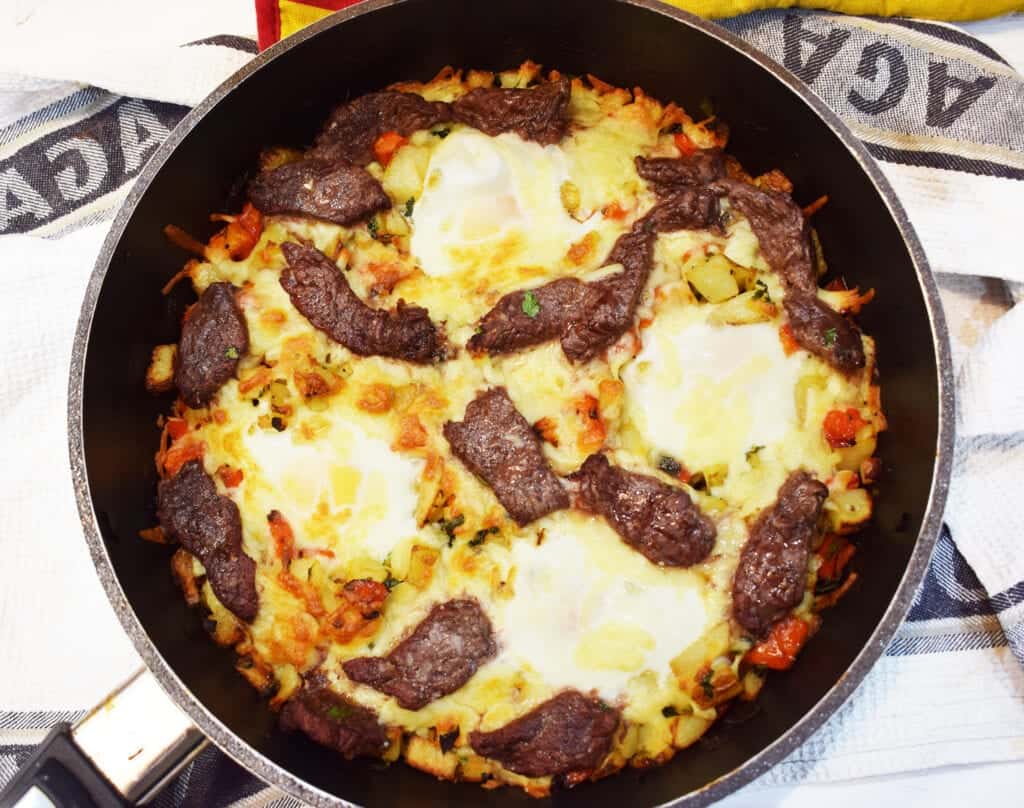 The cheese is your Healthy Extra A, the steak is lean (from Muscle Foods) and the rest is already free. It's also packed full of speed as the potato is mixed with chopped up red pepper and onions, which means it's a fully balanced meal, even if it doesn't look like it on the face of things…
The eggs, nestled in amongst the potatoes, give the dish a big protein boost (along with the steak) which helps fill you up until your next meal! Moreover, the melted cheese totally makes you feel like you're eating something unhealthy, making this hash recipe perfect comfort (or hangover!) food. That's the beauty of Slimming World…you can enjoy food which looks unhealthy and still lose weight! What's more, you don't have to compromise on taste to do so!
Cliona Keane
Cheesy Steak & Egg Hash
A tasty, cheesy and syn free Steak & Egg Hash recipe!
10 minPrep Time
40 minCook Time
50 minTotal Time
Ingredients
5x Large White Potatoes (washed, peeled & chopped into small cubes)
2x Red Peppers (chopped small)
2x Onions (diced)
1tsp Garlic
1tbsp Mixed Herbs
Salt & Pepper (to taste)
1x Lean Steak (sliced thin)
4x Eggs
120g Cheddar Cheese (grated)
Fry Light.
Instructions
Preheat your oven to 180 degrees.
Add your chopped potato into a sauce pan and cover with water. Bring to the boil over high heat and then reduce and simmer for 3 minutes. Drain and set aside.
Spray a deep frying pan or skillet with Fry Light and add the onion and garlic. Fry until the onions begin to soften.
Add the chopped mixed herbs, peppers and potatoes. Stir and fry for a few minutes and then cover, stirring every few minutes for 10 minutes.
Remove from the heat, spray with Fry Light and put it in the oven for a further 15 minutes, or until the potato has crisped up to how you want it.
Remove from the oven and make four holes, one in each quarter of the pan. Crack an egg into each hole.
cover the rest of the potato with grated cheese, you can put it over your eggs if you want to.
Lay the steak evenly on top and then bake for a further 5-10 minutes, or until your eggs are cooked to your preference. The steak will cook quite quickly as it is cut thin.
Divide between four and serve immediately!
Notes
Syn free on Slimming World using your Healthy Extra A, divided between four people. Syn values correct at time of writing. Please do not screenshot this recipe, if you share the link instead it helps prevent other sites stealing the recipes.
7.8.1.2
132
https://basementbakehouse.com/2017/02/cheesy-steak-egg-hash/