Easy Peasy Syn Free Taco Pasta
This Syn Free Taco Pasta is a really easy and healthy way to enjoy all of the Mexican flavours you love in a cheesy pasta dish! Full of tasty speed food and delicious lean mince, it's a dish that the whole family will love! You can find the recipe for this Syn Free Taco Pasta by scrolling down to the end of this post, where you'll also find a handy recipe video…
Not only is this pasta easy to make, totally syn free and seriously delicious, it's also full of protein! With the mince and the black beans, it really packs a protein punch and will fill you up for ages! Perfect served alongside a simple salad or a mound of homemade salsa (for added speed) this one dish serves SIX, which means your Syn Free Taco Pasta is not only a yummy dinner. it's also a cheap one that will feed the whole family, or give you leftovers for days to come!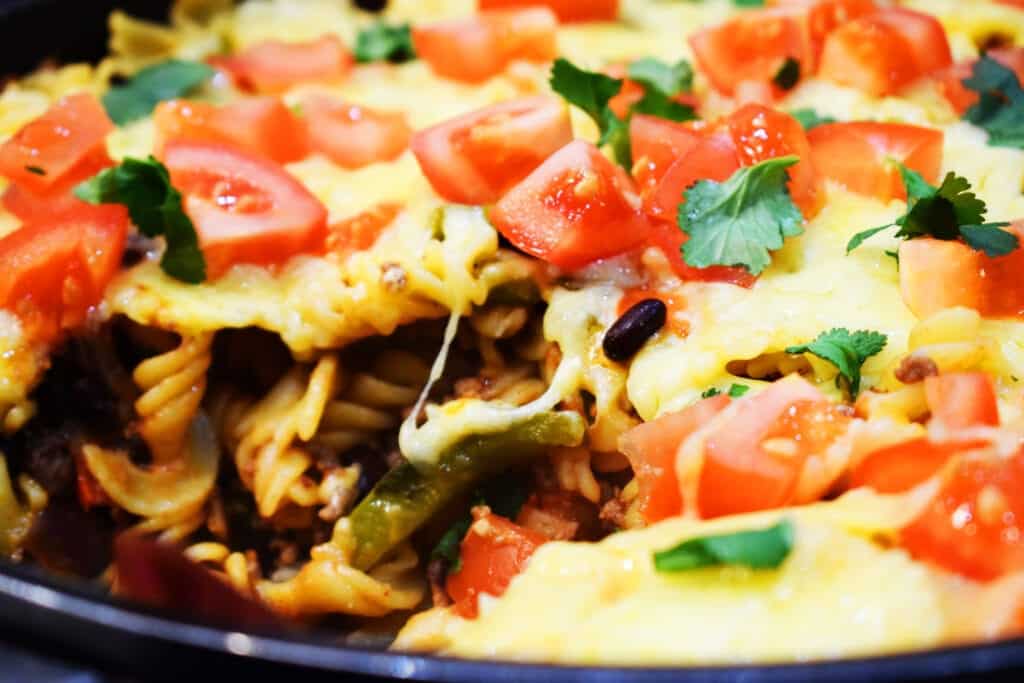 Dishes like this Syn Free Taco Pasta are one of the reasons I love Slimming World so much! You can tuck into a dish like this, covered in melted cheese, without feeling guilty at all! Not only does it have plenty of speed food cooked into it, with peppers and tomatoes, by simply enjoying it with a salad or alternative speedy accompaniment (on the plate to ensure a third of your meal!) you're sticking to plan 100%!
If you haven't eaten tacos before then the best thing to equate this to would be chilli, as it has similar flavours. The spices in this are cumin, paprika and chilli powder, which give you a deep flavour that doesn't need any hard to find ingredients…you've probably got them in the cupboard already!
Black beans were something I haven't used much in cooking before, as I've always been worried they'd be hard even once cooked. It turns out that if you buy the black beans that are soaked in water, then you only need to cook them for about three minutes for them to be soft…who knew! Now that I know this, I'll be using them a lot more in my cooking, as they're full of flavour and so good for you!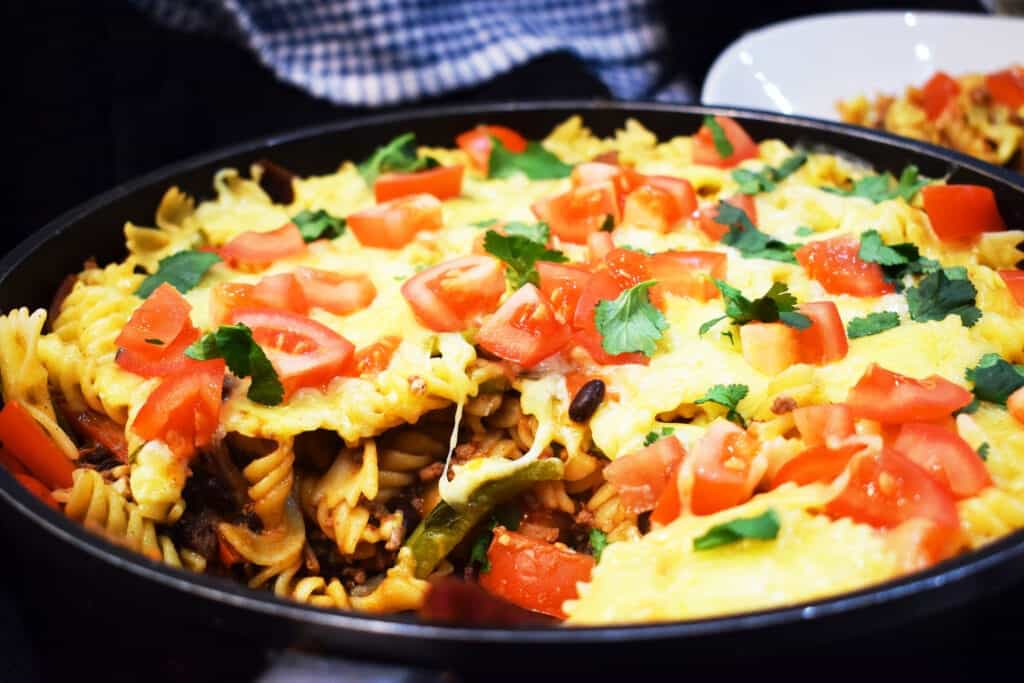 Cliona Keane
Easy Peasy Syn Free Taco Pasta
A syn free Mexican inspired pasta dish for Slimming World!
5 minPrep Time
30 minCook Time
35 minTotal Time
Ingredients
400g Lean Mince
1x Onion (diced)
1tsp Garlic
2tsp Chilli Powder
1tsp Paprika
1tsp Cumin
1x Tin Tomatoes
1 Pint Beef Stock
2x Mixed Peppers (sliced)
400g Black Beans
Large Handful Coriander (roughly chopped - plus extra for garnish)
450g Pasta (cooked before)
180g Grated Cheddar Cheese
2x Fresh Tomatoes (chopped - for garnish)
Salt & Pepper (to taste)
Fry Light
Instructions
Spray a large deep frying pan with Fry Light and add the onions and garlic to fry.
Add the mince to brown and then add the peppers and coriander. Stir for a few minutes.
Add the tinned tomatoes and the beef stock and stir.
Stir in the chilli powder, cumin and paprika along with salt and pepper. Simmer for 10 minutes.
Add the black beans and simmer for a further 5 minutes.
Combine the cooked pasta and flatten so you have an even surface.
Top with grated cheese and cover until it's melted.
Garnish with the chopped tomatoes and extra coriander, serve with salad or more veg!
Notes
Syn free using your Healthy Extra A & Serving 6 people. Syn values correct at time of writing. Please do not screenshot this recipe for other people - to share please copy the link and share that!
7.8.1.2
133
https://basementbakehouse.com/2017/02/easy-peasy-syn-free-taco-pasta/
DON'T FORGET TO PIN THIS SYN FREE TACO PASTA RECIPE FOR LATER!