Low Syn Sticky Gingerbread Traybake
It's November which means it's basically Christmas already right!? Ok, well maybe not but I'm already getting excited for the festive season which means it's time for the Christmas baking to start in earnest with this Low Syn Sticky Gingerbread Traybake. This time of year is all about family, friends, togetherness and food, and for me, that means plenty of get-togethers that involve lots of cake! That can be a bit tricky when you're trying to be healthy, and the Christmas period is full of enough temptation without having it at home too. That's why a bake like this can make all the difference, helping you stay on plan without compromising on flavour or enjoyment!
A Slimming World Christmas Recipe
Whilst you could happily enjoy this Low Syn Sticky Gingerbread Traybake at any time of year, it goes without saying that it has a distinctly Christmas-y vibe to it. Gingerbread is a festive staple and I love that I can still enjoy holiday treats without adding to the inevitable sense of holiday guilt that hits me post-Christmas (if you also struggle with post-Christmas guilt then this article might help!)
This Low Syn Sticky Gingerbread Traybake is not only filled with tasty Christmas flavours, but it's also made with real ingredients! It doesn't need 12 whisked egg whites to rise…it's a proper cake that has simply been carefully created to help you stick to your Slimming World plan because guess what… It works out at ONE SYN PER SLICE! The syn value breaks down as follows:
2tbsp Golden Syrup – 5 syns
1tbsp Black Treacle – 2 syns
75g Self Raising Flour – 12 syns
3x Eggs – syn free
3tsp Ground Ginger – syn free
1tsp Baking Powder – 1/2 syn
1tbsp Sunflower Oil – 6 syns
To save you the maths, this makes the whole cake 26 syns in total. It easily cuts into 24 squares (it's quite rich so they're the perfect size and could even be made smaller if you wanted) so that's just a tiny bit over 1 syn each. Not bad for a real cake! However many pieces you get from this cake, just make sure that you divide the total number of syns (26) by the number of slices you cut.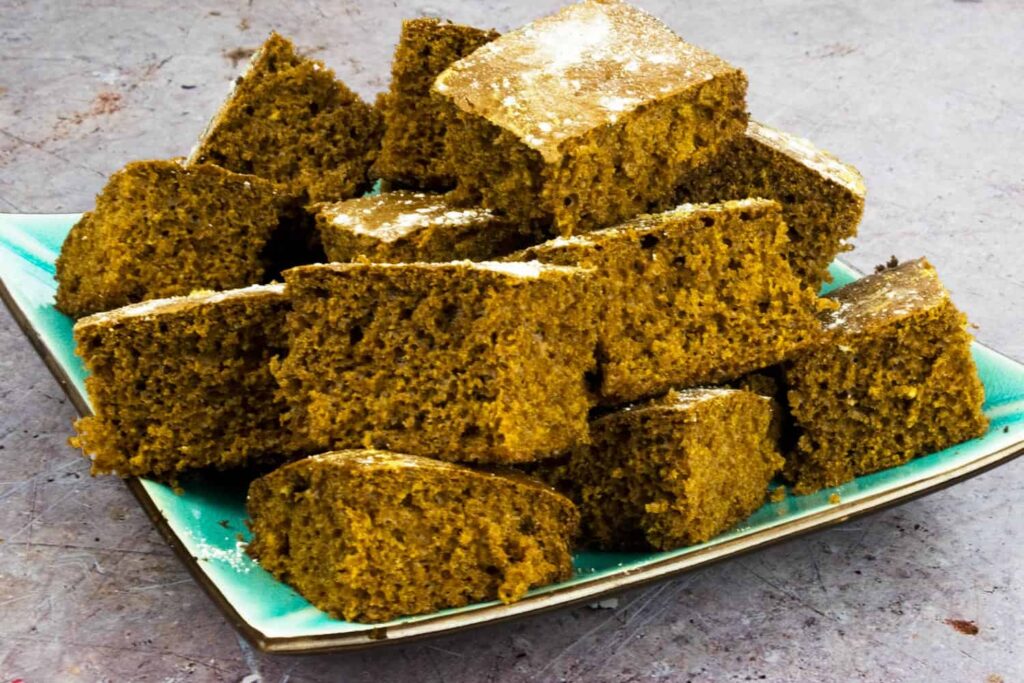 Christmas on Slimming World doesn't need to be a disaster for your losses, I promise! It is so easy to find yourself unmotivated and disheartened when surrounded with endless chocolates, big meals and nights out with work, but when you think about all of the days between now and Christmas those really don't make up more than say…20% of the time right?! If you think of it like that, then you can easily stick to plan 80% of the time, which should at the very least help you balance your gains and losses. Combine that with recipes like this Low Syn Sticky Gingerbread Traybake, you may find yourself more in control than you previously thought! To keep you on plan, you might like some of my other Slimming World friendly festive recipes…
I love seeing when people make my recipes! So if you do whip up this Low Syn Sticky Gingerbread Traybake you can email it to me or share it on
Facebook
and
Instagram
tagging
@basementbakehouse on Facebook
or
@basementbakehouse_sw on Instagram
! You can also share it in my Facebook group too, you can
join here
if you haven't already.
Making Low Syn Sticky Gingerbread Traybake
I really hope that you enjoy this recipe as much as I did and that it helps you have a healthy, guilt-free Christmas! Just remember though, the holidays aren't a time for self-doubt, negative thinking or self-sabotage. Let yourself have some fun and remember that balance is key!
Cliona Keane
Yields 25
Low Syn Sticky Gingerbread Traybake
A festive low syn Christmas Slimming World bake.
5 minPrep Time
15 minCook Time
20 minTotal Time
Ingredients
2tbsp Golden Syrup - 5 syns
1tbsp Black Treacle - 2 syns
75g Self Raising Flour - 12 syns
3x Eggs
3tsp Ground Ginger
1/2tsp Ground Cloves
1tsp Baking Soda - 1/2 syn
1tbsp Sunflower Oil - 6 syns
Low calorie cooking spray
Instructions
Preheat your oven to 180 degrees Celsius. Spray a 12 inch baking tray with low calorie cooking spray.
In a stand mixer or large mixing bowl combine the flour, baking powder and spices.
Add the golden syrup, treacle, eggs and oil and whisk until smooth.
Pour into your baking tray and bake for 15 minutes or until a skewer comes out clean when poked through the middle of the cake.
Cool completely, slice and serve with a dusting of icing sugar if desired.
Notes
Full cake = 26 syns Serves 24 - 1.08 syns per slice. Syn values correct at time of serving. It is always best to check syns for the ingredients you are using at the time. Please do not screenshot this recipe, syn values are changing all the time so recipes are updated regularly.
7.8.1.2
196
https://basementbakehouse.com/2018/11/low-syn-sticky-gingerbread-traybake/
DON'T FORGET TO PIN THIS LOW SYN STICKY GINGERBREAD TRAYBAKE FOR LATER!