Seven Day Meal Plan
On Slimming World planning is key, and it's been a while since I put together my last meal plan for you lovely folk, so I thought it was about time I shared another one!
This meal plan includes breakfast, lunch and dinner each day as well as two snack suggestions! What's even more exciting, is not only have I given you seven days of meals and snacks, I've included a whole page of pudding and sweet treat ideas at the end! Just remember you also need to have your 5-15 syns every day and drink plenty of water!
Throughout the plan I have marked where your HexB and HexA choices are used, and if there are any syns in the recipes themselves (except on the pudding page, you'll have to check those out yourself). I really hope this helps you guys stay on track, and gives you some inspiration along the way!
One of my top tips for perfect planning on Slimming World is to make sure you have absolutely everything you need ahead of time! One way I do this is by bulk buying my meat from Muscle Foods! Not only does this save me a huge amount of money, but their meat is amazing quality, not pumped full of water and additives (but still massive!) and one order can last me all month in the freezer! At the moment they've got an amazing deal on for £100 of meat for just £50 (and trust me that's a lot of meat from them)! What's even better is that it's all Slimming World friendly! Here's the link to buy it…I seriously recommend it!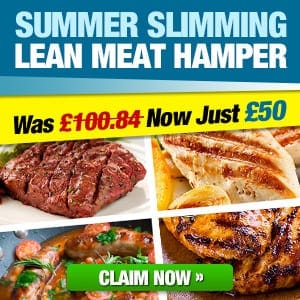 You can download the PDF version of the meal plan here, in which the recipes I mention are linked directly from the text – Slimming World Meal Plan
…or read the meal plan below and use the links below each section!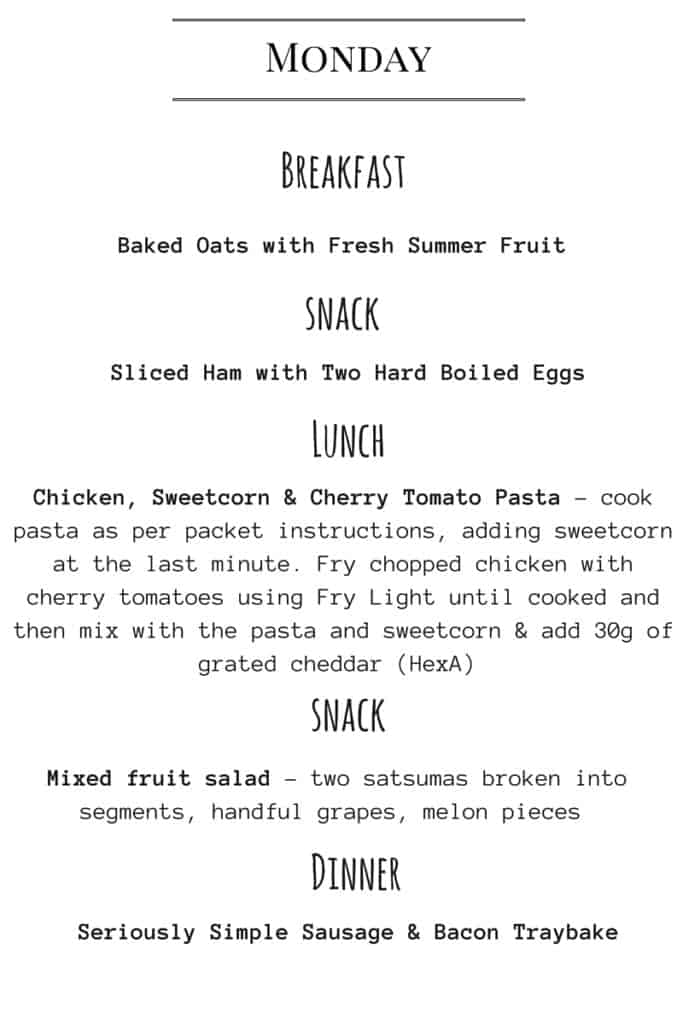 Seriously Simple Sausage & Bacon Traybake recipe here.
Crispy Sweet Potato Fries recipe here.
HexB Oat Cookies recipe here.
Ultimtae SP BBQ Chicken Burger recipe here.
HexB Pizza recipe here.
Crunch Honey BBQ Chicken Bites recipe here.
Syn Free Spaghetti Carbonara recipe here.
Low Syn Chicken & Sweetcorn Pie recipe here.
Yoghurt Covered Frozen Banana Bites recipe here.
Syn Free Spaghetti Bolognese Recipe here.
Cheat's Low Syn Sausage & Egg McMuffin recipe here.
Slimming World Haribo Style Sweets recipe here.
HexB Oat Cookies recipe here.
Syn Free Bolognese Pasta Bake recipe here.
Low Syn Individual Baked Cheesecakes recipe here.
Seriously Easy Syn Free No Bake Berry Cheesecake recipe here.
1/2 Syn Strawberry Mousse recipe here.
Low Syn Profiteroles recipe here.
Homemade Syn Free Vanilla Ice Cream recipe here.
French Toast Summer Fruit Roll Ups recipe here.
Syn Free Lemon Curd recipe here.
DON'T FORGET TO PIN THIS POST FOR LATER!