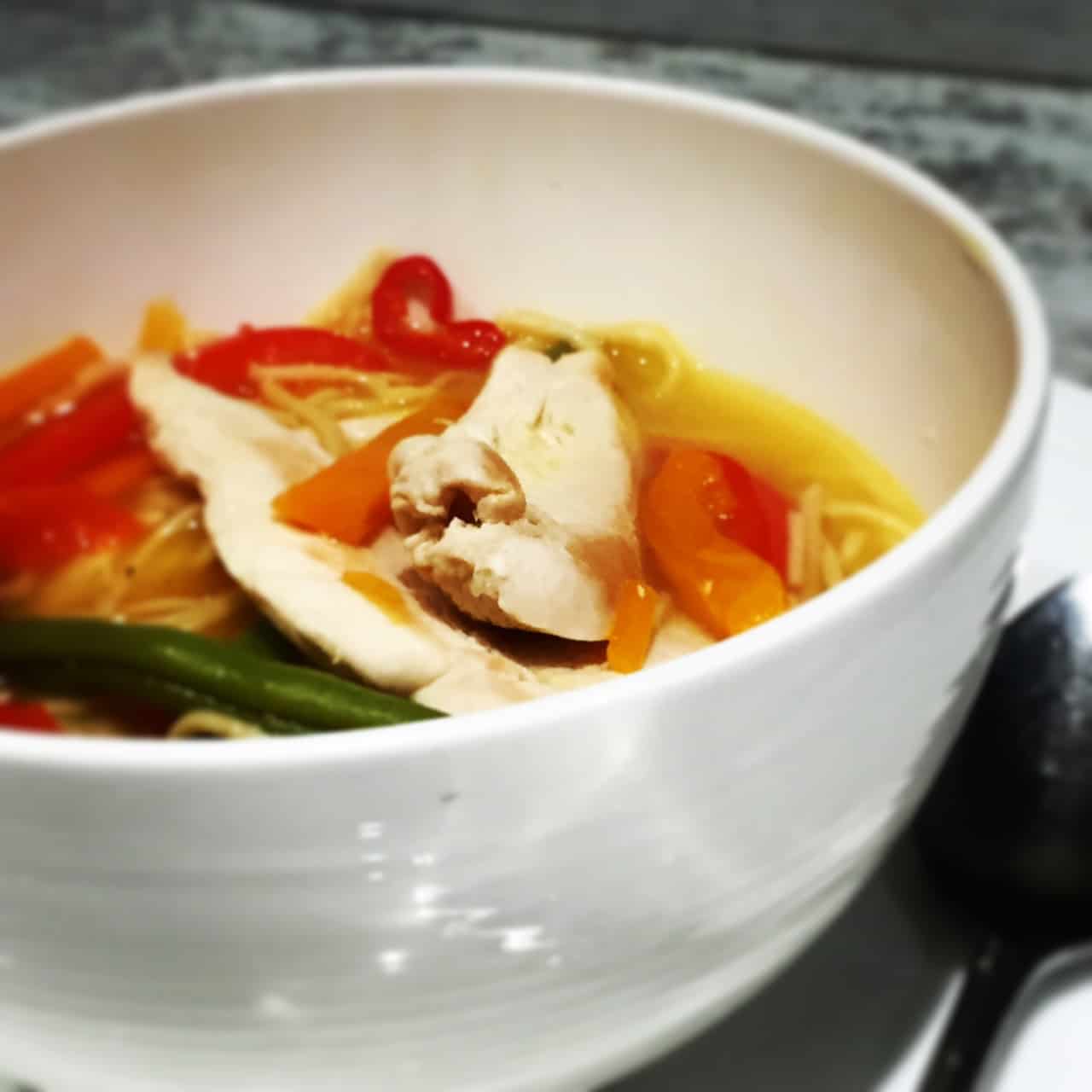 Aromatic Thai Chicken Noodle Soup
Anyone who knows me knows that I am in love with Asian cooking…give me sushi, Thai or Chinese any day and I'm a happy girl.
The gorgeous flavours in Thai cooking particularly speak to me, so I decided to create this recipe for simple Thai style chicken noodle soup. It's full of the delicious flavours of lime, chilli and ginger and makes an easy, tasty and healthy meal. So here's my recipe, let me know what you think!
Aromatic Thai Chicken Noodle Soup
A healthy, filling and delicious soup with the flavours of Thailand.
20Prep Time
60Cook Time
80Total Time
Ingredients
4 Chicken Breasts (thinly sliced)
2 - 3 Litres Chicken Stock
200g Dry Egg Noodles (I used Sherwood's Medium Egg Noodles)
3 Peppers (thinly sliced)
4-5 Carrots (thinly sliced)
Handful of Green Beans
1 Fresh Lime
2 Kaffir Lime Leaves (finely chopped)
1/2 Medium Chilli
Fresh Ginger (sliced into small pieces)
1 Garlic Clove (finely chopped)
Soy Sauce (optional)
1 kcal Cooking Spray or Olive Oil
Instructions
In a large sauce pan add your garlic, finely chopped carrots and peppers along with 50ml chicken stock. Cook over a medium heat until the carrots and peppers begin to get soft (about 10 minutes), stirring regularly to avoid anything sticking to the bottom of the pan. If needs be add a bit more stock.
Meanwhile, fry your chopped chicken (either using olive oil or cooking spray) until it is just cooked through, remove from the heat and keep until later.
Add the rest of your stock to the carrots and peppers, along with the ginger, green beans and chilli and leave to simmer on a low heat for 15 minutes.
Half your lime, and squeeze the juice into the simmering soup along with the lime leaves. Add your cooked chicken and leave to simmer for a further 30 minutes on a low heat until the chicken becomes tender.
Add your dry noodles and leave to simmer gently for five minutes until the noodles are soft.
Serve with a dash of soy sauce to taste (if you like) and a smile!
Notes
Other herbs and spices such as fresh coriander would work very well. If you prefer your soup with more liquid simply increase the amount of chicken stock. Slimming World Syn Value - FREE
7.8.1.2
3
https://basementbakehouse.com/2015/08/aromatic-thai-chicken-noodle-soup/
Nutrition
Here are some pictures of this soup being made!