Somewhere To Eat This Week – Staying On Plan At Beefeater
Eating out is one of life's greatest pleasures, but when you're trying to be healthy and you're desperate to lose weight it can often feel like going out for meals is off the agenda. One of the beautiful things about Slimming World however is that there is usually something on the menu that you're able to eat, and one of the things I love to do is discover where those of us following the Slimming World plan can eat most easily! I was therefore really pleased when I was recently asked to go and eat at the newly refurbished Longwall on the Oxford Business Park in Cowley, which is a Beefeater restaurant. I was intrigued to find out how the place had changed with the refurb, but I was more excited to find out just how easy it would be to stay on plan when I was there!
As a general rule, when eating out on Slimming World you've just got to stick to the principals of the plan. Plenty of speed food, lean meat, and use your Healthy Extras if you want. The beauty of eating at a chain like Beefeater is that you can be pretty sure of what their menu is going to contain (you can view the Longwall's menu here) and that makes it easy to plan what you're going to have. Doing so ahead of time has the added benefit that you really don't need to look at the menu when you get there, removing temptation to just scrap it all and order something totally off plan! I did exactly this before visiting Longwall, and settled on two courses that I knew were 100% on plan.
THE STARTER
To kick my meal off I went for smoked salmon on toast with a poached egg. On the menu this also has smashed avocado, which I would have happily ordered if avocado didn't annoyingly have so many damn syns in. I requested my smoked salmon without the avocado, a request which was happily accepted, and tucked into my tasty starter with relish when it arrived. Now…before anyone says anything, I'm aware that the bread in this starter is 'brown' on the menu, not wholemeal. The waiter couldn't confirm whether or not the bread was wholemeal or not, however I could see no difference between this and the 400g wholemeal loaves you buy in the supermarket. Either way I used this as half of my HexB for the day and was perfectly happy with that.
There's loads of choice on the menu for starters, some really high in syns and some less so, which means everyone with you can be happy too. To give you an example my other half ordered himself some very tasty looking chicken drumsticks which he thoroughly enjoyed!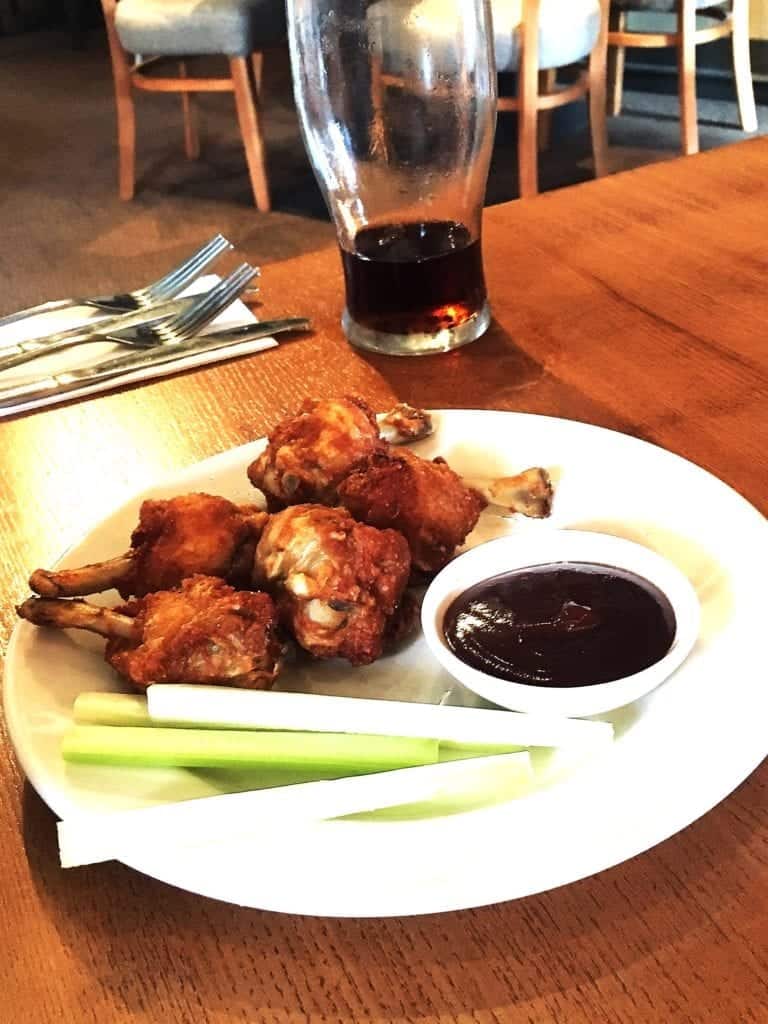 THE MAIN EVENT
Deciding what to have for my main course was the trickiest part of the meal. There's actually a huge amount of choice for those of us on Slimming World, and obviously an even greater level of choice for anyone you're eating with! Another reason why Beefeater is a great option for anyone on Slimming World is that you can change your side dishes depending on how many syns you want to use up. A portion of french fries is obviously going to be quite high syn, whilst mash will probably be lower (although still made with butter), however the best option will usually be to go for either a salad with dressing on the side, or a jacket potato! As a rule I account one syn for my jacket potato in a restaurant as usually they're sprayed with oil when stored and it's important to protect your weight loss from extra syns like this. As you can see, I chose a delicious ribeye steak to go with my jacket potato and salad (which I didn't eat as I forgot to ask for dressing on the side!) and it was delicious! Accounting another three syns for oil on the steak, this whole meal came to at most four syns! Pretty great when you're trying to stay 100% on plan!
In my personal opinion a steak isn't worth eating unless it's cooked as rare as possible. I tend not to order my steak 'blue' in chain restaurants, as generally the kitchens don't quite have the expertise to perfect it, but I'll always order it rare. Usually though, I'm less than impressed with how my steak comes out. 80% of the time it's massively overdone and I've come to accept that. Nevertheless I ordered my steak rare to see how they managed here, and low and behold it actually turned up rare! If anything it was a little more on the rare side than it technically needed to be, but for someone like me who likes their meat still moo-ing it was perfect!
For anyone not on Slimming World, I can highly recommend ordering the BBQ Chicken & Ribs! As you can see, the portion was massive and the ribs looked amazing!
A KID FRIENDLY PLACE TO EAT
I don't have kids, but I know that many of the lovely ladies and gents who follow Slimming World do because the plan fits so well into every day family life. Luckily enough to help me out we were joined by my favourite three year old so I can tell you from the get go that the Longwall is very child friendly. The kids menu was a great success, with plenty of different choices to keep little ones happy and even a 'chocolate pizza' to finish it all off, and the staff were great which always helps. My only comment was that there was no colouring or activities for the moments that there wasn't food on the table, so it might be sensible to take your own if you're going with children.
THE LONGWALL REFURB
As I've mentioned already, the Beefeater that I had the pleasure of eating at was the Longwall in Cowley, Oxford. This is about 10 minutes from my house so it's really convenient, but as a general rule there's a Beefeater in most towns and cities! Longwall has recently been refurbished and as someone who saw it before and after I can honestly say it's a great improvement! One of the nicest things was that it didn't have the feel of a chain restaurant, which made the ambience really pleasant. We went for lunch, so it was pretty quiet, but I can definitely envisage that there would be a great buzz of an evening. The only negative of the whole experience was that the toilets were in a bit of a state, however as I'm sure this isn't a permanent fixture of the restaurant I wouldn't let that put you off!
OVERALL IMPRESSIONS
The Longwall, and more generally Beefeater restaurants around the country, are a sure thing if you're looking to stay on plan but still want to have a meal out. By accompanying my meal with a steady stream of Diet Coke refills, and picking sensibly from the menu I had a totally on plan meal for about 4 syns! I can definitely recommend heading to your local Beefeater for an on plan meal, one that the rest of your family and friends will enjoy too, and if you're based in or near Oxford then give the new look Longwall a go!