Creamy Cajun Chicken Stuffed Sweet Potato Skins
When living a healthy lifestyle it can be easy to fall into ruts with our food. We know what food is healthy and we stick with the flavour combinations and ingredients that make us feel comfy. However this can lead to boredom and boredom can often lead straight into the takeaway menu, so keeping your menu interesting is really important! That's where recipes like these Creamy Cajun Chicken Stuffed Sweet Potato Skins come in, they're full of flavour and are great for keeping life interesting!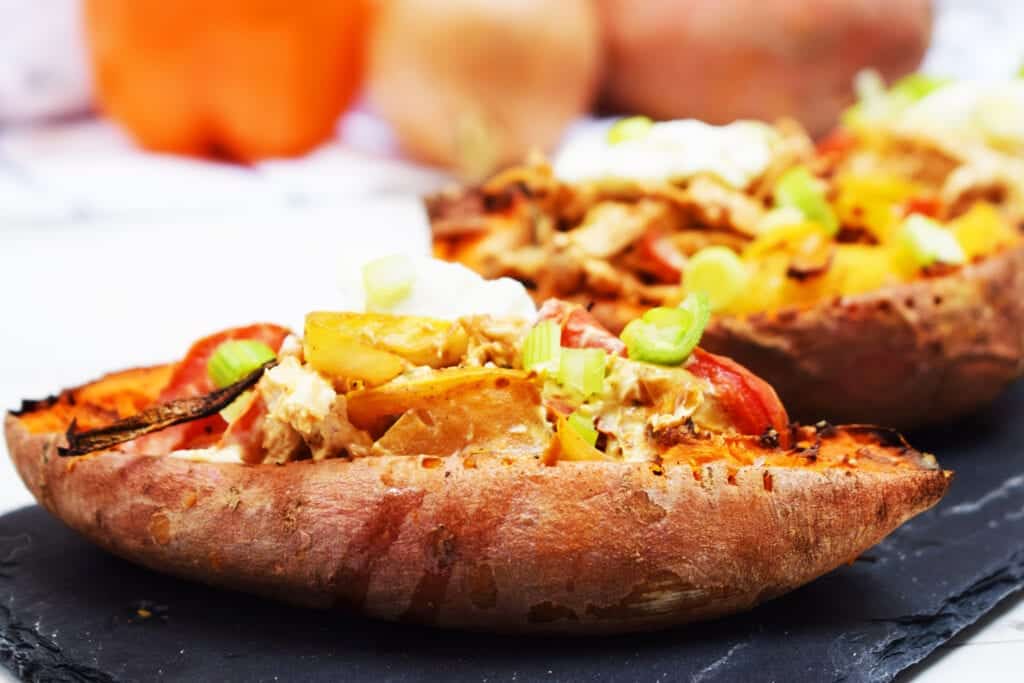 The Benefit of Sweet Potatoes
Sweet potatoes are a vegetable that is has taken me a while to get on board with. For a long time I avoided them like the plague, I'm not sure why. I assumed they'd taste too earthy and I love regular potatoes so never really saw the need to swap. I was talked into making sweet potato fries about a year ago and discovered that I've basically spent years missing out on one of the tastiest veg out there!
Sweet potatoes are high in vitamin B6, vitamin C AND vitamin D, not to mention containing iron which helps your immune system. In addition to all of the stuff it does for your insides, it can also help your mood as it's full of magnesium which helps with relaxation. Sweet potato skins are also full of fibre, which makes this recipe even better!
I enjoyed these Cajun Chicken Stuffed Sweet Potato Skins for lunch this week, hot straight out of the oven which is a nice change from cold office lunches. This happy change has come as a result of a very exciting change in my life! I now officially work for myself, running a digital communications company which I have set up totally on my own. It's a big change and as ever with big changes in my life I have spent the last few weeks eating like crap…because that's what I do when I get stressed!
Now that I'm actually on my own and working for myself though I have a whole new sense of control, which goes for my food too. I also have the ability to cook myself healthy, nutritious and delicious lunches at home in between long stints in front of my laptop! It's immensely satisfying to be totally in control of my own life and I know that'll be a good thing for my weight loss.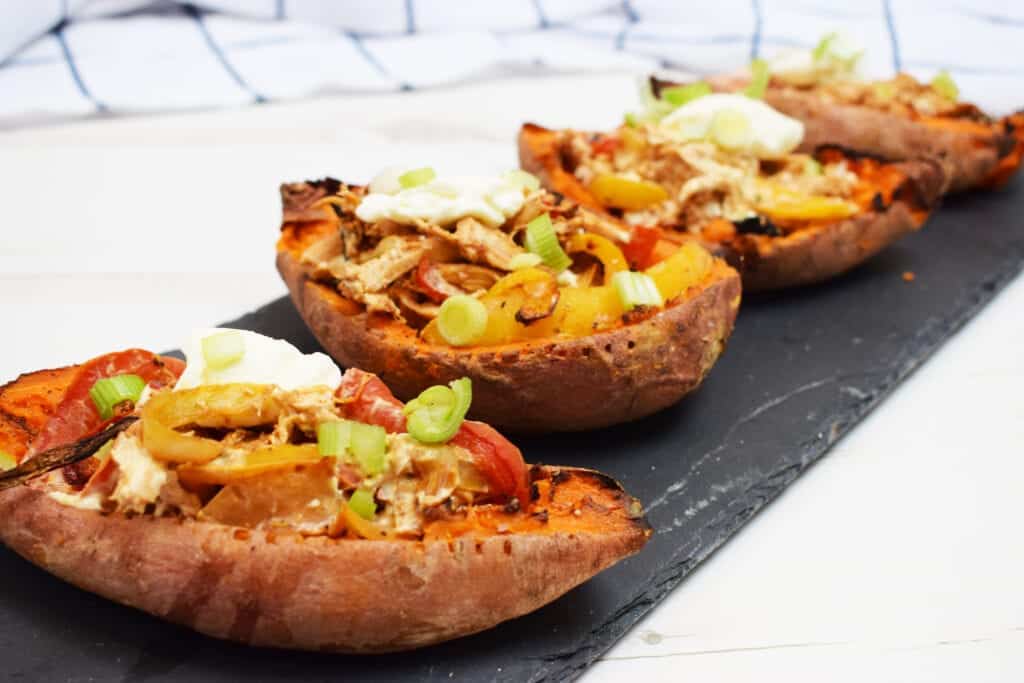 Making Creamy Cajun Chicken Stuffed Sweet Potato Skins
You can see exactly how to make these delicious stuffed sweet potato skins in my video below, as well as reading the step by step instructions in the recipe card below. You can also print and save this recipe for later using the recipe card below!
Watch the video & see the recipe below…
Cliona Keane
Creamy Cajun Chicken Stuffed Sweet Potato Skins
Healthy and nutritious sweet potato skins stuffed with creamy Cajun shredded chicken.
15 minPrep Time
25 minCook Time
40 minTotal Time
Ingredients
2x Large Sweet Potatoes
1x Chicken Breast
1/2 Red Pepper (sliced)
1/2 Yellow Pepper (sliced)
1/2 Onion (sliced)
75g Philadelphia Light
2tsp Cajun Seasoning
1x Spring Onion (sliced small, to garnish)
Salt & Pepper (to taste)
Fry Light
Instructions
Pierce each sweet potato with a fork length-ways down one side. Microwave them for 10 minutes, or until soft through the middle.
Cut each sweet potato in half and allow to cool.
Scoop out the insides of each potato, leaving about half a CM to a CM around the edges.
Line the potato skins together on a baking tray and then spray the other half with Fry Light.
Layer the peppers and onions and top with a chicken breast.
Season the chicken breast with Cajun seasoning and sprinkle the rest on the vegetables. Spray over with Fry Light.
Bake the whole lot in the oven for 20-25 minutes, or until the chicken breast is cooked through.
Shred the chicken with a fork and mix it together with the vegetables.
Add two thirds of the cream cheese and mix it together with the chicken and veg.
Split it evenly between the potato skins and garnish with the rest of the cream cheese and spring onions.
Enjoy piping hot or save for a cold lunch!
Notes
3 syns per serving on Slimming World. (edited: this recipe was originally syn free but Philadelphia Light can no longer be used as your Healthy Extra A.) Syn values correct at time of writing. Please don't screenshot this recipe, share the link instead as it prevents other websites from stealing the recipes!
7.8.1.2
135
https://basementbakehouse.com/2017/02/cajun-chicken-stuffed-sweet-potato-skins-slimming-world/
DON'T FORGET TO PIN THIS CAJUN CHICKEN STUFFED SWEET POTATO SKINS RECIPE FOR LATER!