Homemade Gourmet Sticky BBQ Beef Burgers
These sticky BBQ Beef Burgers are my own recipe, and if I say so myself they are pretty yummy!
They're easy, satisfying to make (who doesn't like getting their hands into a bowl full of slimy meat right?!) and the best thing is burgers are great for freezing so you can enjoy again and again!
So get chopping, mincing and frying and let me know what you think!
Ingredients (makes 14 burgers)
1.5kg Beef Mince
1x Large Onion
1x Garlic Segment
2x Large Eggs
4tbsp Olive Oil
3tbsp Jack Daniels BBQ Sauce
1tbsp Tomato Puree
4tspn Mixed Herbs
1tspn Salt
2tspn Dried Basil
Method 
1. Finely chop the onion and garlic together. Depending on how much you like onion in your burgers you can chop more or less finely obviously.
2. If you want your onions even more fine, or a bit of variation, or you're just not very good at chopping then try pulsing in a blender a few times (not lots otherwise you'll end up with onion mush)
3. Fry the onions and garlic until they're cooked and set aside to cool.
3. In a large bowl add your mince, olive oil, egg, herbs, salt, tomato puree and BBQ sauce.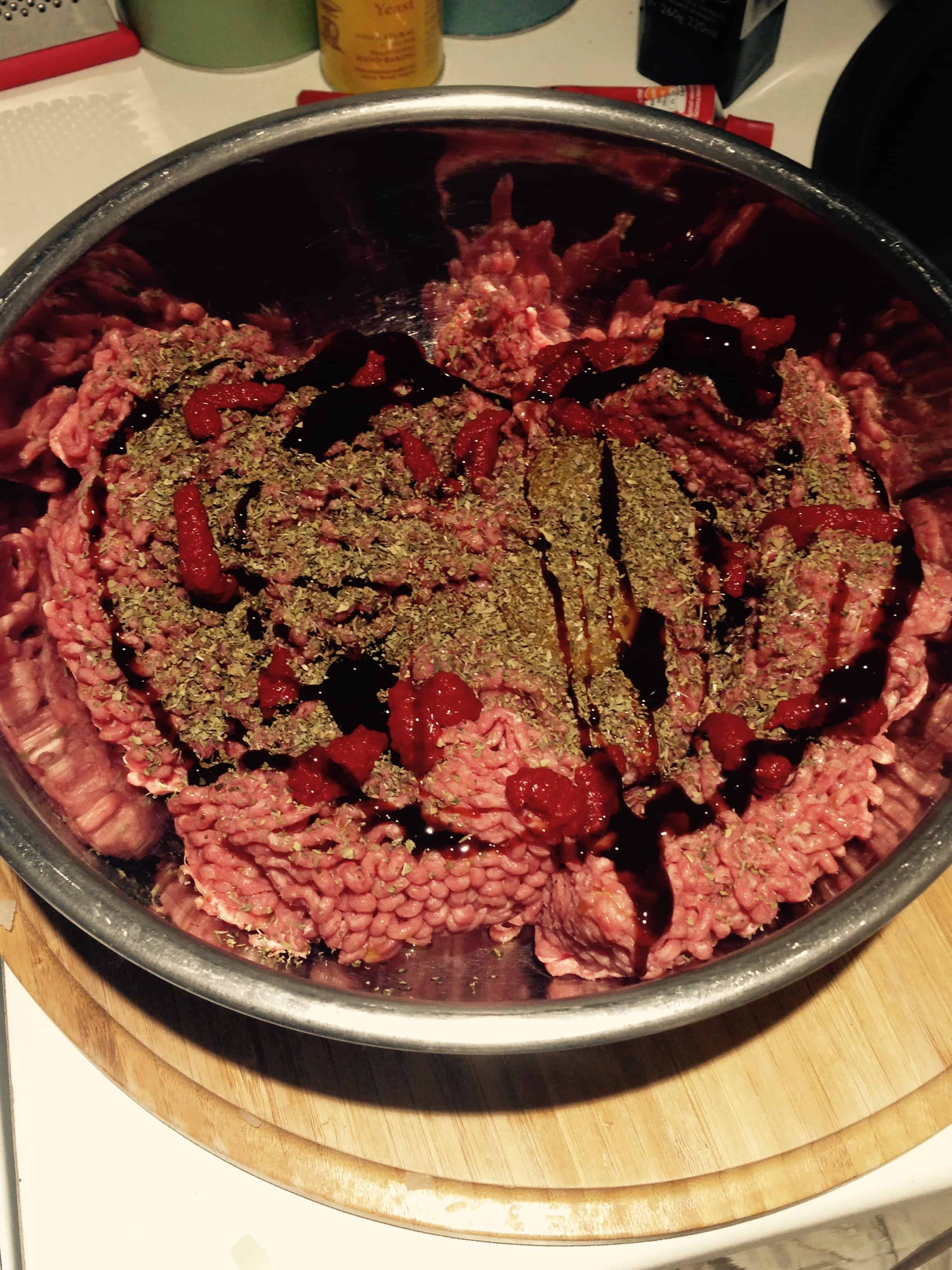 4. Mush all of the ingredients together with your fingers or a wooden spoon (if you don't like getting your hands dirty!) and then add the onions and combine some more. I know it all looks totally gross right now, but it's tasty… I promise!
5. Now this next step could just be done by taking two table spoons of the minced meat and rolling it into a bowl and then flattening slightly…but I have a fun little burger press which I bought on Amazon for making burgers the right shape which I really wanted to try out!
7. Stack each burger on a greece proof sheet to stop them sticking together. You can now freeze these or eat straight away!
8. I decided to have one for dinner tonight, as a healthy but hearty addition to a salad. So in a frying pan I added on burger, a few cherry tomatoes and some more finely chopped onions and two slices of Brie on top, and fried until everything was cooked.
9. Then I simply popped on top of a bed of mixed salad and inhaled pretty sharpish!
Enjoy 🙂