Homemade Lasagna for all the Family
It has been a terribly long time since I last posted! It has been a busy few months what with starting a new job (in food PR, YAY me!) but tonight I can finally find time to post on my very neglected blog.
I love a real home cooked meal for the whole family, from the aroma of frying onions to the knowing that I've created something that other people actually enjoy eating! Growing up in a family of six hungry people however I've never quite managed to master cooking for one or two…oops!
Lasagna is a personal favourite dish of mine, and luckily you've got no option with it than to cook a large amount! I had never made it completely from scratch before (i,e tomato sauce, mince and bechamel sauce), but I decided that now was as good a time as any to have a go!
I don't know if people will think I'm weird for putting bacon in my mince/sauce…but it tastes amazing! I added it on a whim and it worked out pretty well 🙂
The tomato sauce with the mince and bacon and bechamel sauce in this recipe are all homemade, I didn't quite get around to making the pasta myself but check out my previous post here to find out how to make it… just roll the dough out and cut into lasagna shaped pieces to fit this recipe!
[powr-comments label="Enter a Label"][powr-instagram-feed label="Enter a Label"]
Ingredients – for the mince sauce 
1/2 onion (very finely chopped)
1 clove of finely chopped garlic
2 tblspn olive oil
2 x box of cherry tomatoes chopped in halves
2tspn mixed herbs
1/3 bottle red wine
 3 tblspn tomato puree
1 x pack of chopped bacon
200ml water
2 packs of mince
Ingredients – for the bechamel 
1/2 an onion
3 cloves
1.5 litres of milk
100g flour
100g butter
Method 
First make the Bechamel sauce. Begin this by adding the milk, onion and cloves into a saucepan and bringing to a gentle boil. Take off the heat and leave to one side for an hour to infuse.
While the sauce is infusing, it's time to make your tomato sauce for your beef!
Add the finely chopped onion and garlic into a large sauce pan with the olive oil and stir constantly until they are cooked through.
Then add the chopped tomatoes, herbs and bacon into the mix and stir for about 3 minutes or until the bacon is cooked and the tomatoes have become a bit mushy.
Add the water, wine and tomato puree and stir until it's all combined, then leave it to simmer on medium heat stirring occasionally until the mixture has thickened up somewhat.
Set the sauce aside some and in a separate pan brown the mince along with some salt, pepper and a sprinkle more herbs. Once this is browned, pour in the sauce and mix together, and leave on a low heat to simmer.
Now it's time to finish off the Bechamel sauce! Strain the milk mixture into a jug so as to remove the onion and any other bits and pieces!
  In the saucepan now melt the butter over a low heat, and add the flour. Stir this together until it forms a thick dough like paste.
Gradually add the milk, stirring after every addition so that you don't have any lumps. The mixture will stay like a dough for wheat seems like ages so don't worry, just keep going!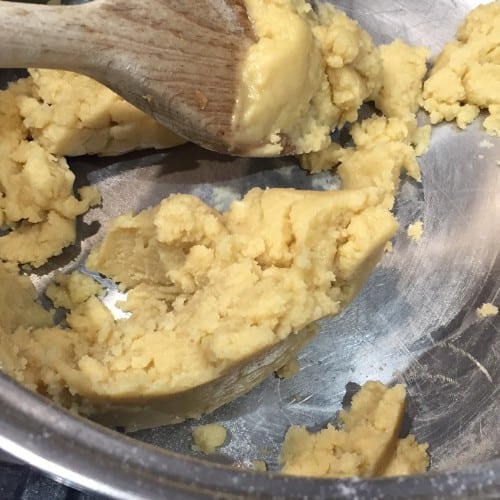 Do this until the milk is all gone and you have a lovely thick, white sauce!
Now that you have both the mince sauce and the Bechamel sauce, you can get to making your lasagna!
In a large baking dish, spread a layer of the mince over the bottom, followed by a layer of lasagna pasta sheets. Make sure that these cover all of the mince, cutting them to fit if needs be.
Add another layer of mince over the top, followed by a layer of the bechamel sauce and another layer of pasta.
Finally add the rest of the bechamel sauce over the top of the last layer of pasta, and sprinkle 200g of grated cheddar cheese over the top of the whole thing.
Bake in the oven on 200°C for 1 hour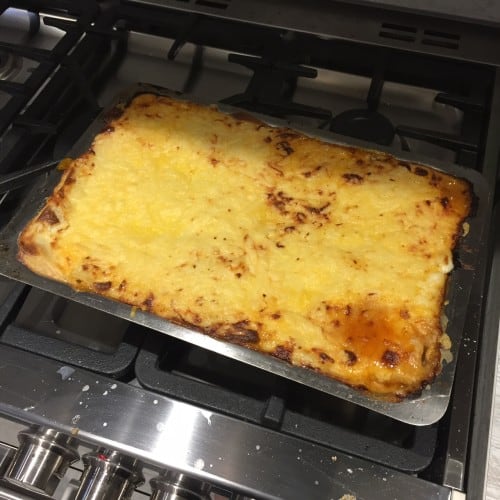 Honestly it's really tasty (if a bit messy ;p) try it for yourself and let me know what you think in the comments below!
Enjoy!
XOXO