Syn Free Sweet Chilli Dipping Sauce with Slimming World Spring Rolls
It had been ages since I'd had a proper, thick, sticky, deliciously sweet and tangy sweet chilli sauce…until last night that is! I have finally mastered a completely syn free dipping sauce, with all of the gloopy thickness you expect from your favourite bottled varieties!

You may remember that I have in fact already got a sweet chilli sauce recipe on here, but you might recall that my biggest problem was that it was just a thin, watery version and whilst it was delicious, it was only good for cooking with, and wouldn't be suitable as a dipping sauce. This recipe on the other hand, is the perfect dipping sauce, as well as being perfect for cooking with.The secret to this, and a few of my recent recipes, is Xanthan Gum, which I recently discovered is syn free!
Xanthan Gum is a thickening agent, and about 1/4 of a teaspoon does the same job as a whole tablespoon of flour would do. You can easily pick it up from Amazon here, or down the Gluten Free isle of major supermarkets, but all I'll say is if you haven't got it then you're missing out! It's a magic ingredient, and can be used in everything from sauces to curry and soups, and even ice cream!
Another string to my bow with this recipe, is a really high class sweetener. I really do think it makes all of the difference! I've tried many sweeteners over the last year since joining Slimming World, and they vary dramatically. Recently I discovered the Sukrin range, which includes a white granulated sweetener, an icing sugar and a natural brown sugar, and had my mind blown. They actually taste like sugar! I'm not even talking just the fact that they add sweetness to the recipe, they legitimately on their own taste like the sugars they're replacing.
The brown sugar particularly made my day when I opened it, as that brown sugar smell is one of my favourite childhood scents and it just smells exactly the same, along with the fact that they're not hugely artificial (which means you don't get that nasty taste in your mouth) they're a sure fire winner. For this recipe I used the Sukrin :1 which is their regular white sweetener. You can of course use another brand, but I'd recommend picking up some Sukrin :1 for the sheer quality of it! You can grab it on Amazon here. Whichever kind of sweetener you use, you do need one for this recipe, as it's that beautiful balance between the tangy vinegar and the sugary sweetness that gives you your distinctive sweet chilli sauce!
When I was coming up with this recipe, I realised that you can't very well make a dipping sauce without anything to dip into it! I always make a point of really testing my recipes first, and how could I confirm that this really had the right consistency without something equally tasty to try with it. I therefore decided to try my hand at some Slimming World spring rolls! There are many different varieties of these out there, so I can't claim this as an original technique (although I think my sweet chilli sauce is pretty unique…at least I've not seen any others using the same technique so far!), but what I can claim is that these spring rolls are sensational! What a fantastic idea right? Using lasagna sheets as the outer casing! If you're a bit sceptical about that, I can assure you, it doesn't taste like pasta.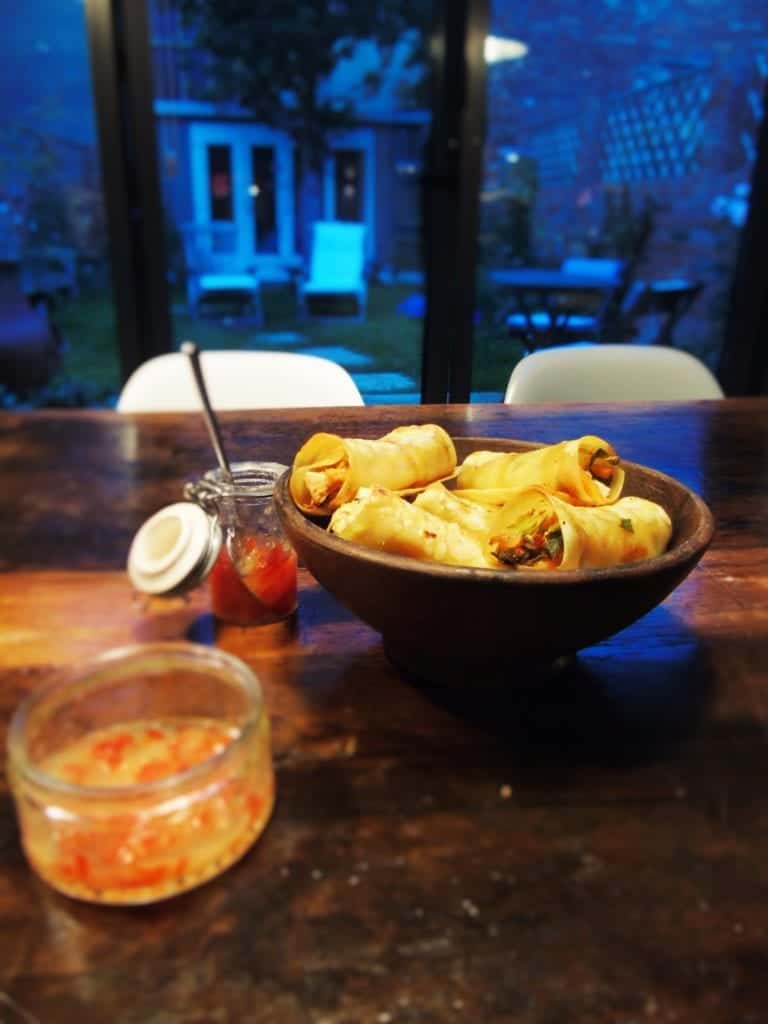 These spring rolls, and indeed the dipping sauce, are ideal for big family get togethers, or taster evenings at group, and I've even made a few extras which I haven't baked yet to keep in the fridge for when I really fancy a takeaway at the weekend! They're very versatile, and could be made veggie or with meat. Personally I'm a meat eater through and through so I've added chicken to mine, but feel free to take that out or replace it with tofu, or another kind of meat entirely when you try them. For eight spring rolls I only had to use half a chicken breast, which I've indicated in the recipe, but just a note to say if you're not using Muscle Foods chicken breasts then you'd need to use at least a whole one as they're twice the size of regular ones! They're available as part of the Muscle Foods Summer Slimming Selection if you do want to pick them up (buy that here).
Syn Free Sweet Chilli Dipping Sauce with Slimming World Spring Rolls
Thick, sticky sweet chilli dipping sauce with crunch, syn free spring rolls!
45Total Time
5 based on 1 review(s)
Ingredients
For the Syn Free Sweet Chilli Dipping Sauce1x Red Chilli (finely chopped, with seeds)

4tbsp White Wine Vinegar (or similar white vinegar)
3tbsp Sukrin :1 (see post for details, alternative sweetener can be used)
1/2tsp Xanthan Gum (see post for purchasing details)
2tbsp Water
Fry Light

For the Slimming World Spring Rolls1/2 Muscle Foods Chicken Breast Fillet (or one full regular supermarket chicken breast)

1/2 Pack Stir Fry Vegetables
2tbsp Soy Sauce
1tsp Chinese Five Spice (optional)
8x Lasagna Sheets
Fry Light
Instructions
For the Syn Free Sweet Chilli SauceSpray a small sauce pan with Fry Light over a medium heat, and add the chillies. Stir fry until they begin to become aromatic.

Add the vinegar and reduce the heat. This will begin to evaporate and be careful about breathing it in as it can be a bit unpleasant to breath in vinegar! Allow to boil for about 30 seconds.
Add the sweetener and stir in until dissolved.
Add the Xanthan Gum and stir fast as the liquid boils. The Xanthan Gum will clump at first but as it is boiled into the mixture and you stir it will dissolve and begin to thicken the mixture.
Allow the mixture to thicken until your desired thickness, testing as you go to check that it is sweet enough. If it isn't just add a bit more sweetener, or alternatively add more vinegar if you like it more tangy.
If it doesn't thicken up enough, add a tiny bit more Xanthan Gum, and if it thickens too much use the water to relax it a bit.
Remove from the heat and transfer into a bottle or glass jar for storing.

For the Slimming World Spring RollsPreheat your oven to 180 degrees.

Cut the chicken breast up small, and add it to a frying pan with Fry Light over a high heat. Allow it to cook so it is just cooked through.
Add the stir fry vegetables, soy sauce and five spice (if using) and stir fry until everything is cooked.
Meanwhile, bring a pan of water to the boil, and individually par boil your lasagne sheets so they're soft but not completely cooked through. I know this seems like a faff but don't try and do them all together as they will stick and break.
When the stir fry is cooked, spray a baking tray with Fry Light next to where you're working as you'll need to quickly transfer the rolls over to it to stop the mixture falling out.
Spoon about a tablespoon of the chicken and vegetables about a third of the way down each lasagna sheet, and carefully roll them up. If bits fall out the ends just push them back in as you roll.
Place them on the baking tray seam side down, and spray with Fry Light.
Bake at 180 degrees for about 20-25 minutes or until the lasagna sheets begin to bubble and turn brown on top.
Serve with your delicious Syn Free Sweet Chilli Sauce!
Notes
Completely syn free on Slimming World. Slimming World has confirmed that this is not a tweak.
7.8.1.2
66
https://basementbakehouse.com/2016/07/syn-free-sweet-chilli-dipping-sauce-with-slimming-world-spring-rolls/
Nutrition
Don't forget to pin this recipe for later!

*this post contains affiliate links
*I was provided with some of the products in this post free of charge, however all views and opinions are my own
*I was not paid to write this recipe or review the products involved